Anchor. Fisherman's AJITO:Team Workcation Plan
#Ise-Shima(Toba City)

team building
Training and camps
Agriculture, Forestry and Fishing Experience
Anchor. Fisherman's AJITO:Team Workcation
Anchor. Fisherman's AJITO is a private accommodation for groups located in a cove in Toba City, Mie Prefecture. With a spacious living area of 85 square meters, seven bedrooms, and a fully equipped kitchen, you can enjoy your stay as you wish. In addition to Wi-Fi, the room is equipped with a projector, whiteboard, and desks in each room, so it can be used for a wide range of purposes, from private use with friends to training and events for companies and groups. In addition to the private use of the building, we also offer a variety of experiences unique to a fishing village, which can be expected to produce effects unique to a work vacation such as team building, new idea generation, and increased productivity through unusual experiences. We hope that you will come and enjoy the use of a team work vacation with your friends, family, and colleagues.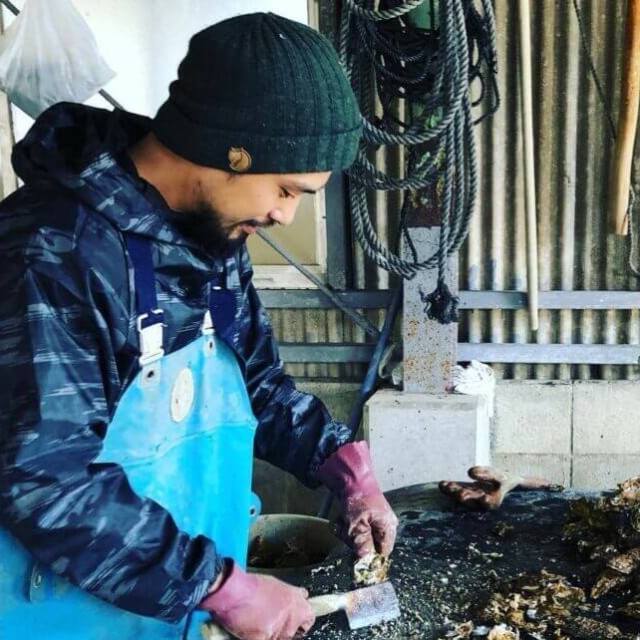 Shinpei Yukino
At the age of 21, he wandered around the world and became interested in nature tourism in Japan as well as the charms of other countries. 2019, he moved to Toba and launched "Anchor. Fisherman's AJITO". He is currently working hard to promote the charm of the region by creating a place for people to live.
PICK UP CONTENTS
Recommended Content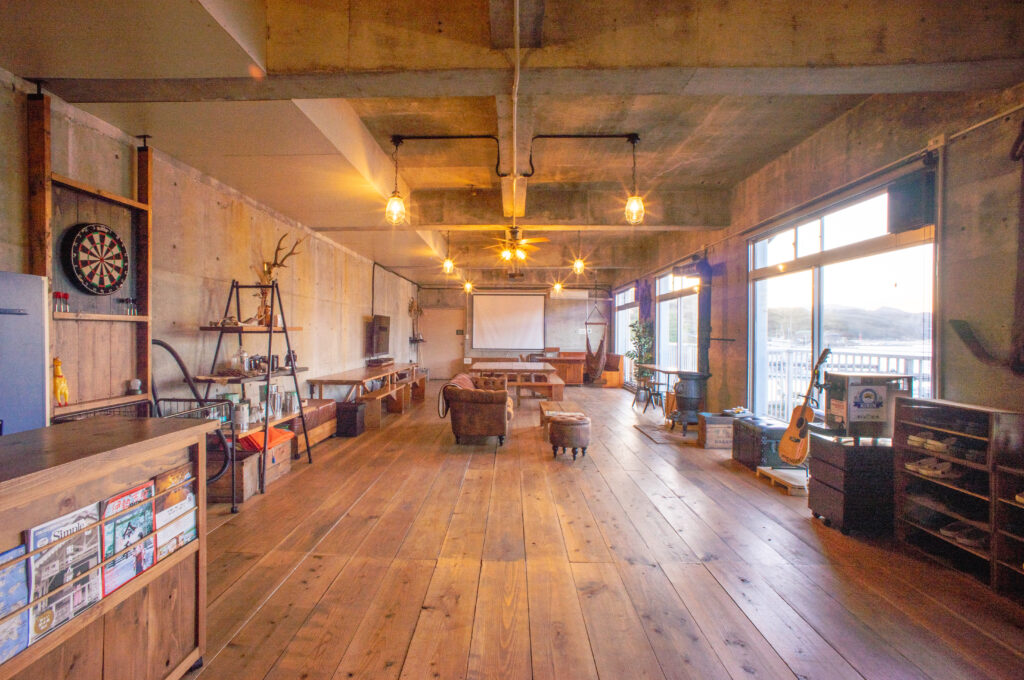 Private space in one building
Available for vacation use in a single building rental space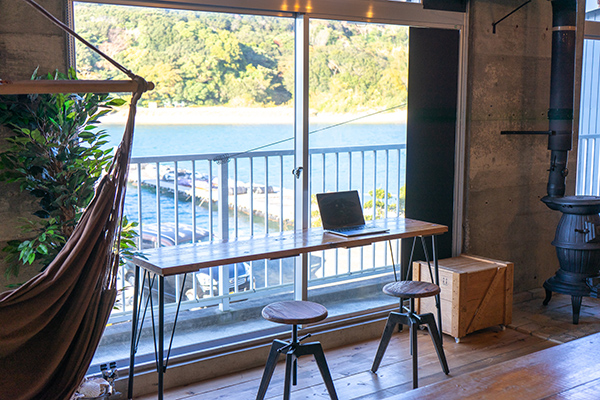 All rooms have ocean view
All rooms have an ocean view, so you can work in an extraordinary space.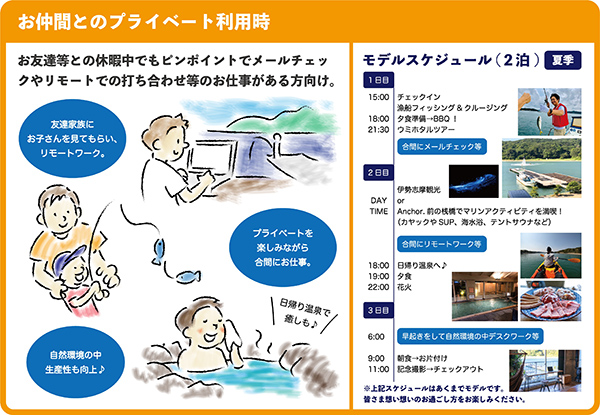 Private use
Model plan for private use with your friends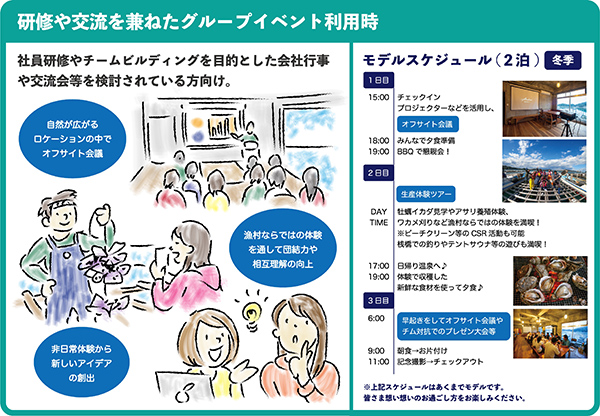 Group Event Use
Model plan for group event use for training and exchange
Day 1
morning
Sightseeing in Ise-Shima (Ise Jingu Shrine, Married Couple Rocks, Yokoyama Observation Deck, Toba sightseeing, etc.) at the time of your visit
afternoon
3 p.m. Check-in at Anchor. 漁夫的秘密基地 (early check-in available from 1 p.m.) Desk work or remote work until dinner
dinner
Preparation for dinner> BBQ (self-serve) *Please enjoy dinner using harvested ingredients for participants of the production experience tour. (Grilled oysters, steamed oysters, wakame seaweed shabushabu, akamoku donburi, etc.)
evening
Desk work, remote work, off-site meetings, etc. possible Participation in sea firefly tours in summer, fireworks, star gazing, etc. possible
Facility Information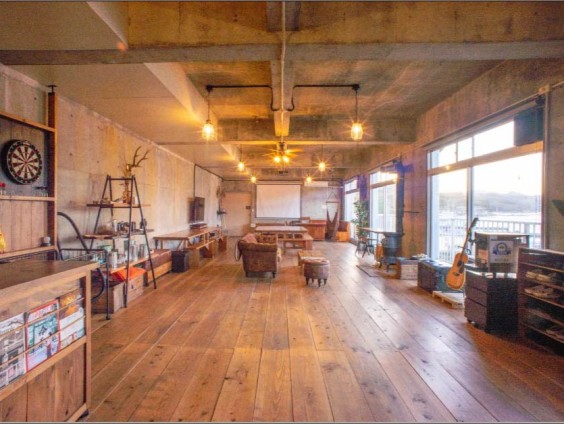 Anchor. Fisherman's AJITO
Private hideaway for groups with fishing experience.
Location:
〒517-0025 1558-5 Uramura-cho, Toba City, Mie Prefecture
Phone number:07016452221
Office Hours:10:00~17:00 (irregular holidays)
parking lot:Parking available (6 spaces)
equipment
Access and local transportation
14.8 km (24 minutes) from Toba IC
Day 2
morning
Can be used for desk work, remote work, off-site meetings, etc.
lunch
Go to restaurants in Toba
afternoon
Spring - Autumn: Fishing or cruising on a fishing boat Winter: Production experience tour (oyster farming, wakame harvesting, red clam harvesting, clam farming) Evening - Visit a nearby day spa
dinner
Dinner preparation > BBQ (self-service)
evening
Desk work, remote work, off-site meetings, etc. Possible to participate in sea firefly tours in summer, fireworks and star gazing, etc.
Day 3
breakfast
Breakfast (self-service) *Production experience tour participants can enjoy breakfast using the harvested ingredients. (Participants in the production experience tour can enjoy a breakfast using harvested ingredients (clams, wakame seaweed, miso soup with red clams, etc.)
lunch
Go to restaurants in Ise-Shima
afternoon
Enjoy marine activities (kayaking, SUP, fishing, tent sauna, etc.)
dinner
Prepare dinner > BBQ (self-serve)
evening
Desk work, remote work, off-site meetings, etc. possible
Day 4
breakfast
Breakfast (self-service) *Production experience tour participants can enjoy breakfast using the harvested ingredients. (asari, wakame seaweed, miso soup with red clams, etc.)
morning
Desk work, remote work, off-site meetings, etc. available 11:00: Check out
lunch
Sightseeing in Ise-Shima (Ise Jingu Shrine, Married Couple Rocks, Yokoyama Observatory, Toba, etc.) on your way home
For inquiries about this model plan, please contact