Owase City has long prospered in the forestry and fishing industries, blessed with "Owase Hinoki" (Japanese cypress) nurtured in a warm and rainy climate and fresh seafood from the Kumano-nada Sea. One of the charms of a workcation is the opportunity to meet the local people who live in such a place rich in nature. You may encounter new discoveries through interaction with the locals.
The Workcation Experiencer this time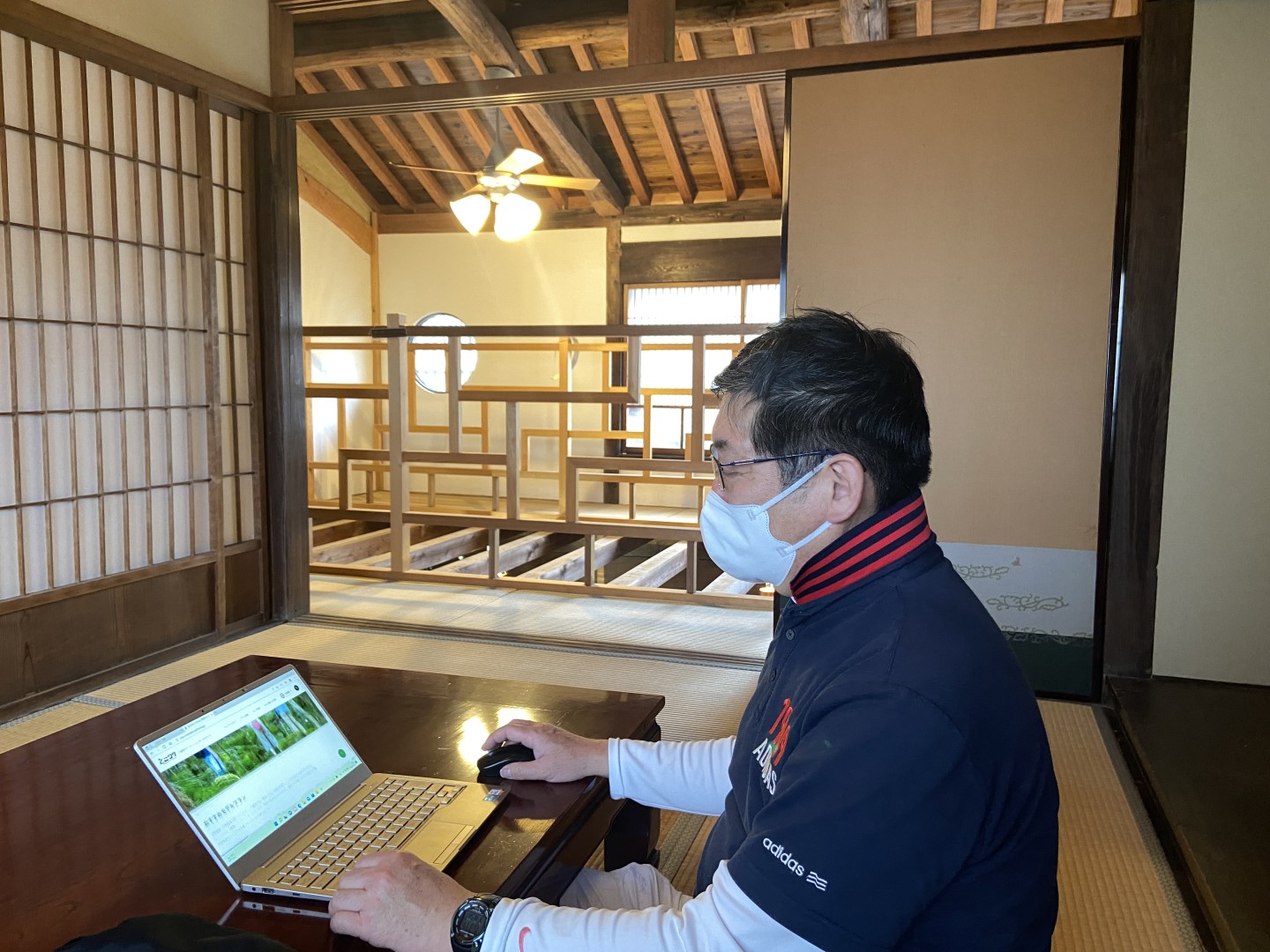 The person who experienced a work vacation this time was Shibayama, who lives in Misugi Town and in the urban area of Mie Prefecture. While working as a company employee, he promotes activities in Misugi Town to communicate the town's attractions through forest therapy and wellness walking using Nordic walking.

Shibayama says he loves interacting with people, so we will introduce her 3-day/2-night work vacation.
[Day 1: Nordic walking and meeting local guides. The open atmosphere encourages conversation.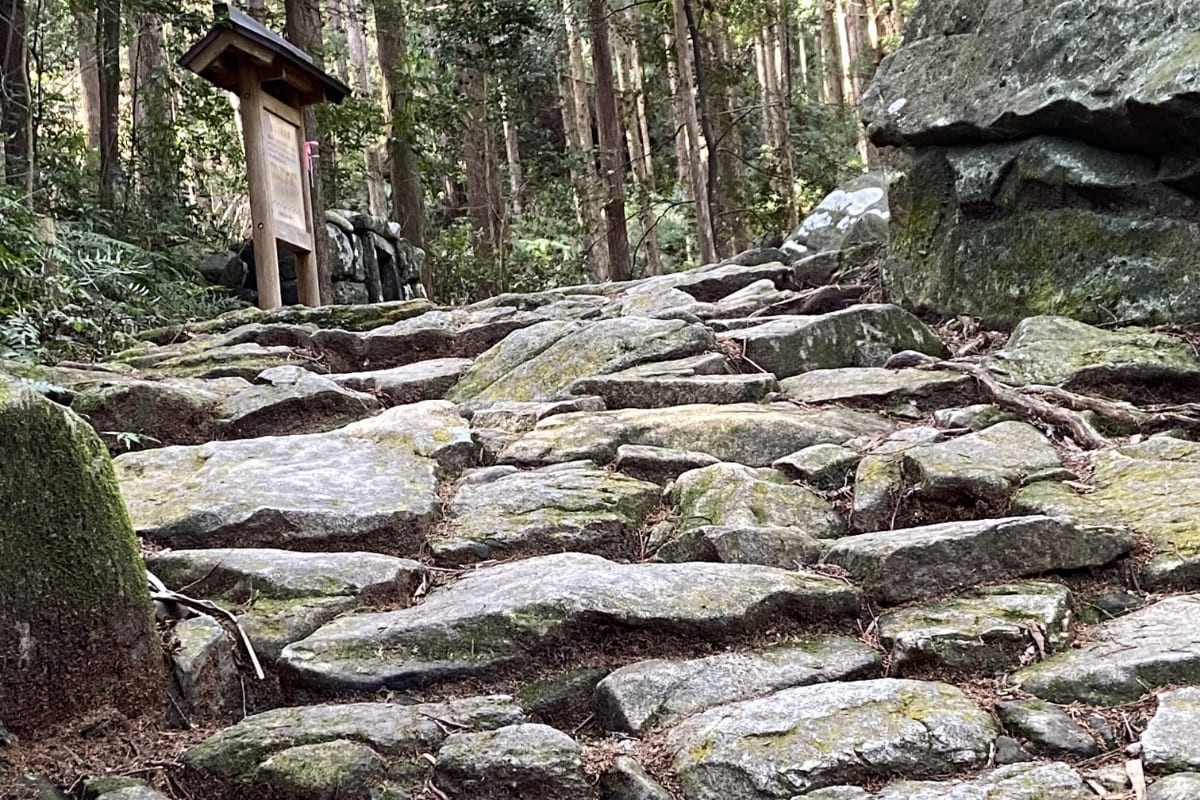 Shibayama left home early, just after 7:00 am. He met Kiyokawa of the Owase Therapist Association at Roadside Station Miyama and set off for Magose-touge. Conversation naturally picked up as we walked step by step, listening to the chirping of birds and the rustling of leaves in the green forest beside us. By the time we reach the observatory overlooking the town of Owase, we are all smiles.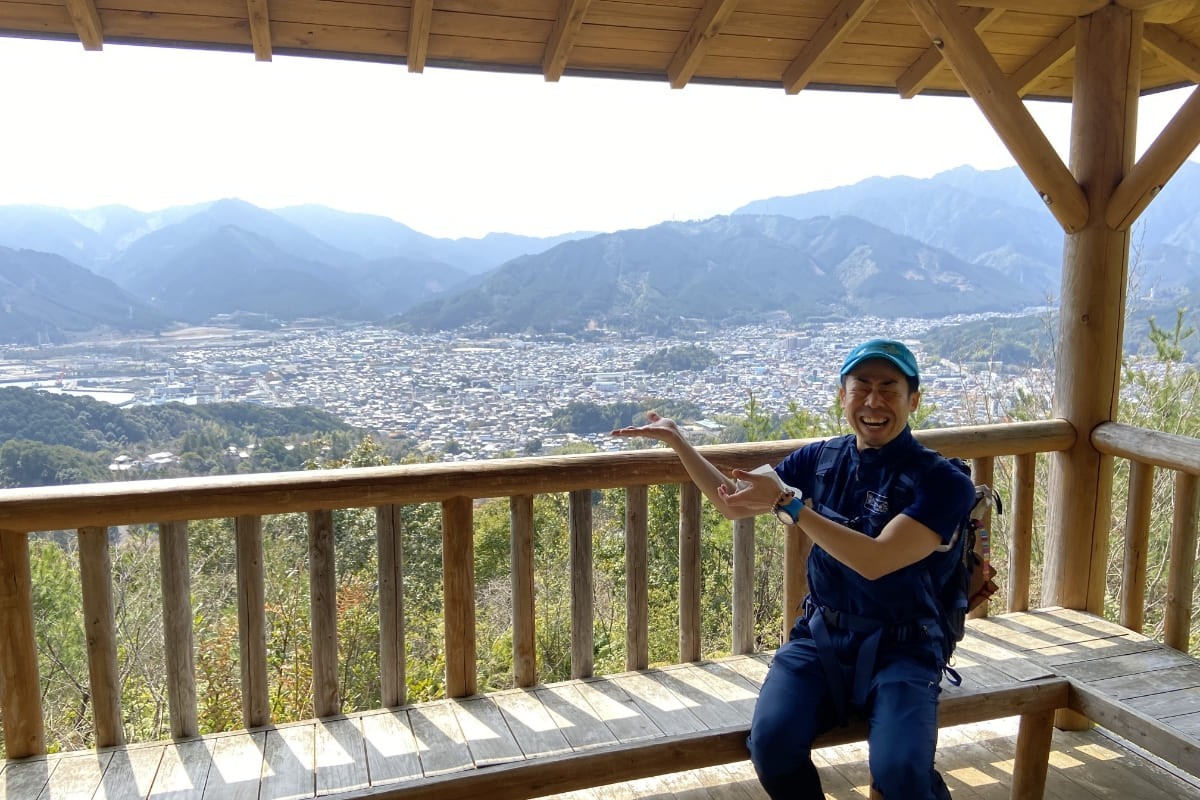 Seeking information at the Owase Tourist Products Association. Enjoying lunch at a local restaurant.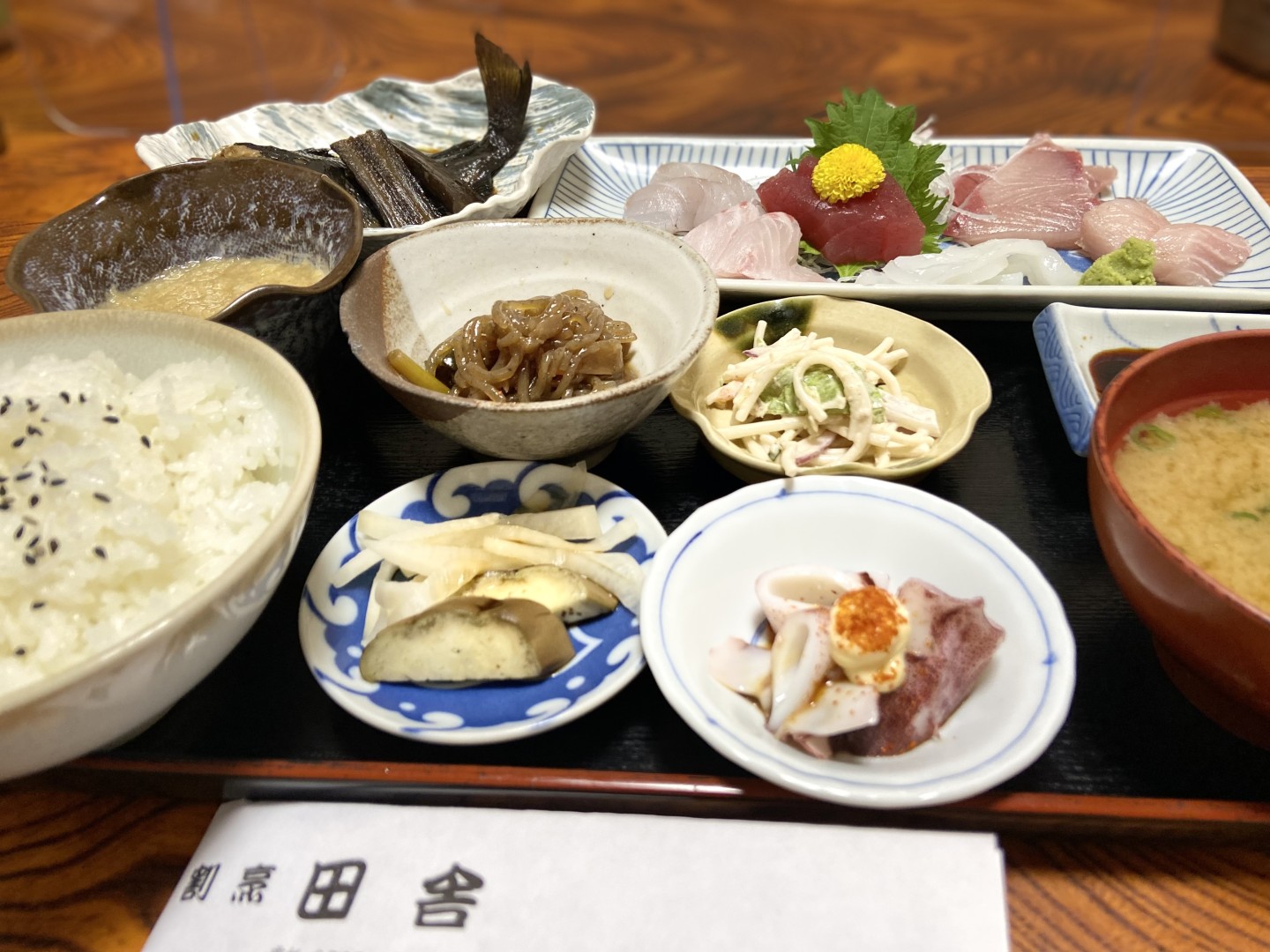 All that physical activity made us hungry. So Shibayama headed for downtown Owase. He had a sashimi set meal at a local restaurant that he got information about from the Owase Tourist Products Association.
A casual stroll in downtown Owase. Interacting and experiencing the lifestyle of the locals.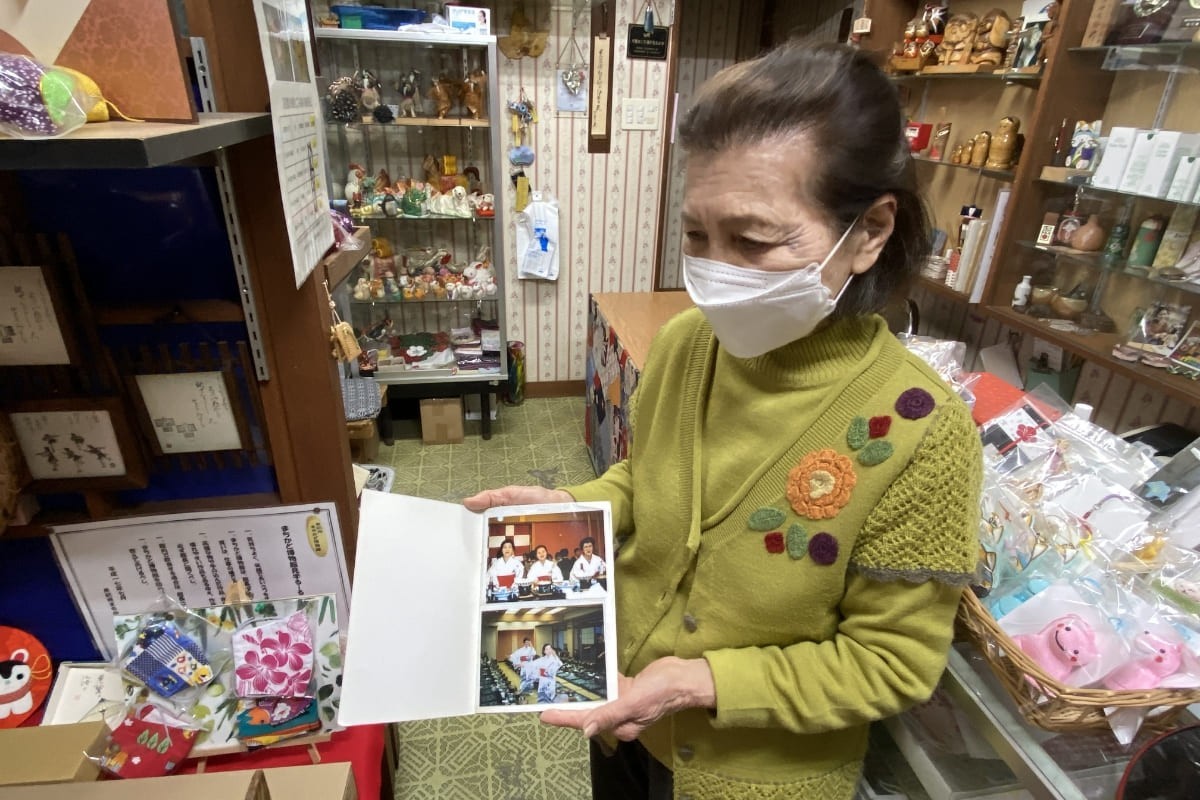 After lunch, we took a walk in downtown Owase. I found that people are more relaxed when you just drop by and talk to them," said one of the participants. You can get more information out of them than if you communicate with them as part of your job. The owner of the store seemed pleased with Shibayama's natural behavior, showing him pictures of himself when he was younger and talking with him.
Teleworking in an Old House on a Corner of the Shopping Street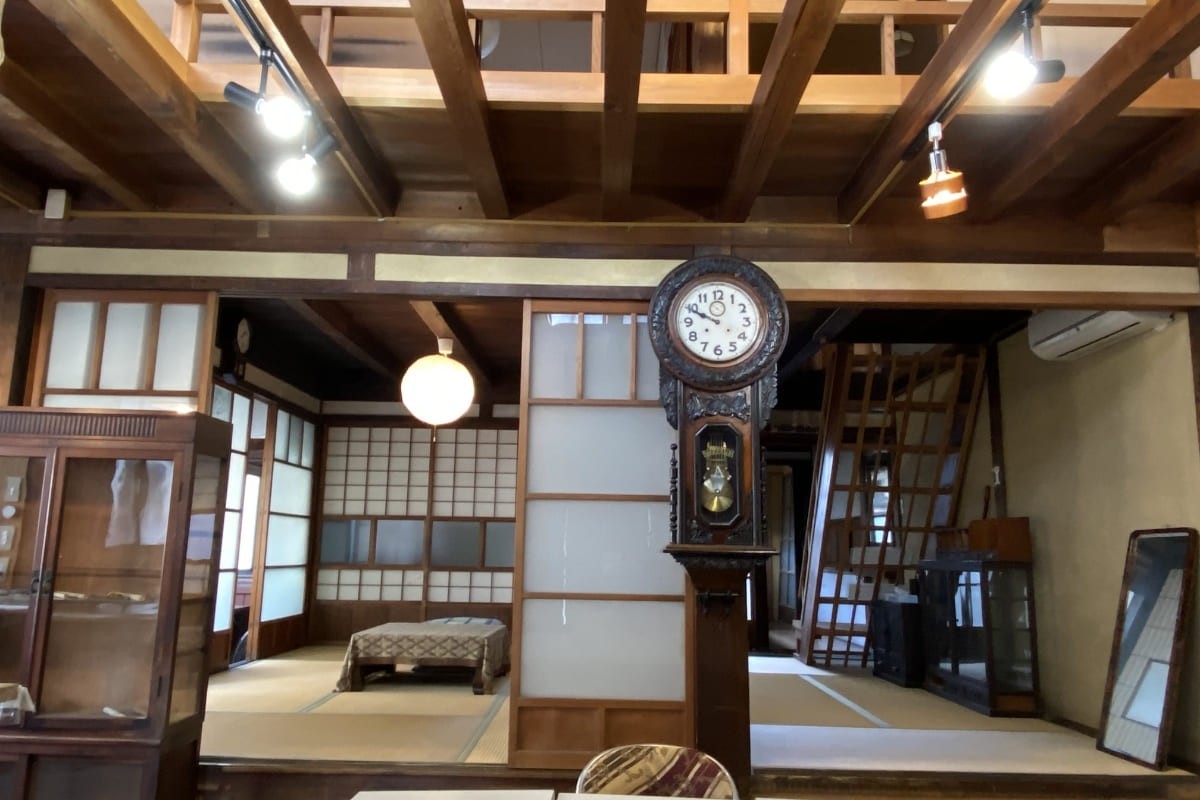 Located on the Nakaimachi shopping street, "Platz Nakasen" is a renovated old private house that was originally an apothecary, and has a nostalgic atmosphere. It is a co-working space, so you can expect to meet people by chance, such as exchanging information with people working here.
Visit to Owase City Hall. Obtained information about the forestry industry.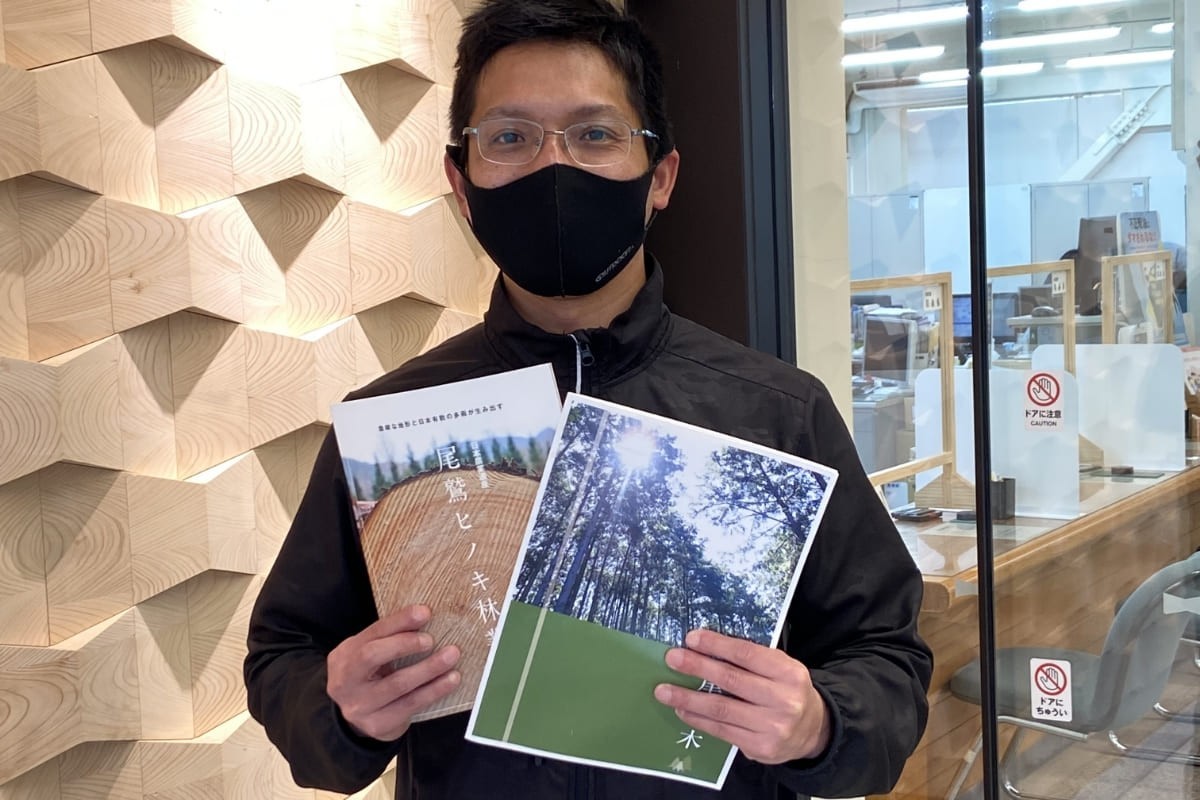 "I originally wanted to see what life was like in the local primary industry." Mr. Shibayama says. "I found some good information about the local industry at the local government office". So we visited the Owase City Hall. Mr. Takamura, an employee of the city hall, gave him a detailed explanation about the current state of the forestry industry in Owase.
After finishing work, we went to "Guest House Fu-han"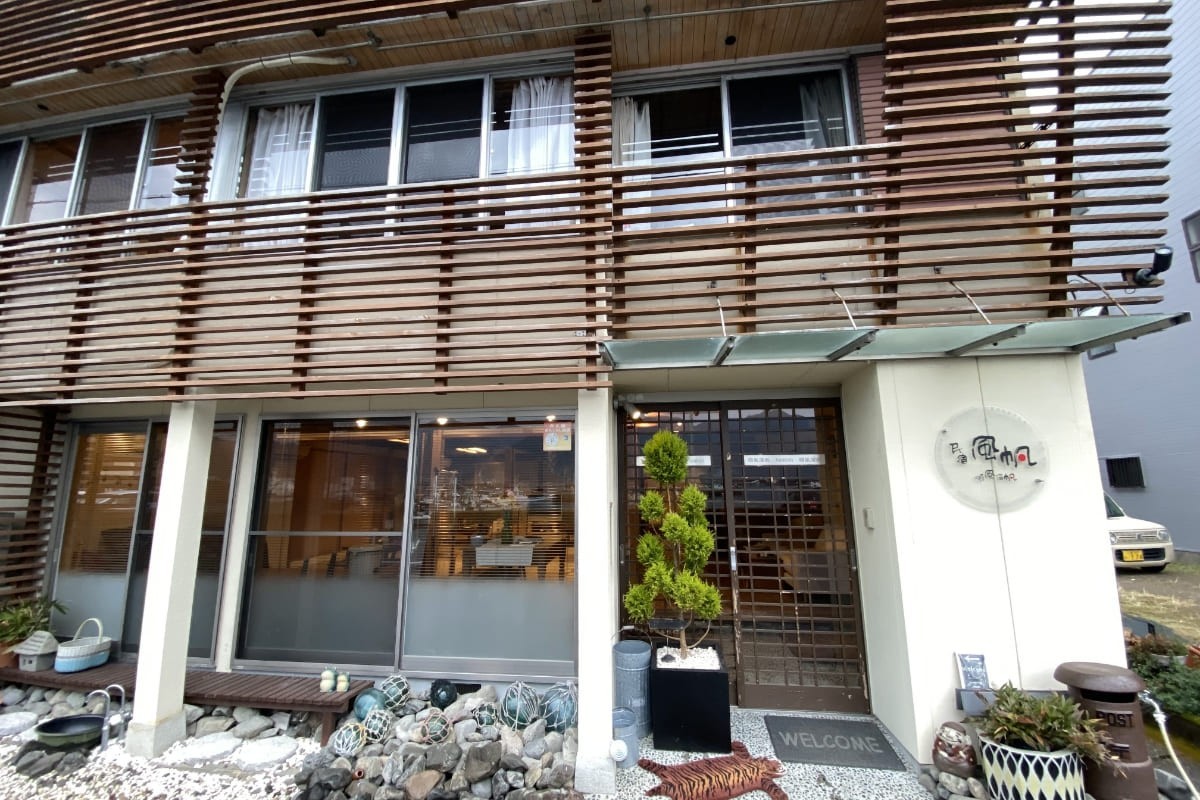 We stayed at "Guest House Fu-han" this time. The inn was established in the 1960s by the owner, who was a fisherman and a fishing boat owner, and is located near Owase Station, making it a base for the Kumano Kodo Magose-touge. The inn has a homey atmosphere and is currently run by the proprietress and her son.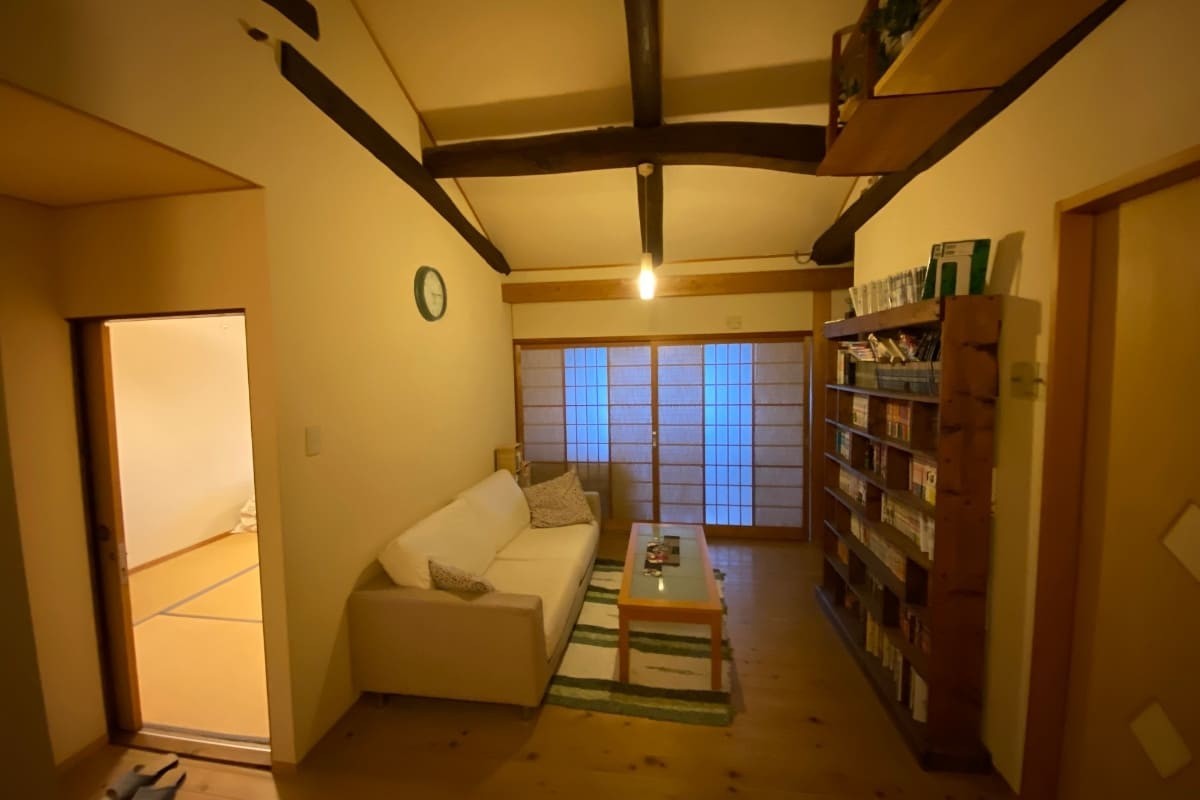 After finishing dinner, which is served in a homey style and popular among regular guests, we took a breather in the warmth of our room. Shibayama interacted with many people that day alone. He ended the first day with the information he had gained from each person in her mind.
[Day 2] Flexible and flexible in bad weather by allocating time without making too many decisions.
Shibayama woke up at 5:30 in the morning, before the sun had even risen, and enjoyed Nordic walking again this day. After the exercise, he recharged his energy with a delicious breakfast at a private residence before starting the day's activities.
Looking for local delicacies nurtured by Owase's nature.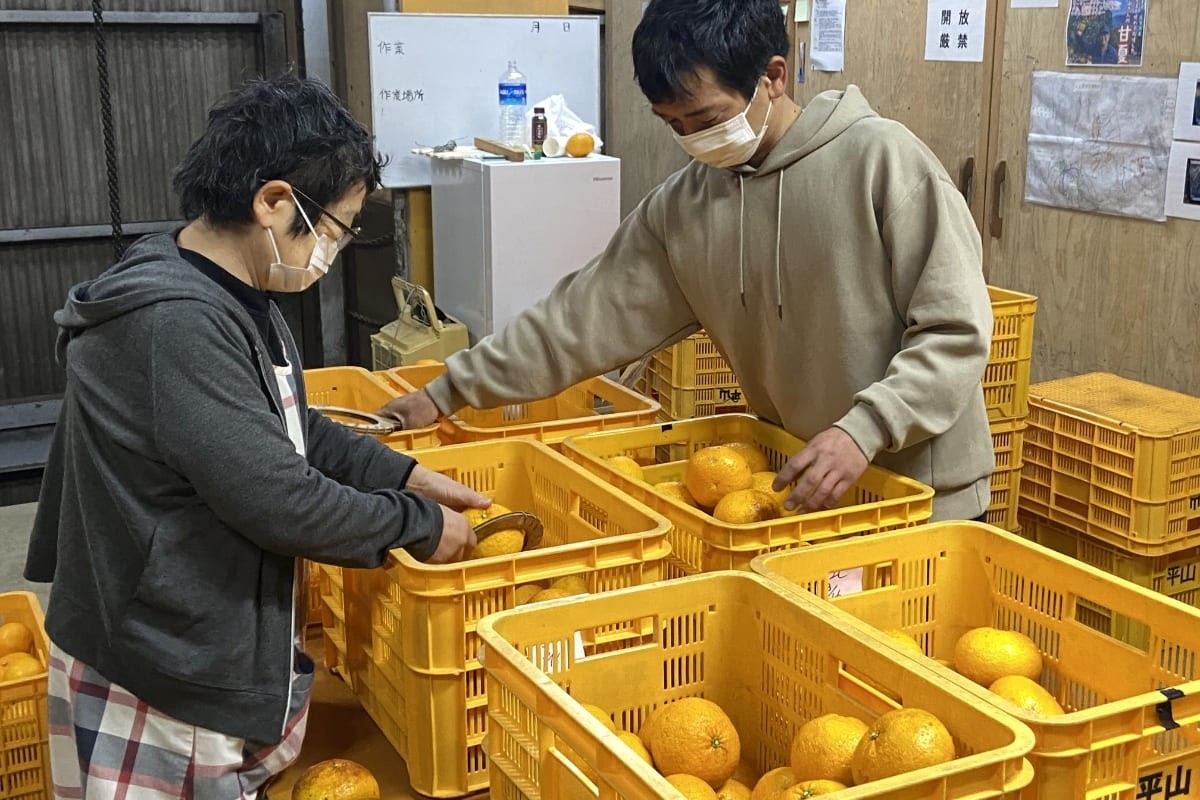 Based on information obtained at the Tourist Products Association he visited the day before, Shibayama visited "Hirayama Farm," which grows sweet summer oranges, lemons, and limes. The sweet summer oranges grown in Owase's mild climate and the sea breeze from Owase Port are fragrant, sweet, and juicy.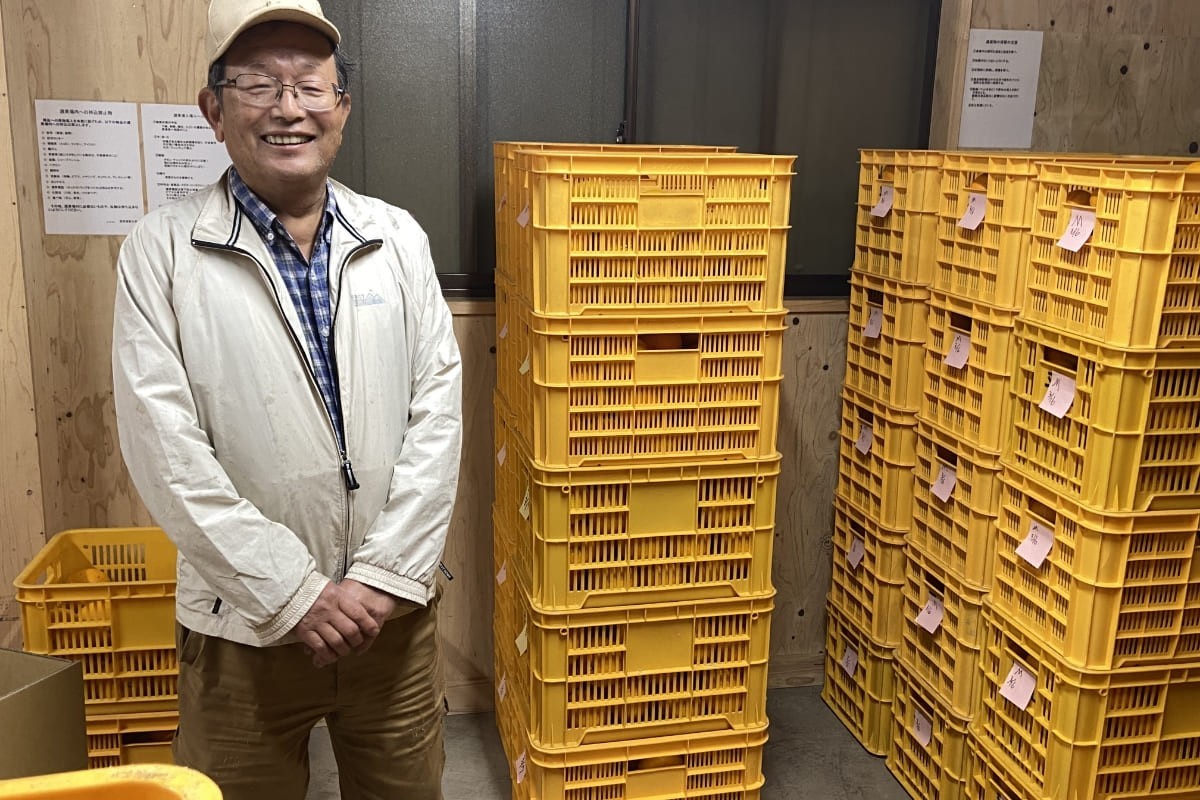 I finally got to visit a place I have always wanted to visit. As we engaged in conversation in a relaxed atmosphere, surrounded by the sweet and gentle fragrance of sweet summer, we were able to hear Mr. Hirayama, the president of the farm, give his honest opinion about the current state of the farm. It was a very meaningful time for me, as I was able to hear things that I wouldn't have been able to hear if I had gone there as part of my job," said Mr. Shibayama. said Mr. Shibayama.
Spending a moment of relaxation in a Japanese-style room with a view of the sea.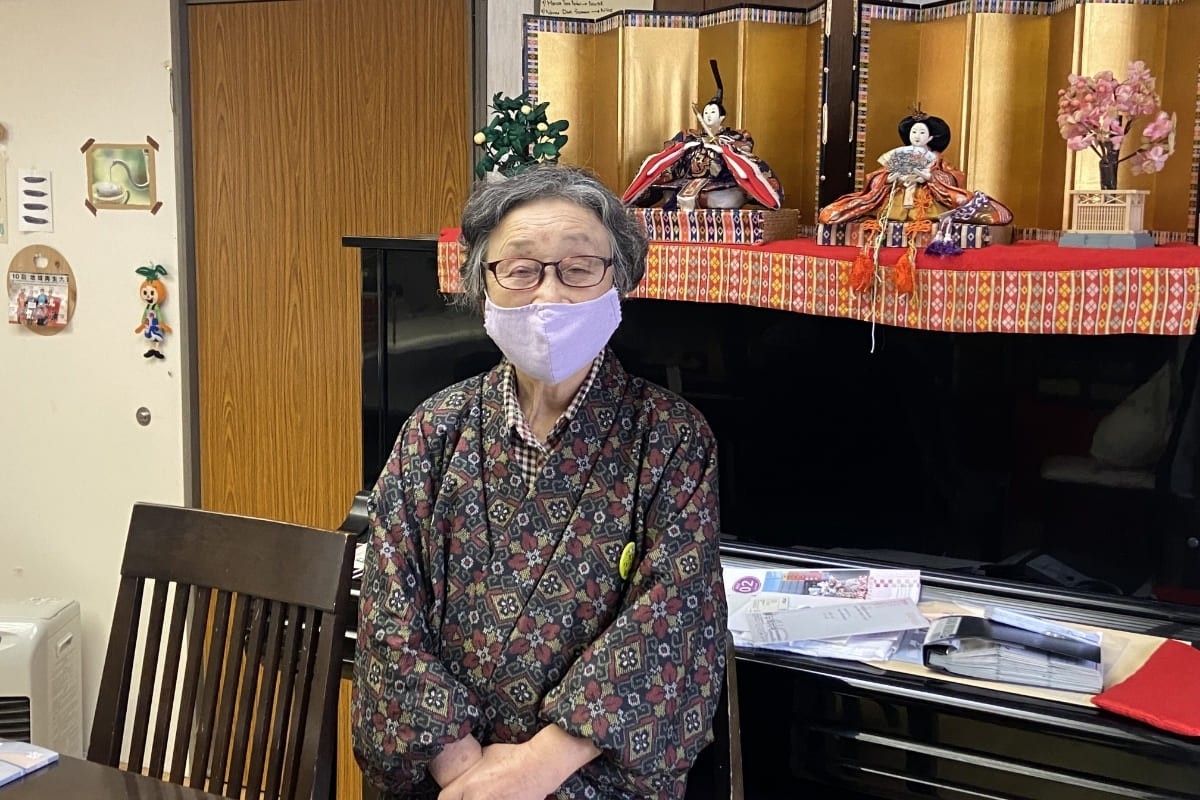 After leaving Hirayama Farm, we went to "Tenmanso" in Tenmanura. While enjoying coffee and cake in a quaint old house built in 1925, we had a conversation with Mr. Matsui, who is leading the community development of the Tenmanura area, and got some hints on how to get involved in regional development.

It was raining unfortunately that day. Shibayama was soaking wet from visiting all the places he wanted to go, so he decided to return to the guest house. When we arrived at the inn, the landlady started the bath. I was cold from the rain, so her kindness warmed my body and soul," said Shibayama.
While chatting with the owner, we enjoyed fresh fish from Owase.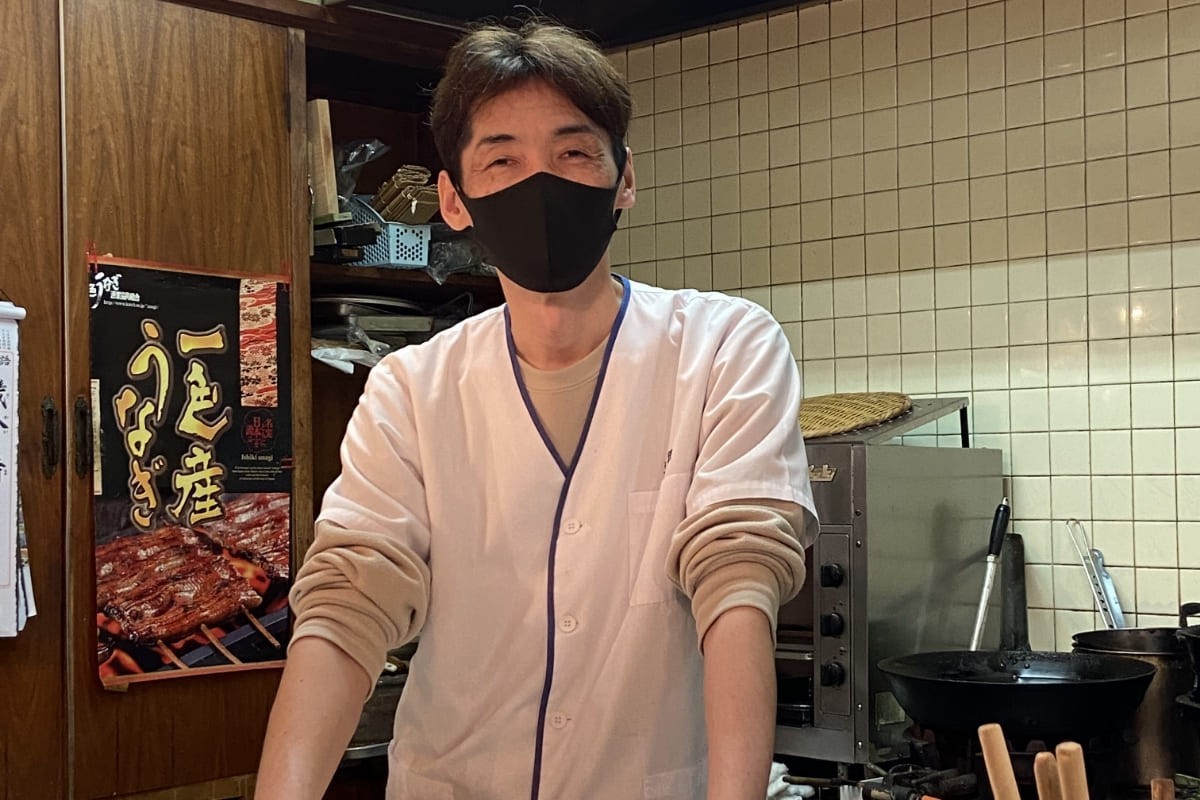 Dinner that night was at Mameda, a fish restaurant near the inn. While enjoying fresh fish dishes, Mr. Shibayama asked the owner about the fish situation in Owase. His inquisitive mind is only growing.
[Day 3] Starting the day with a sunrise view from Owase Port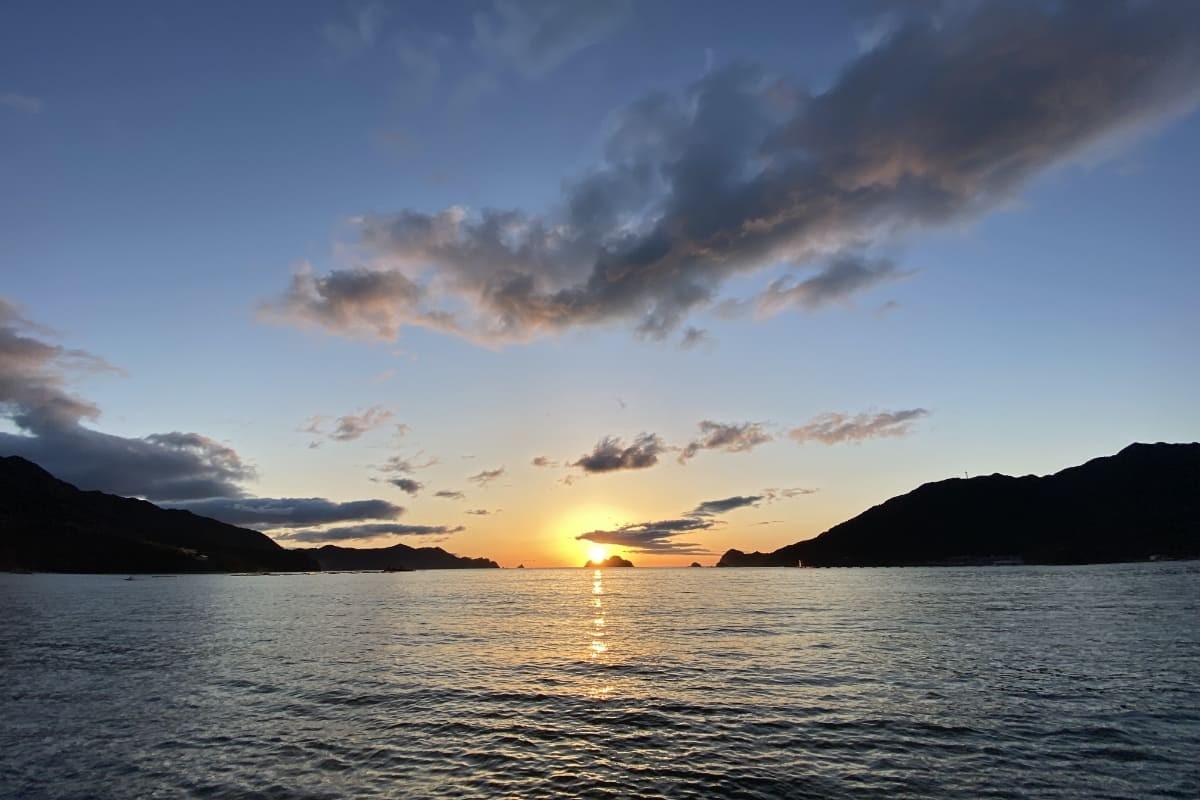 Shibayama woke up at 5:30 a.m. and went to Owase Port near his lodgings. In a complete change from the previous day, the sunrise this day was spectacular. In the fresh morning air, he did some Nordic walking, finished breakfast, and left the guest house.
Using our own feet and time, we experience things we normally cannot do.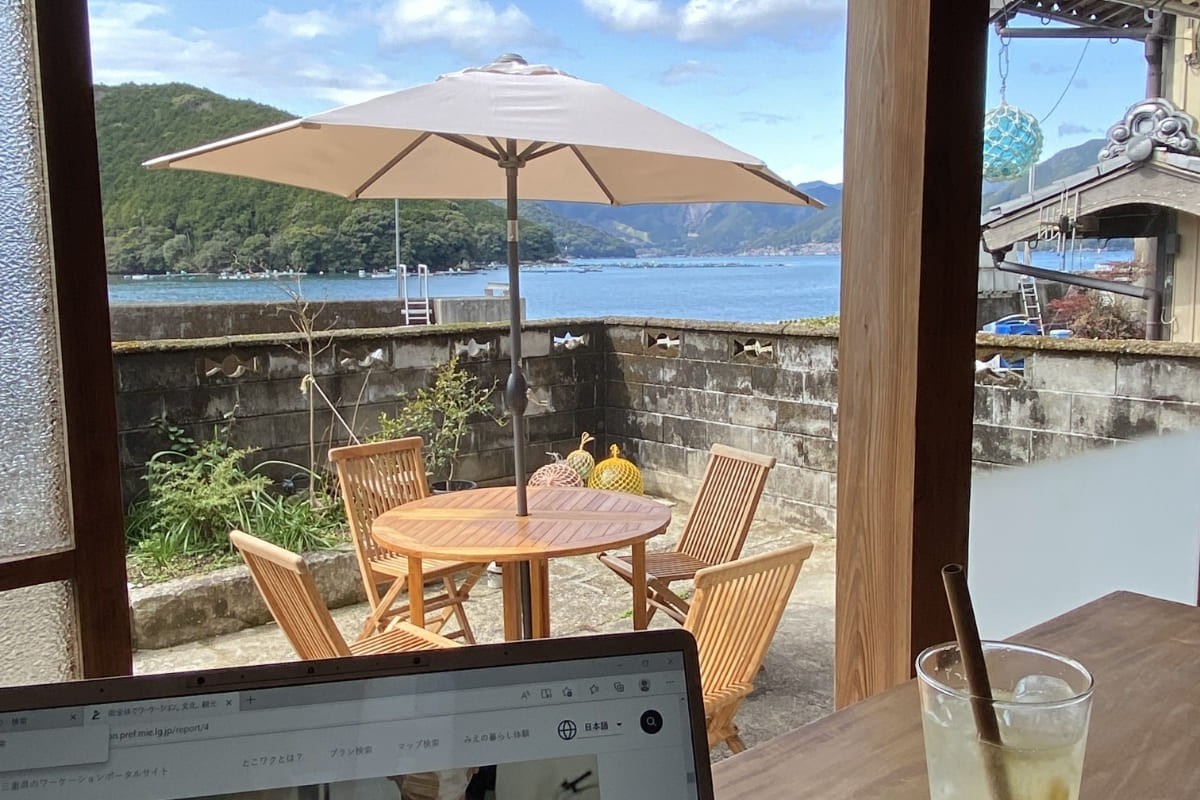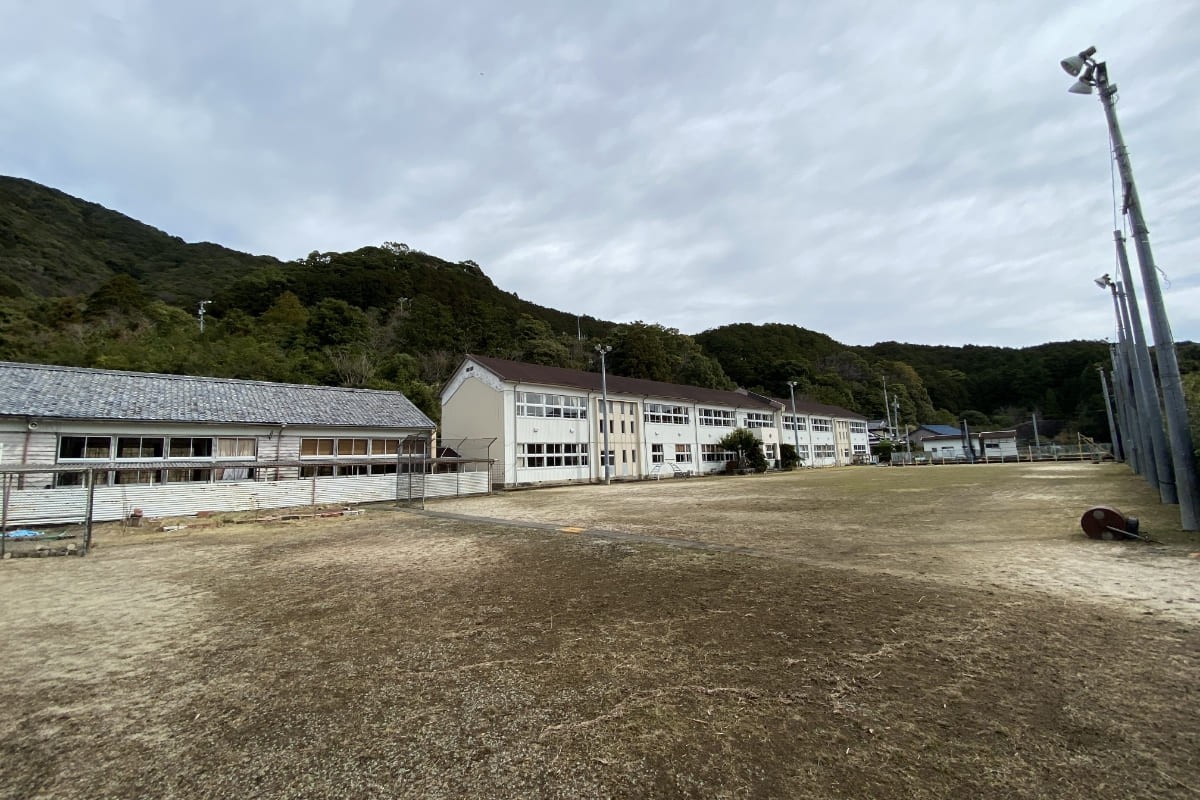 Even after checking out, there are plenty of things to do. We will visit a series of places that we cannot normally visit for work, such as teleworking while feeling the sea breeze at our favorite workspot, Oriya, and inspecting the ruins of Miki Castle from the Warring States Period, now the abandoned Miki Elementary School.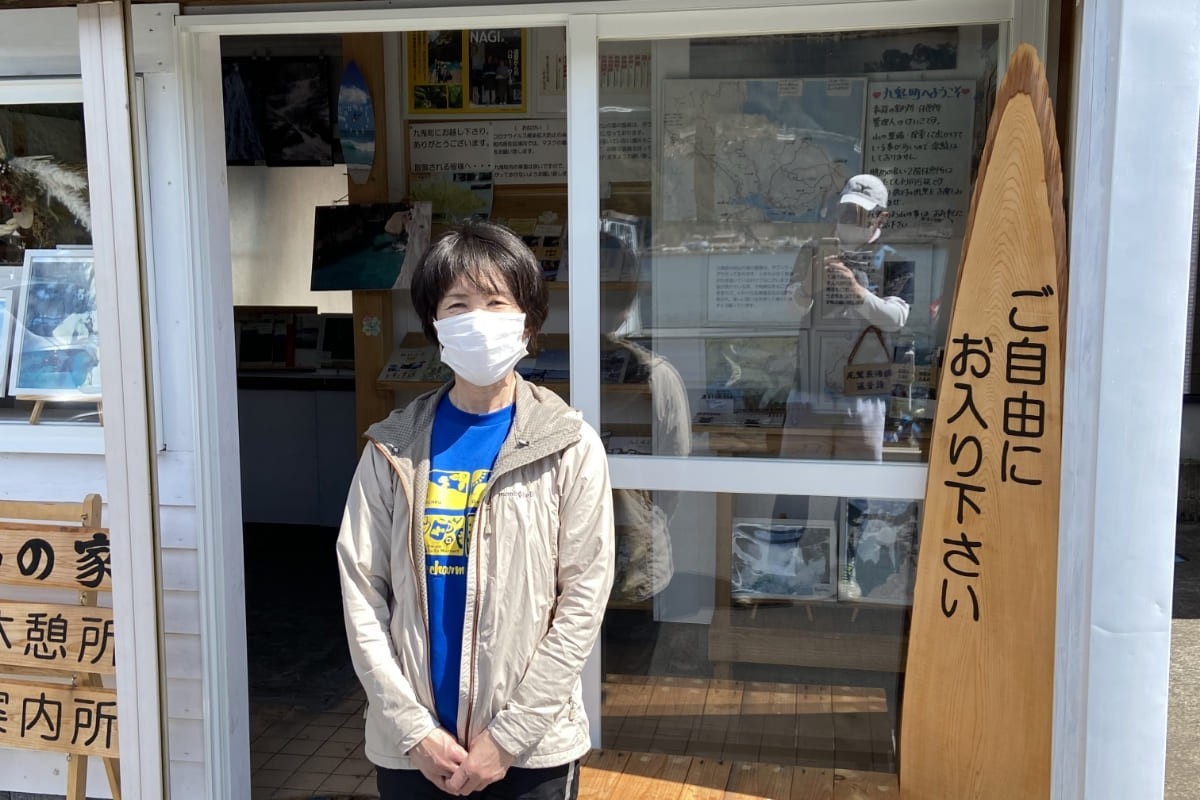 Keiko's Little Mountain House, which doubles as an information center and rest stop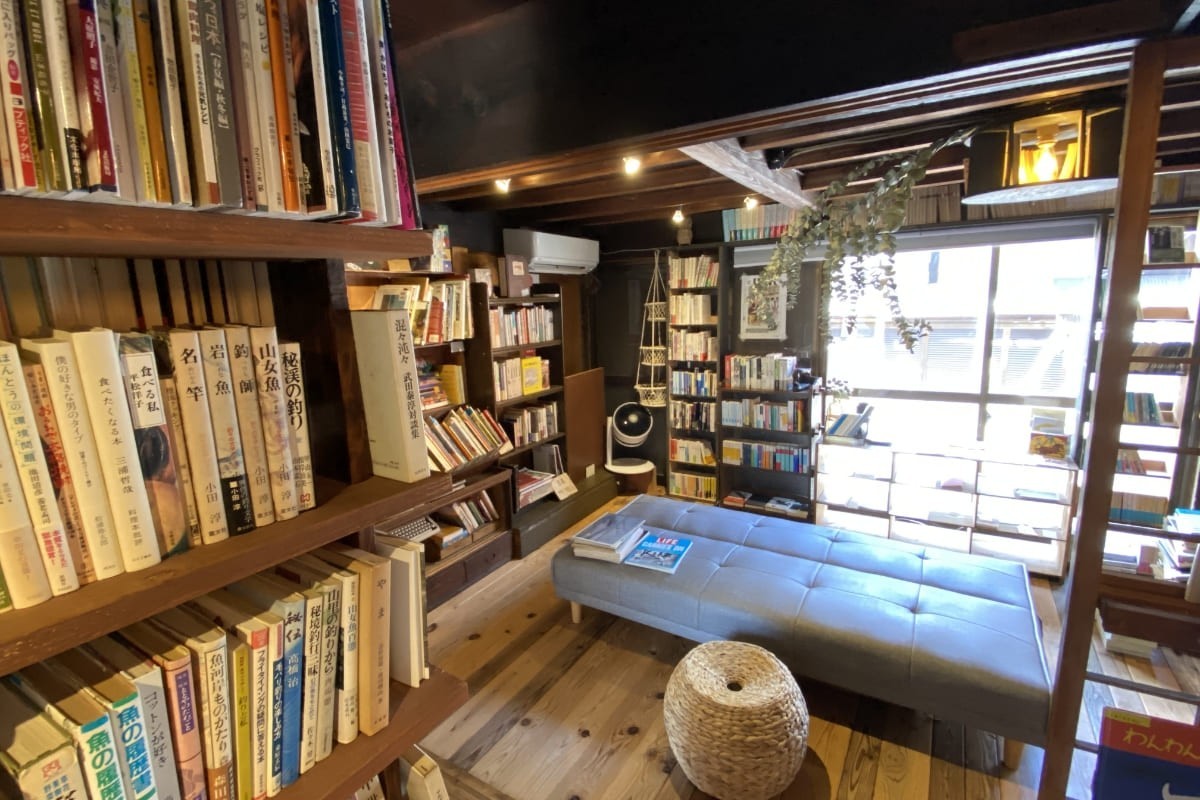 "Tongazaka Bookstore", a secondhand bookstore selling authentic literature, philosophy, and art-related books in a fishing town of hills and alleys
In the afternoon, we spent time in a series of shared spaces and concentrated on teleworking.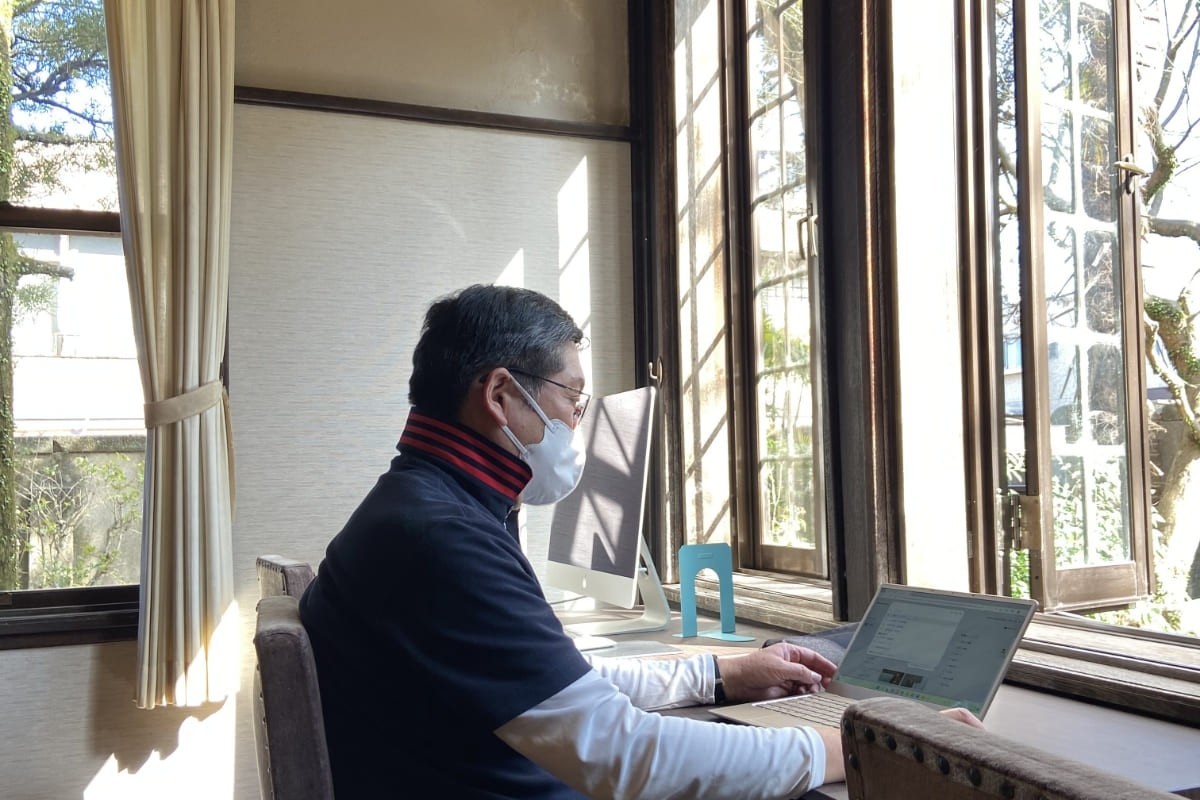 Returning to the Owase Station area, Shibayama-san went to "Share Space Doimise," which utilizes the registered tangible cultural property "Mise Doi Family Residence" built in 1931. He went to "Share Space Doimise," a registered tangible cultural property built in 1931. He sat by the window in the warm sunlight and reflected on his vacation.

During the three days, Shibayama visited many places and interacted with local people. "When you go to a place as part of your work, you tend to have a narrow perspective. Three days and two nights were not enough. I wanted one more day."
[Example of how to spend your time]
[Day 1] 8:30 a.m.
8:30 Meet up with Owase therapists and go walking at Magose-touge.
11:30 Visit Owase Tourism and Products Association
12:15 Lunch near Owase Station
13:30 Stroll around downtown Owase
14:30 Telework at co-working space "Platz Nakasen"
15:30 Visit Owase City Hall
17:00 Check in at "Guesthouse Fu-han"
17:30 Take a bath
18:00 Dinner
[Day 2] 5:30 Nordic walking
5:30 Early morning Nordic walking around Owase Port
6:30 Breakfast
9:00 Make an appointment for visit
9:50 Visit "Hirayama Farm" that grows sweet summer oranges
10:20 Arrive at "Tenmanso," a restaurant in an old private house, and enjoy a cup of coffee and cake
16:30 Dinner at "Mameda," a fish restaurant
19:20 Arrive at the guest house
[Day 3]
5:50 Go for a walk with Nordic Walking
6:30 Breakfast
8:00 Check out
8:35 Walk around Mikiura Fishing Port (Oriya, Miki Elementary School, Miki Shrine, etc.)
10:40 Walk around the farm and tourist information center and meet local people
13:15 Lunch at Owase Fish Market Ototo
14:10 Telework at "Share Space Doimise"
15:00 Telework at co-working space "Platz Nakasen"
16:00 End of workation
[Facilities]
Owase Tourism and Products Association
12-14 Nakai-cho, Owase, Mie 519-3605
Owase Tourism and Products Association
Co-working Space "Platz Nakasen"
3-8, Nakai-cho, Owase, Mie 519-3605, Japan
0597-23-8261(Owase Tourist and Products Association)

Guest House Fu-han
11 Tenmanura, Owase, Mie 519-3602
Hirayama Farm
12-22 Hayashi-cho, Owase, Mie 519-3612

Tenmanso
161, Tenmanura, Owase, Mie 519-3625

Mameda Fish Restaurant
5-37 Sakae-cho, Owase, Mie 519-3618

Share Space Doimise
14-2 Asahi-cho, Owase, Mie 519-3611