I worked around the cottage-type accommodation "Fiore Shima" while enjoying seafood eaten at a diver's hut, a sunset cruise, and the view of Ago Wan (Ago Bay) from the observation deck. I stayed alone this time, but since this is a cottage-type facility, you can save on lodging costs if you stay with more than one person. Highly recommended for a group workcation!
Recommendations
・You will discover new discoveries in the exquisite seafood course that you will enjoy while talking with the divers - Ama.

・Recommended for groups. Enjoy working in an affordable cottage-type facility.

・The sunset cruise and the view of Ago Bay from the observatory will give you a chance to organize your thoughts.
Special lunch at an ama hut where Ama divers cook face-to-face with you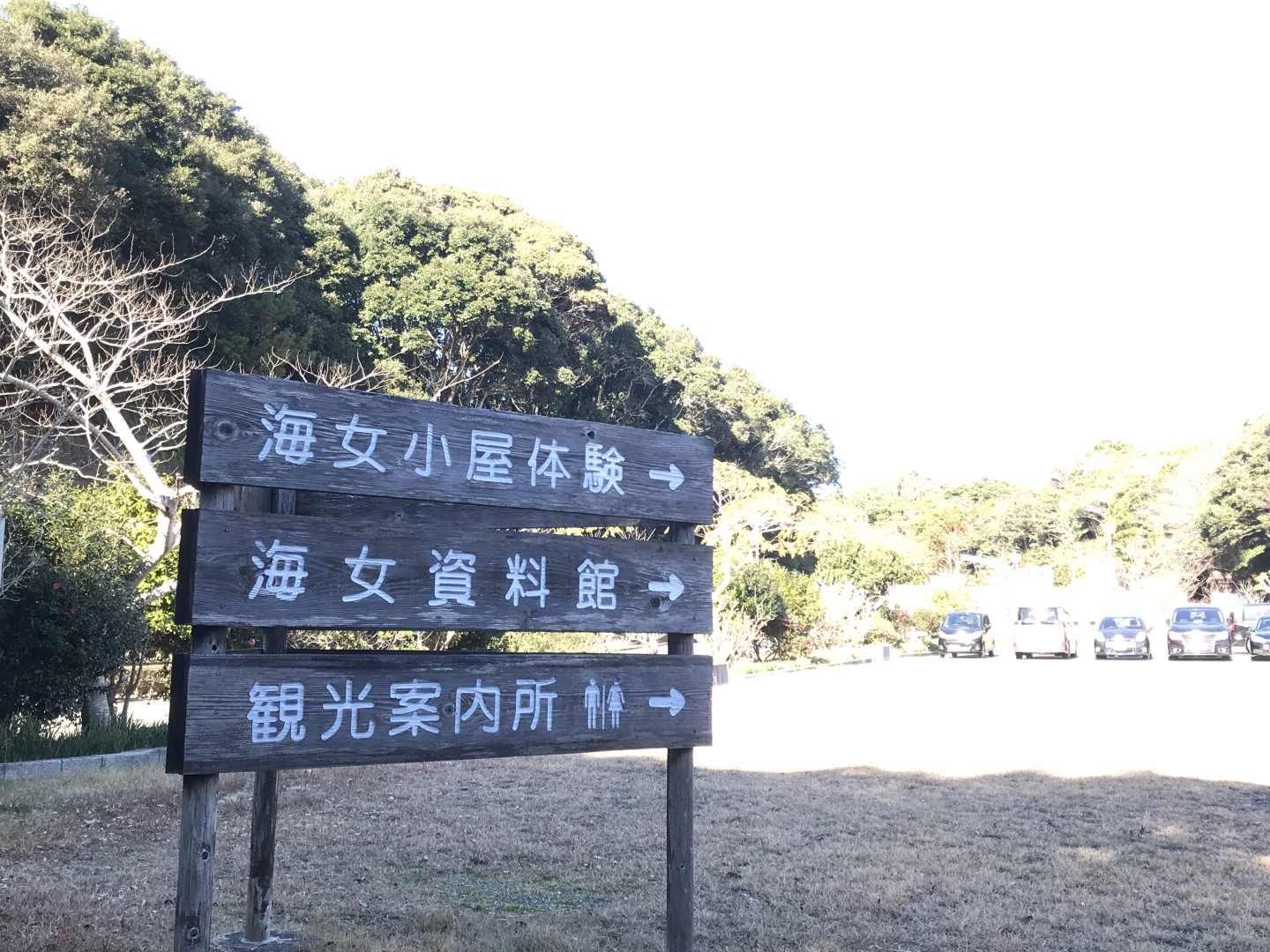 Hello. My name is Kawakita. Today I came to Shima City in Mie Prefecture for a workcation. This time, we will be traveling to remote points, so we will be driving.
We would like to have lunch first before checking into the hotel.
Here is what we came to do.
Satomian Ama (Ama Woman's Hut Experience Facility)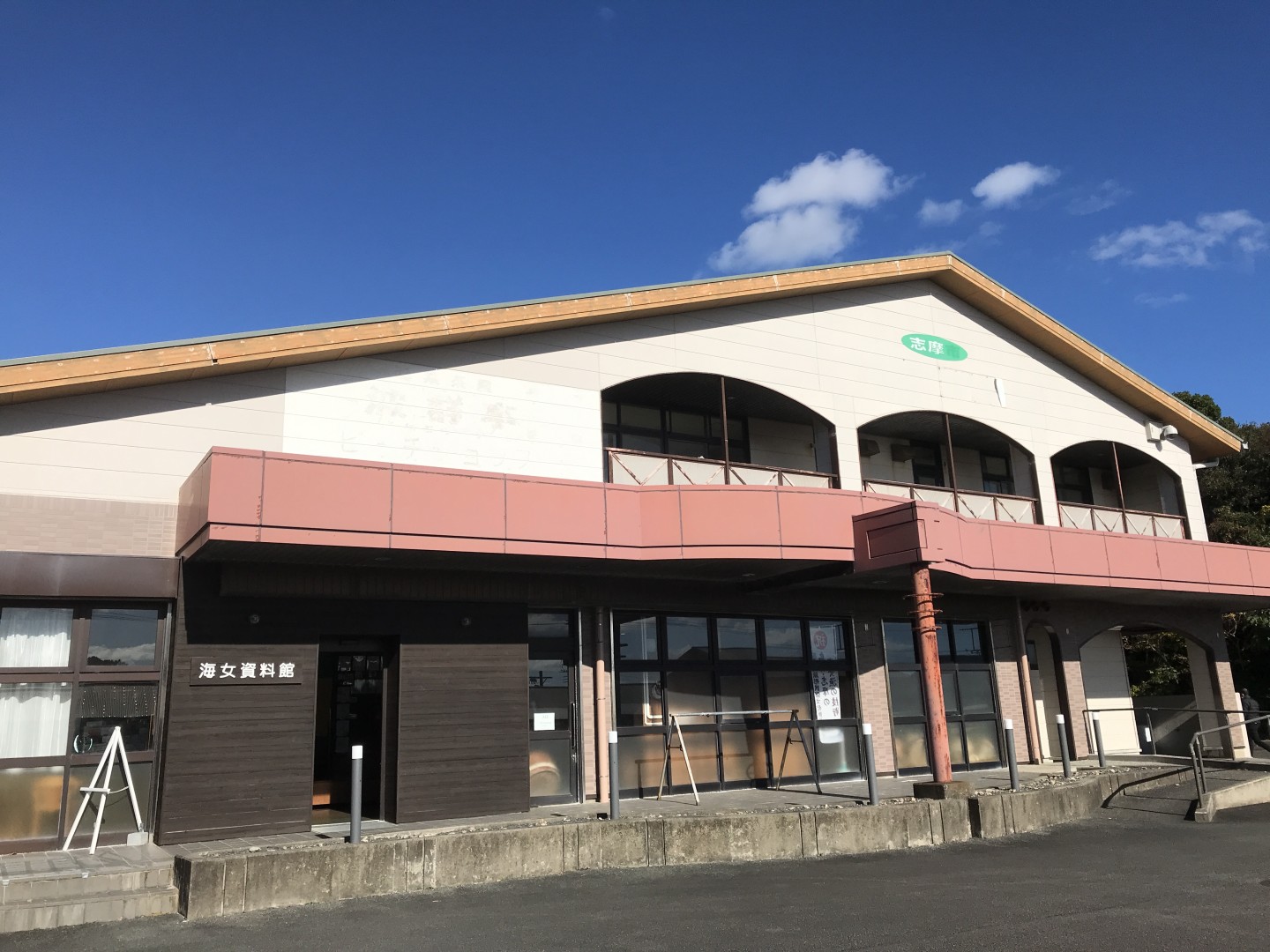 The photo above shows the reception area, where there is a recreated ama hut and tourist information in the facility.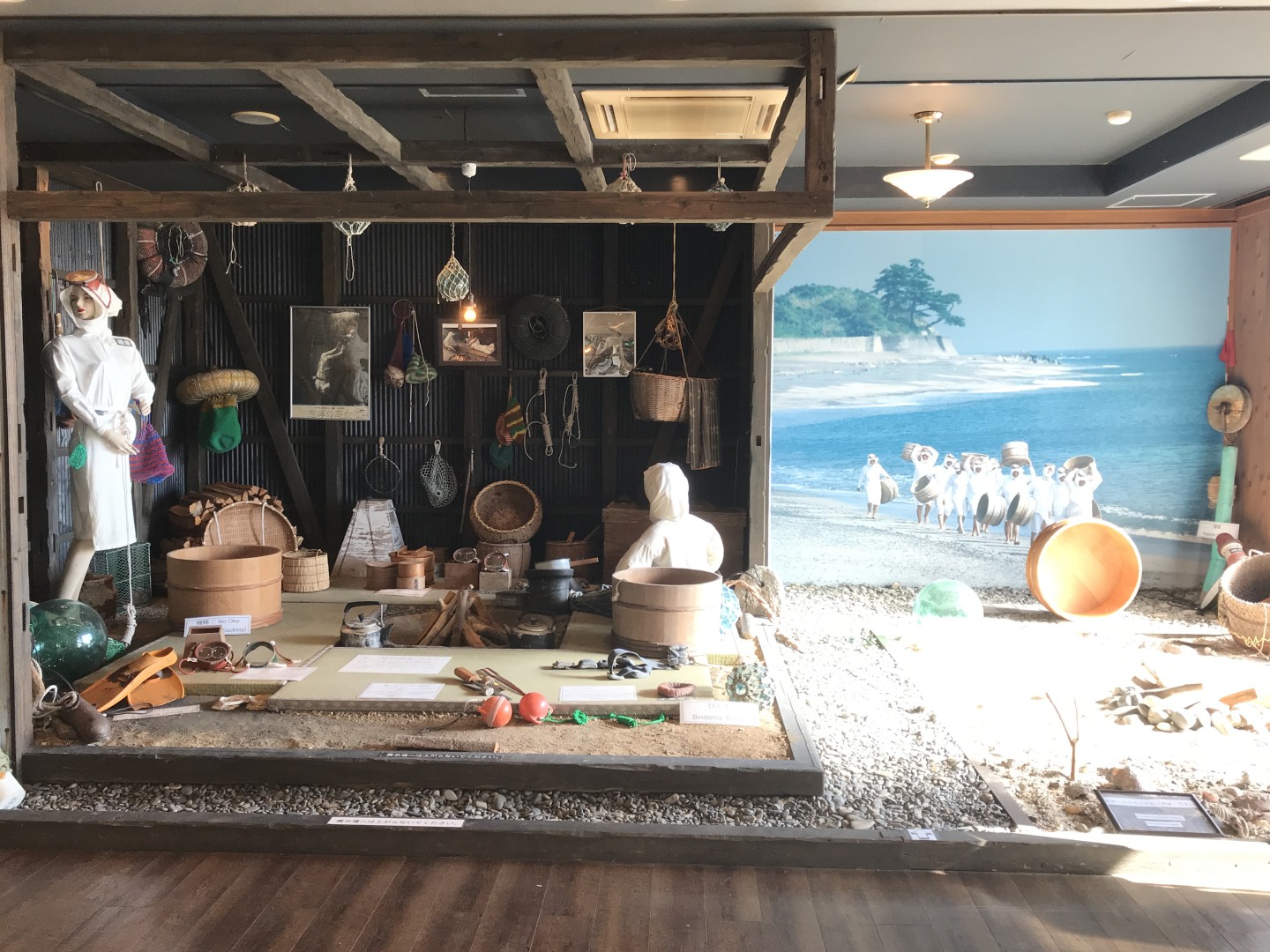 Satomian is a facility operated by the Shima City Tourism Association.
The company accepts workcationers in cooperation with nearby accommodation facilities.
Since there is a tourist association at Satomian, even if you come here with zero knowledge of Shima City tourism, you can rest assured that you will be taught a lot of things.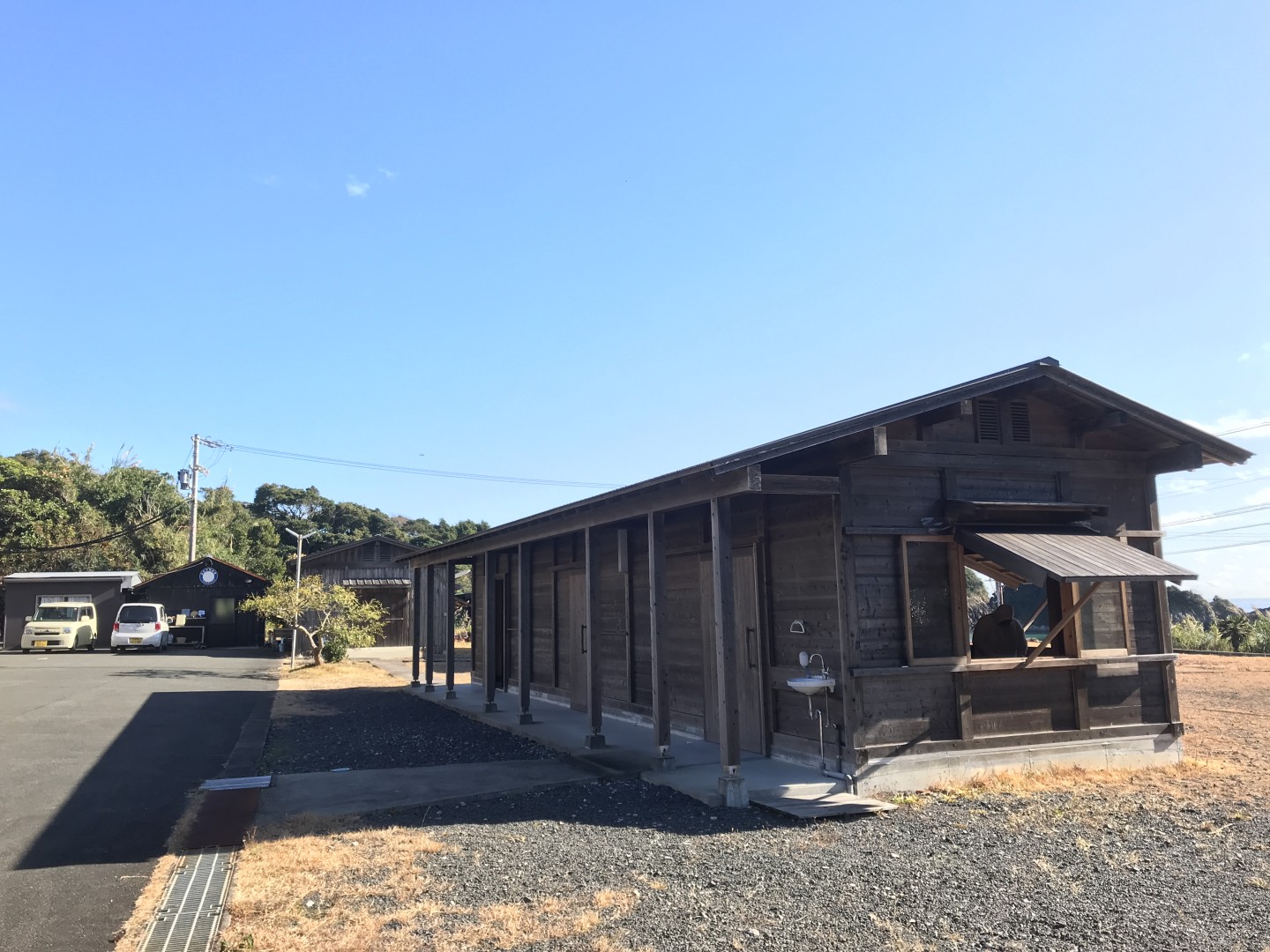 In front of the building mentioned earlier is this ama hut-type eating space.
I can't help but be excited that the Ama divers will be grilling and serving their food face to face here.
Now it's time to enter the hut.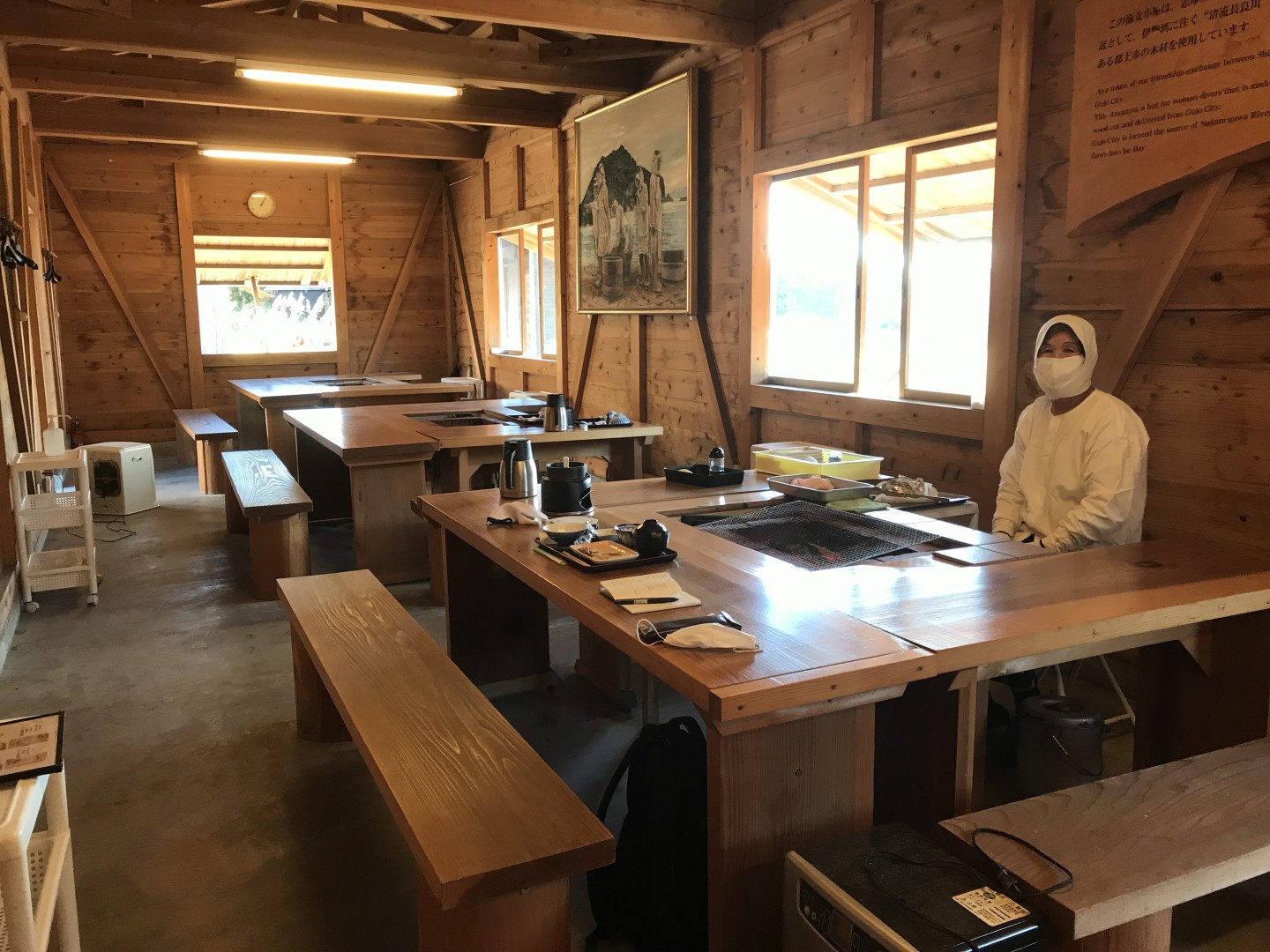 Inside, each customer is served by one ama (diver).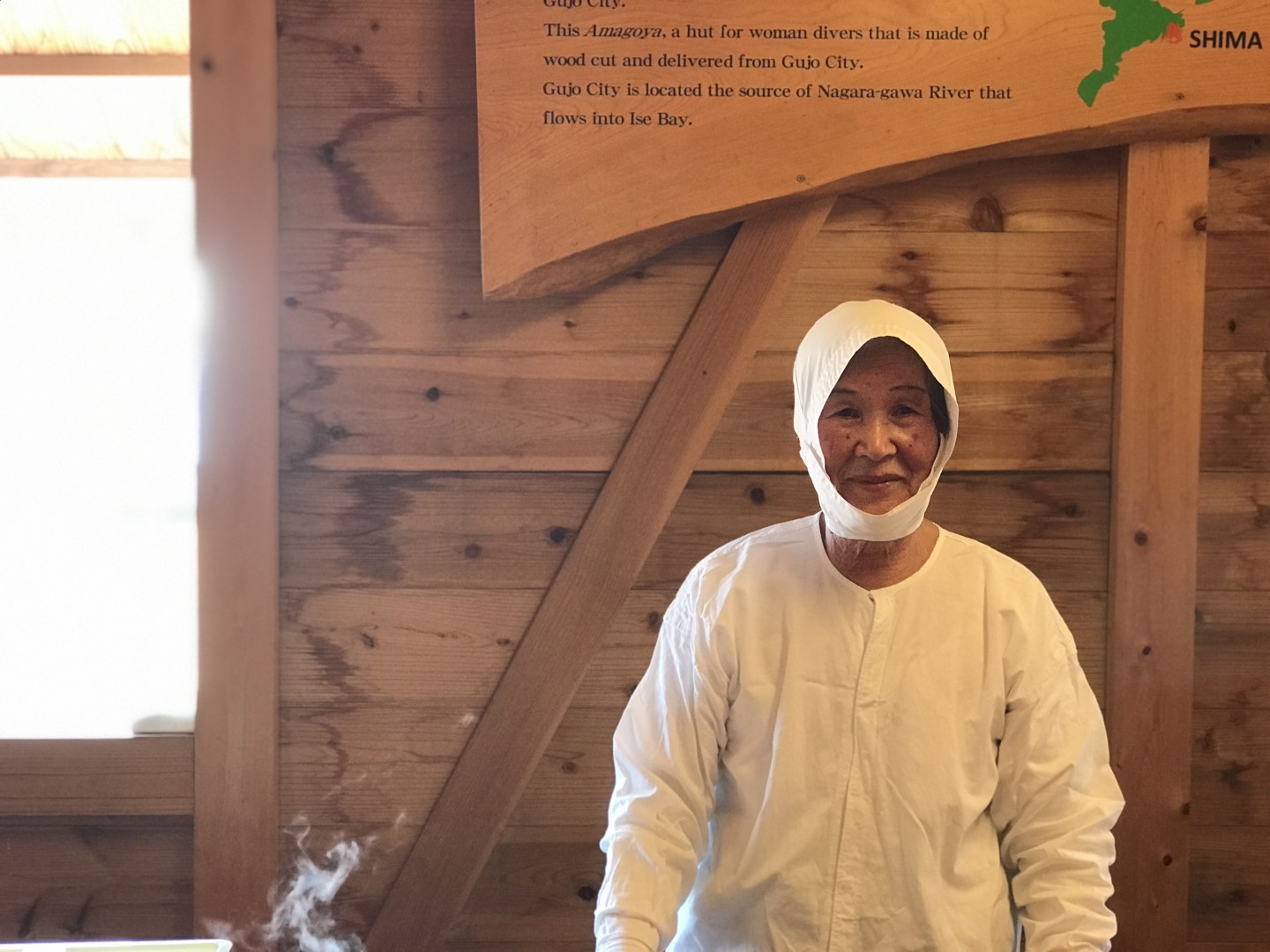 The person who will be in charge of me today is Miwako-san, who has 23 years of experience as a diver and 5 years of experience at Satomian.
(Masks were removed only for the photo shoot.)
She is a bright and pleasant lady who answered my poor questions without a trace of disgust.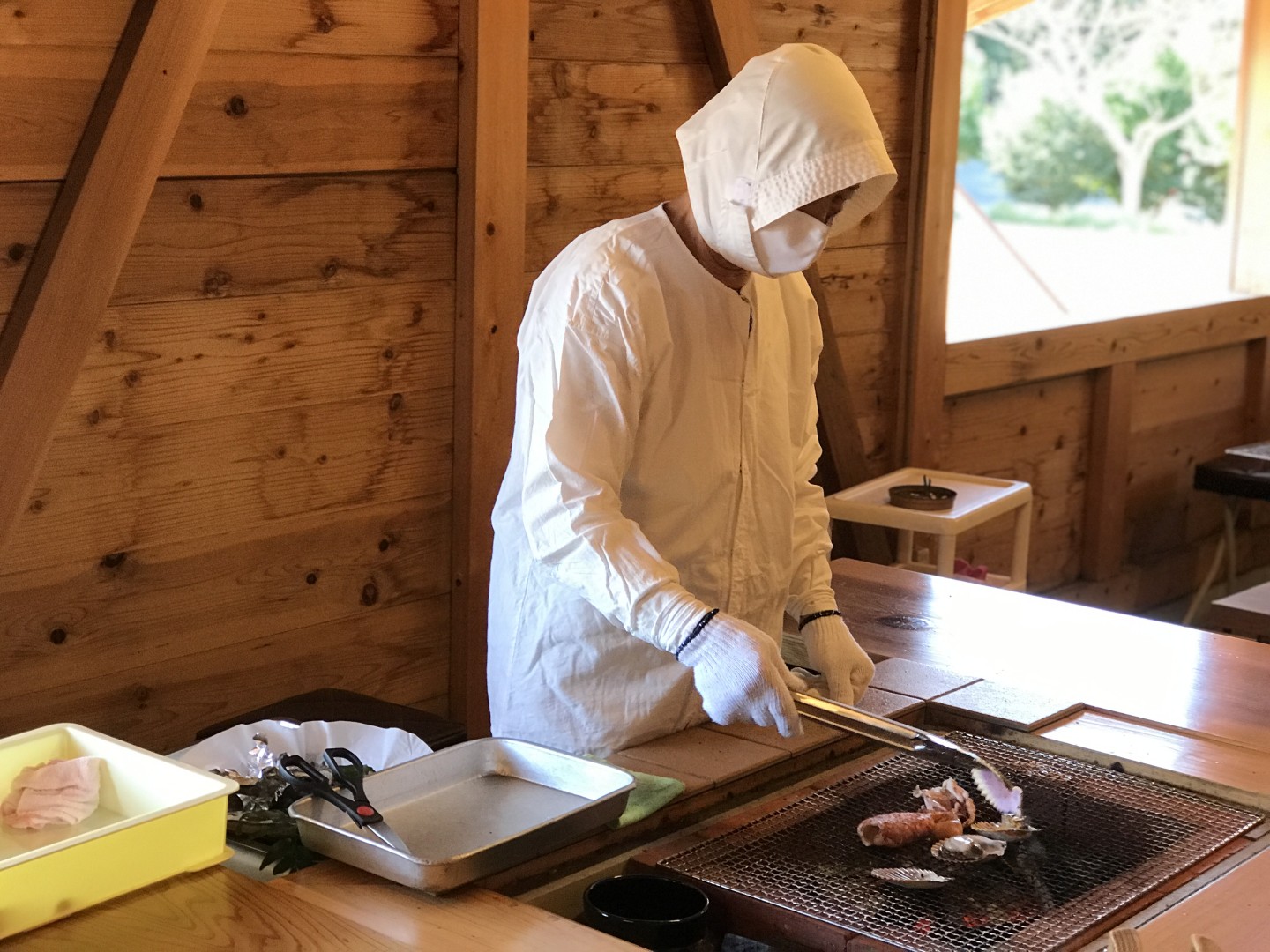 Miwako was originally employed in pearl cultivation, but when her business was downsized, she became a diver.
Ama divers are physically demanding workers who spend about an hour between 9:00 and 10:00 a.m., and rest in the afternoon. There used to be 200 ama divers, but now there are only about 30. The average age is 65 years old.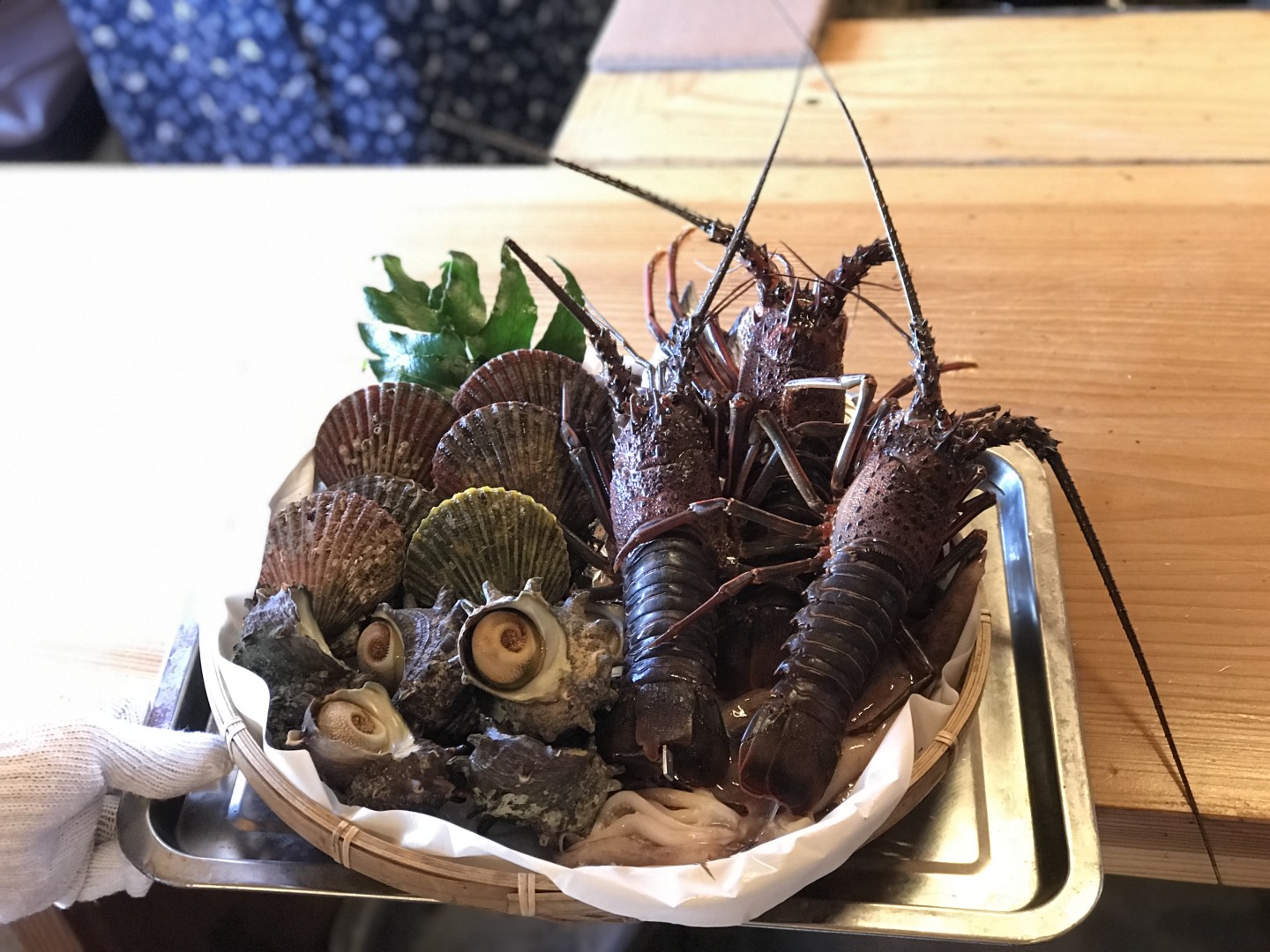 The photo above is for three people (with lobsters). Actually, this is not what I ordered, but was taken by the kind group next door.

This kind of person-to-person contact does not usually happen in an office, so it is a good thing that only a workcation can provide.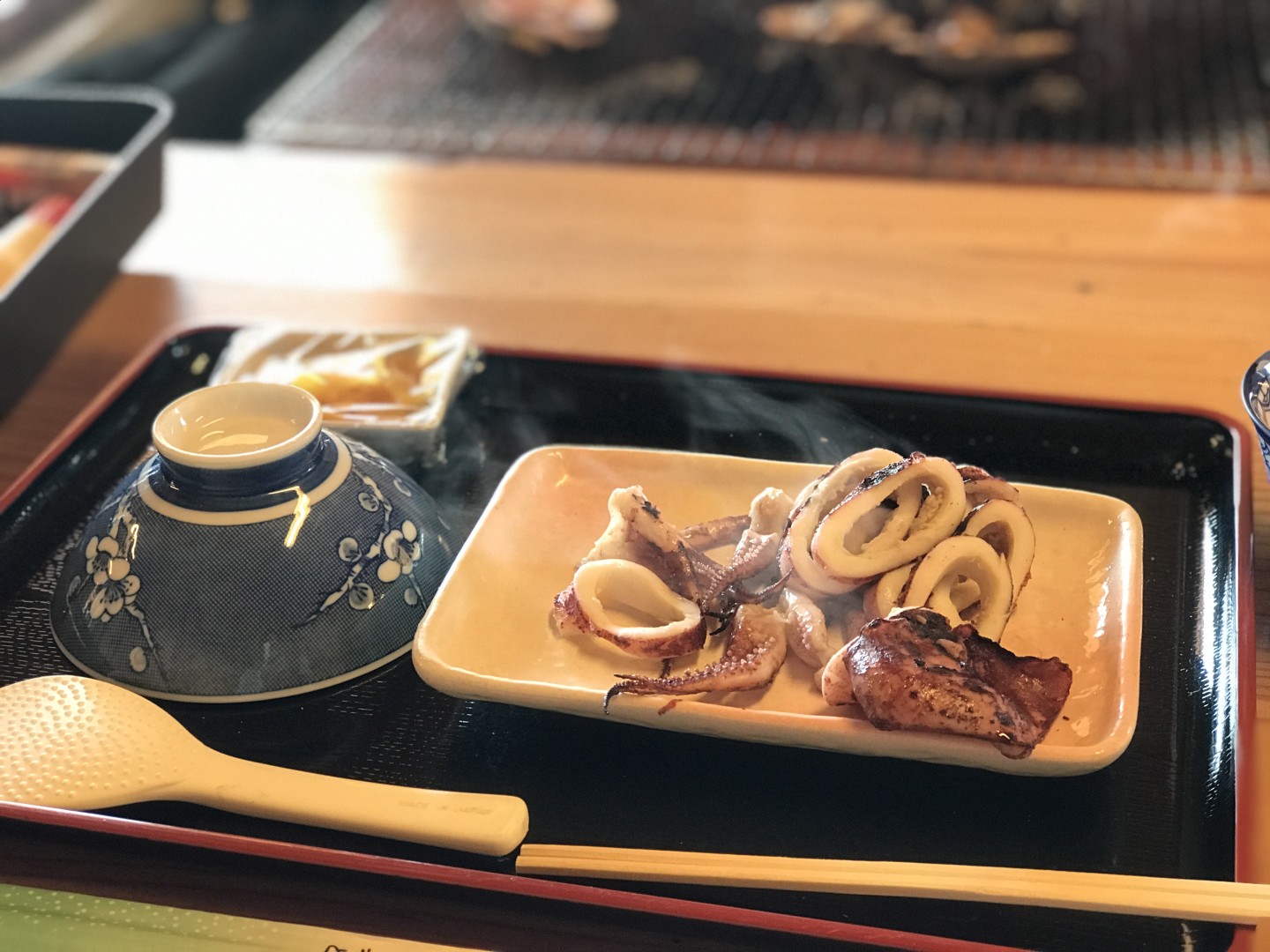 Squid. With mayonnaise. This is definitely a delicious one.
The grilled ingredients were hiwangi clams, squid, turban shells, dried barracuda (the fish changes depending on the season), and shark sauce.
Shark tare is seasoned and sun-dried shark meat, and is commonly eaten in the Ise-Shima region. They also eat it on occasions such as celebrations.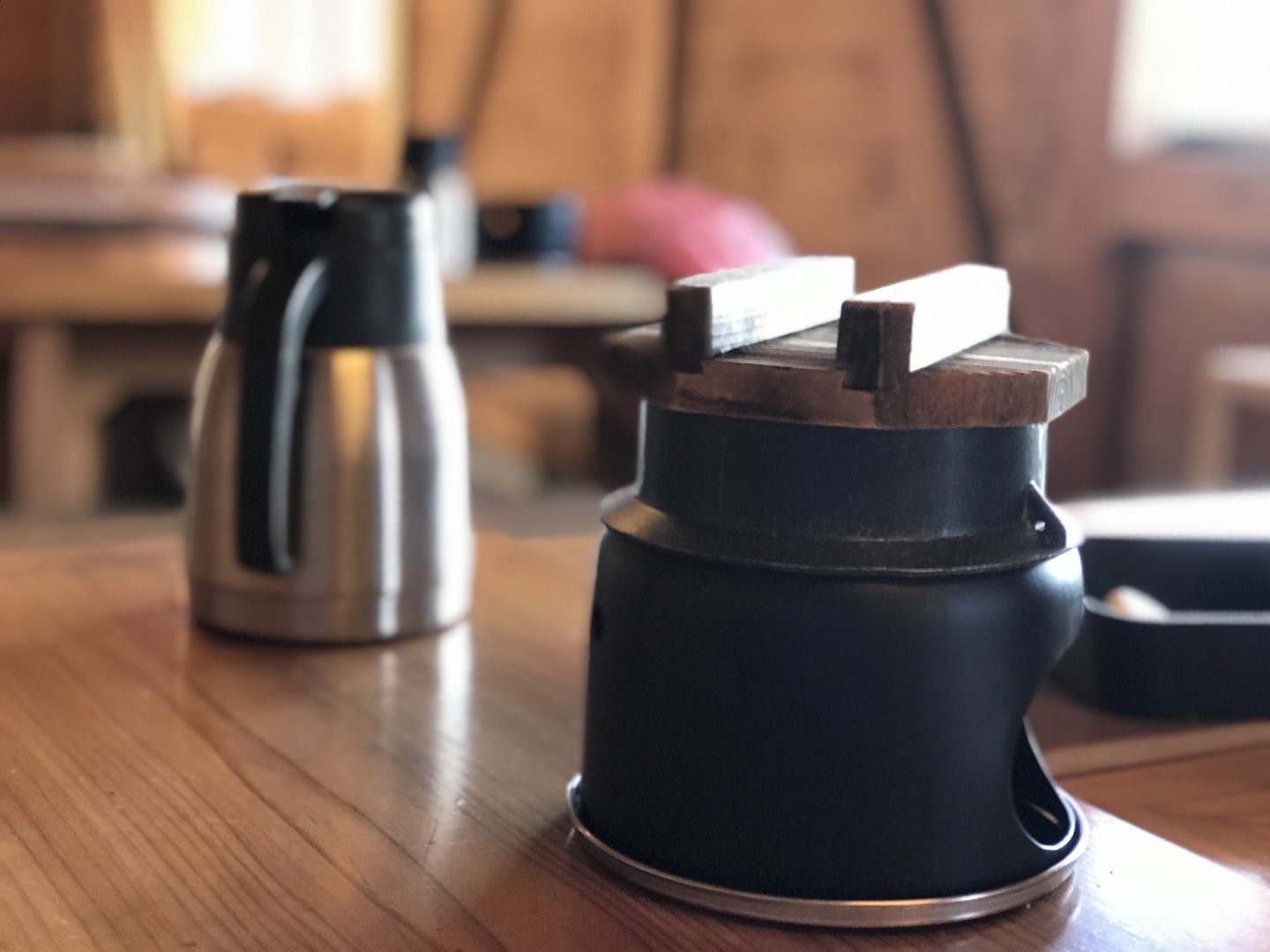 There was not only grilled seafood, but also miso soup with azuki beans and hijiki rice.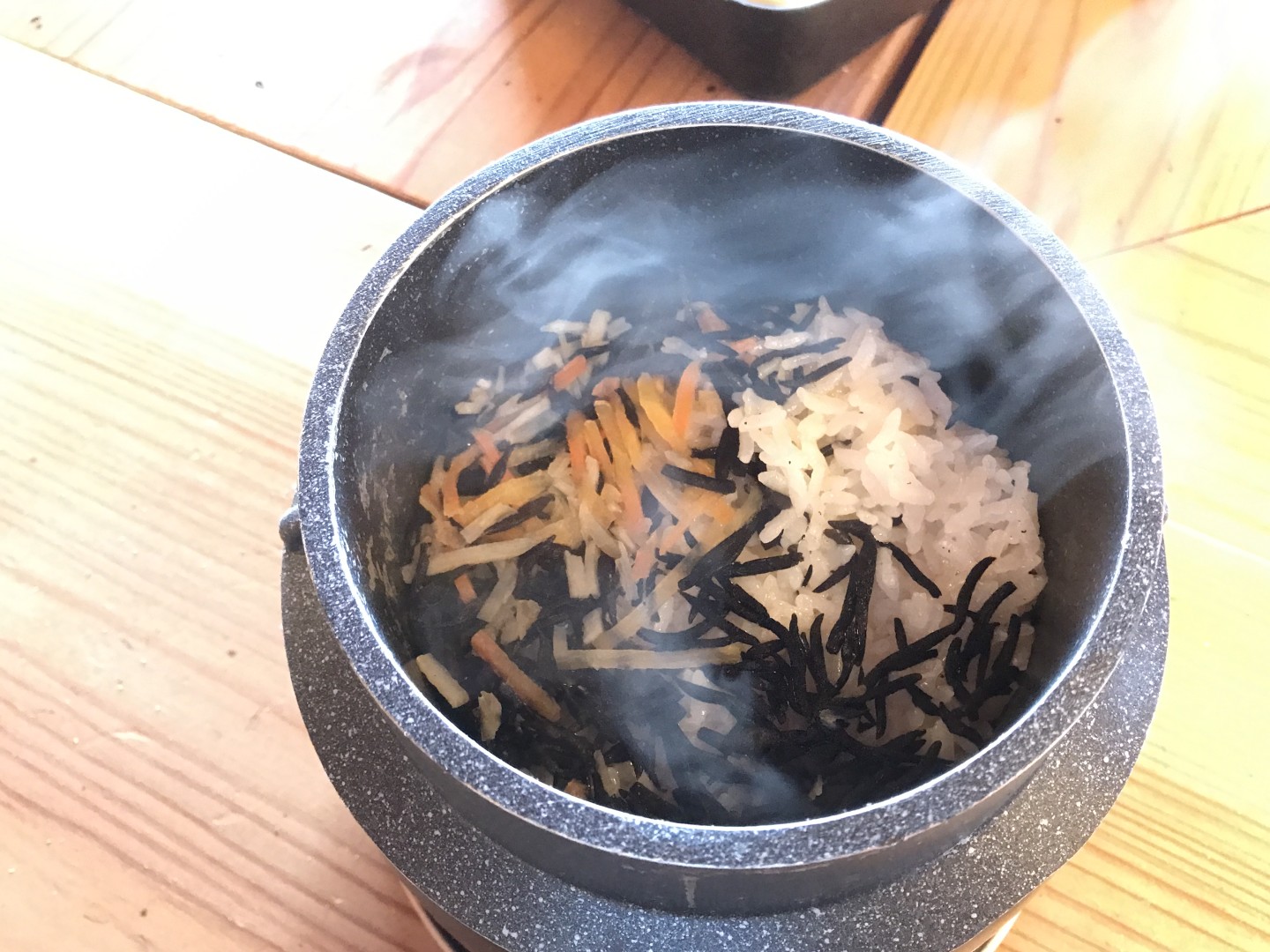 This is the only place where you can enjoy fresh seafood grilled over charcoal while talking face-to-face with ama divers. According to Miwako, "When I am not working as a diver, I can work at Satoumian, which really helps me out. Please make a trip to Shima for Satoumian.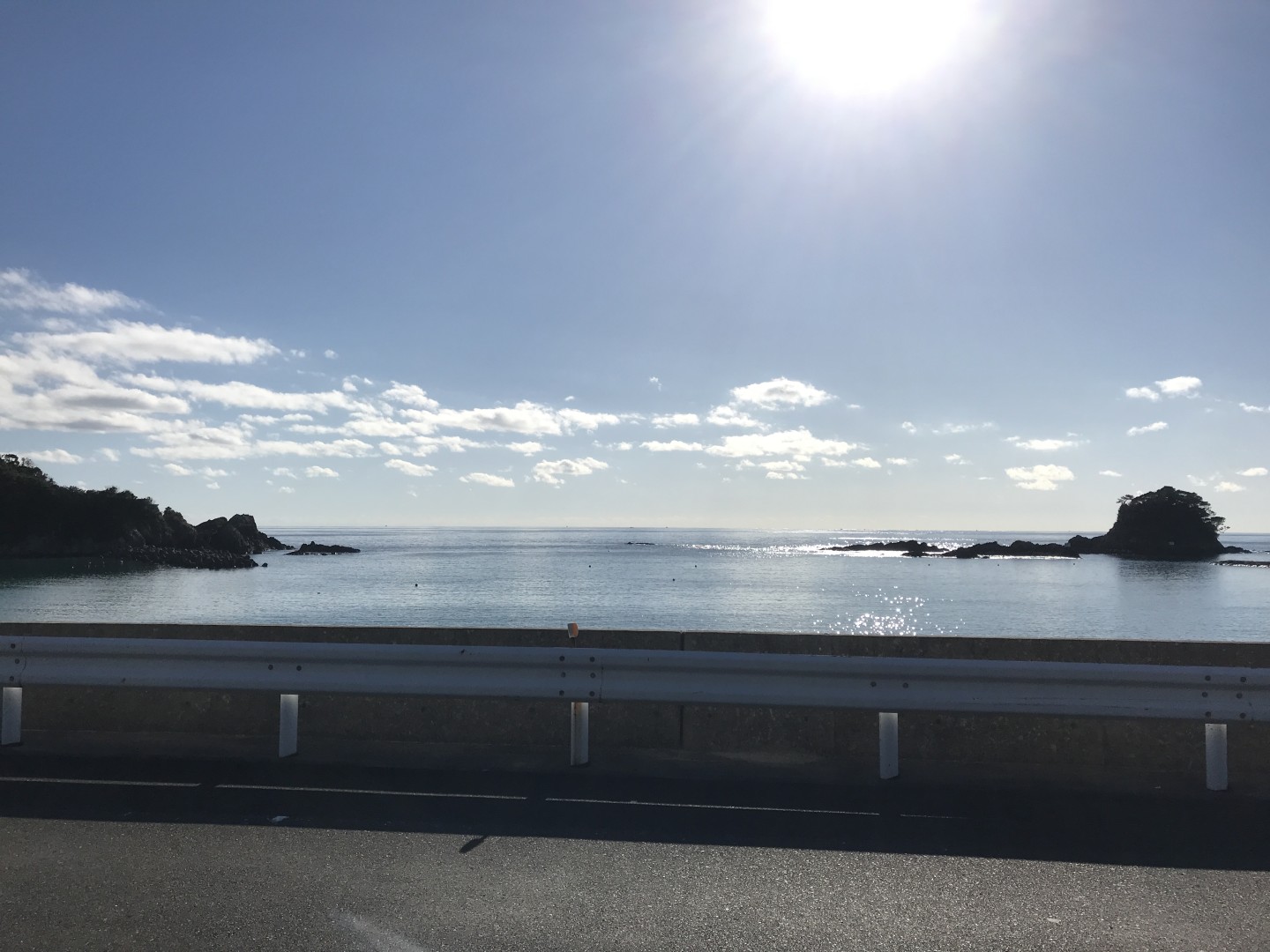 With our stomachs full, we left Satomian and headed for Fiore Shima, where we would stay for the night while looking out over the ocean.
Cottage-style facilities with a resort atmosphere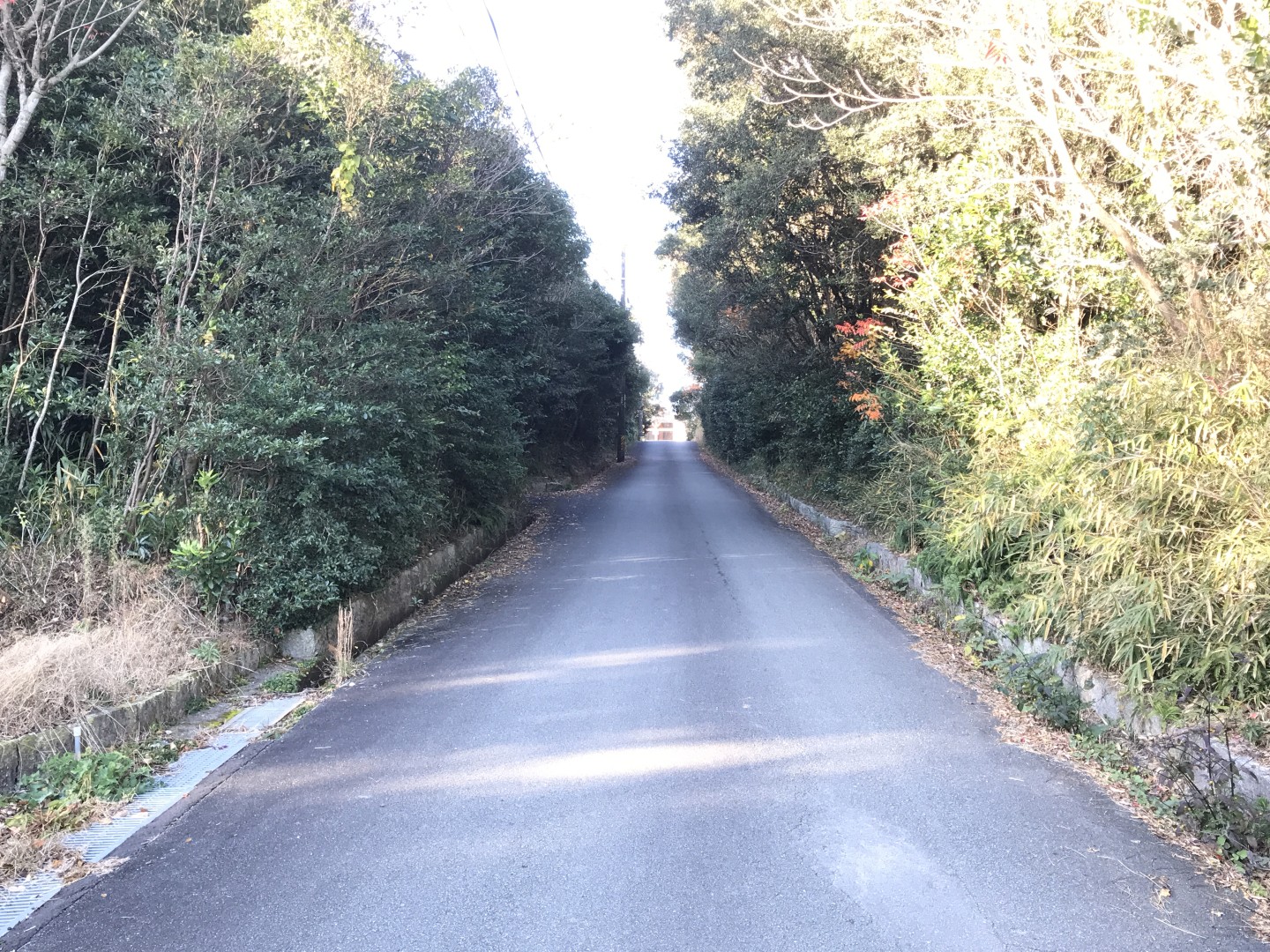 It was a 25-minute drive from Satomian. The car navigation system led us to a narrow road where it was unlikely that a car would be able to turn around. I drove through the trees, wondering if there were really accommodations here....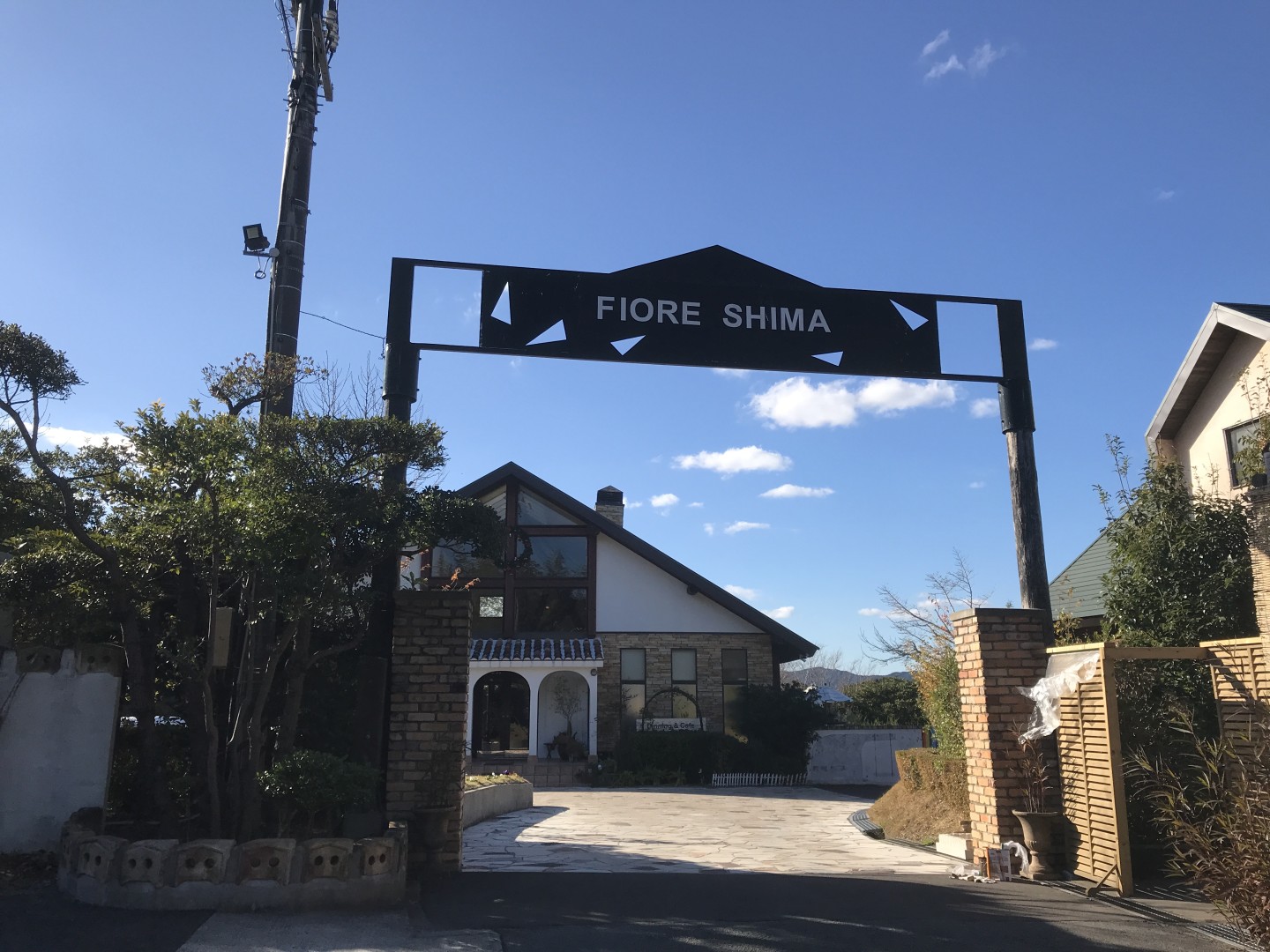 Suddenly, my field of vision widened and the sign for Fiore Shima appeared.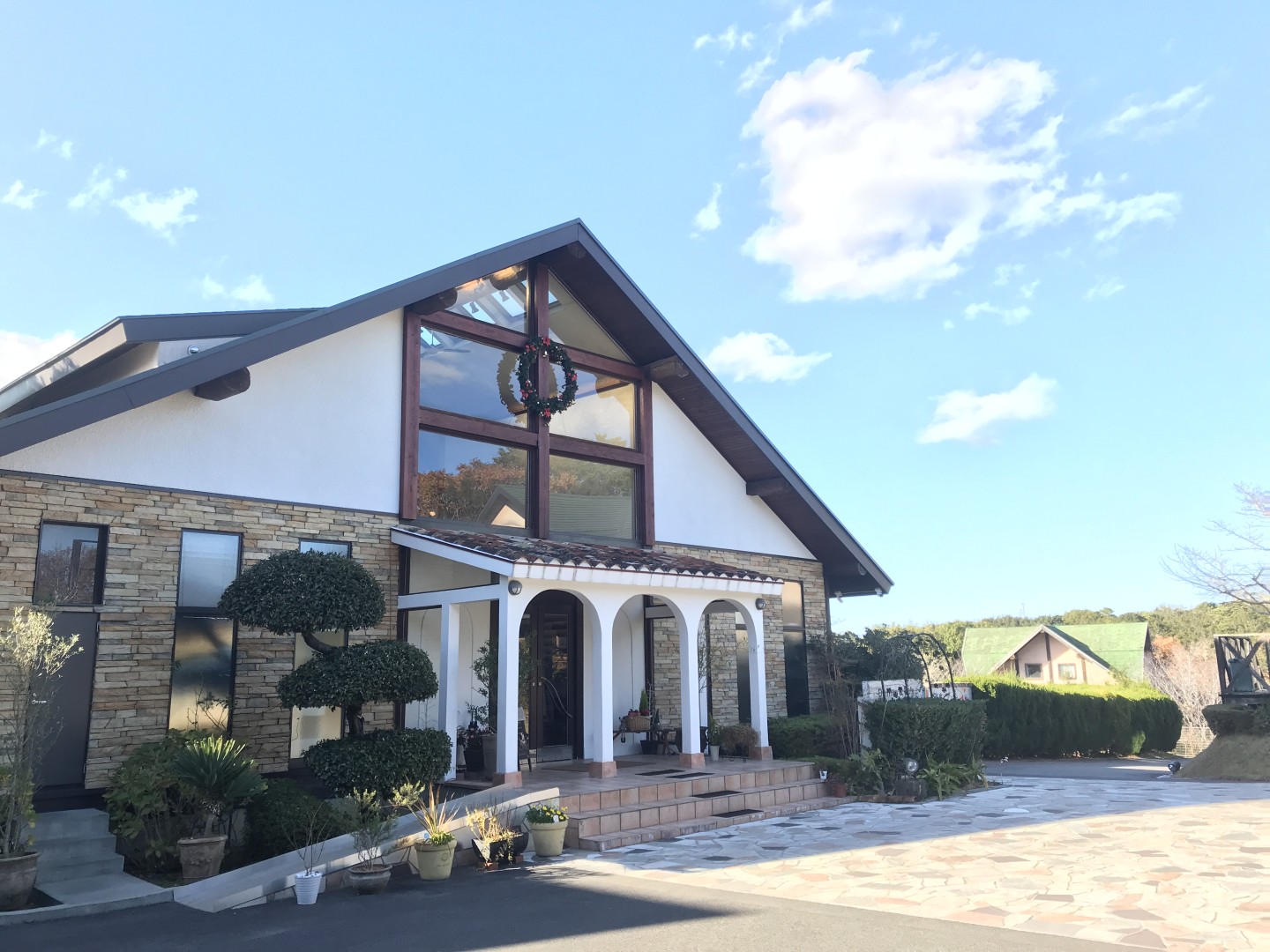 This is the resort-type accommodation facility "Fiore Shima. The weather was very nice that day, so it looks great. Fiore Shima has 16 cottages on the premises.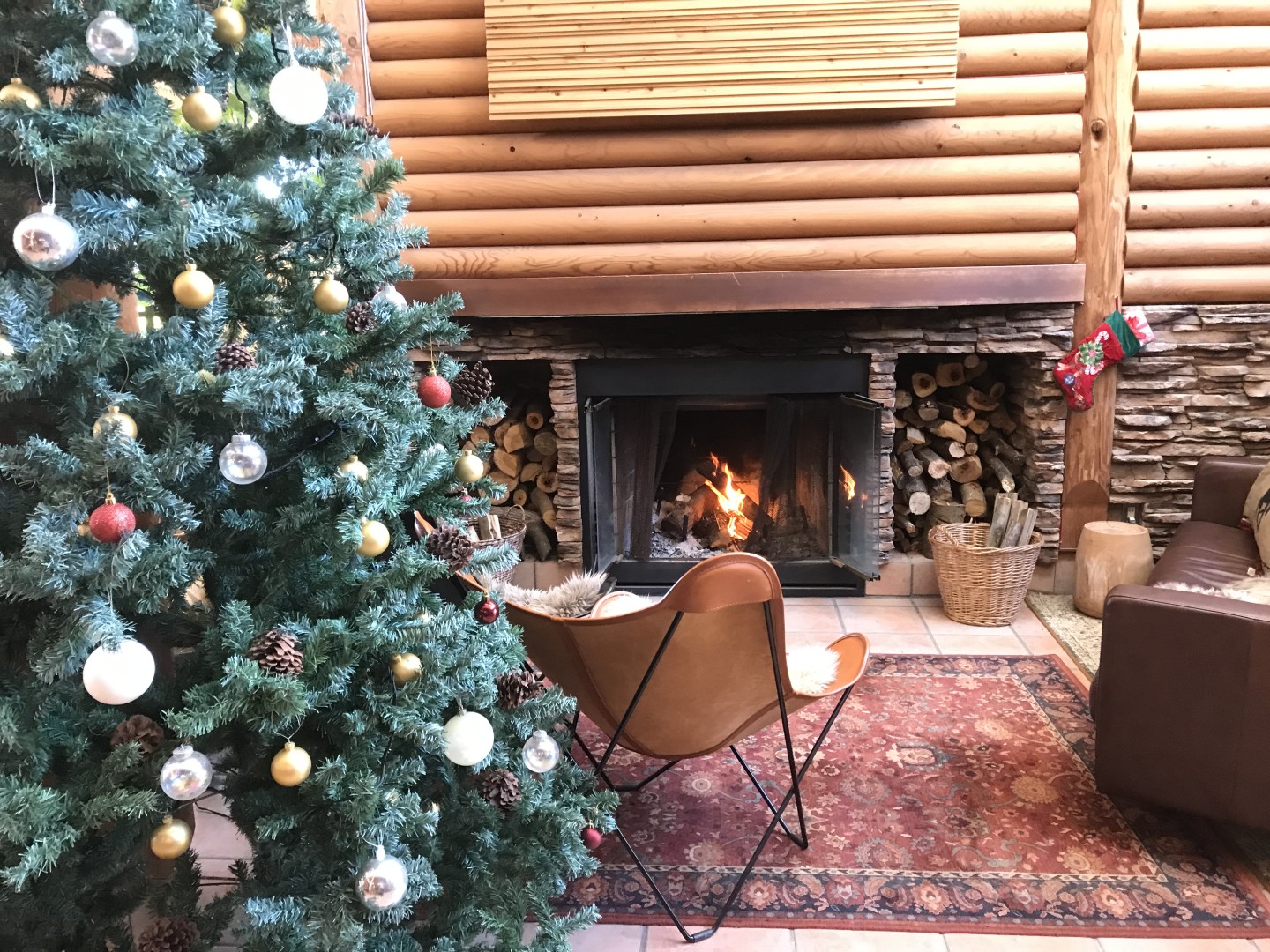 When you enter the building, there is a fireplace. And a Christmas tree that makes you know when you went to cover the event.
The fireplace is an authentic wood-burning fireplace, and just sitting in the chair and staring at the fire in a daze is soothing. The fire was just going out when I entered the building, but as I gazed intently at the fireplace, kind assistant manager Ogura and assistant manager Harada turned it on for me.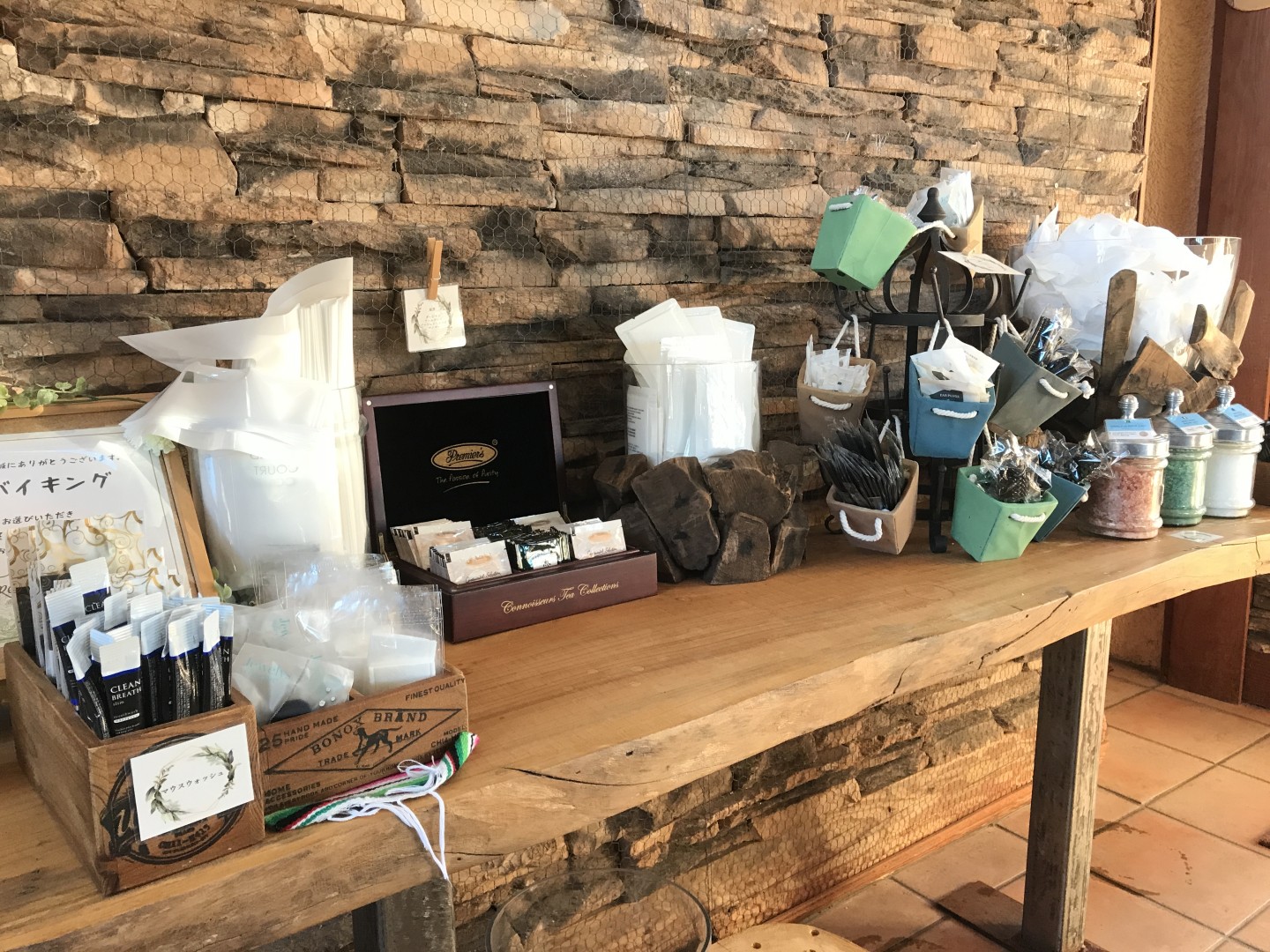 women, including tea, Japanese tea, bath salts, and hairdressing products.
This kind of consideration makes me happy and excited.

Just walking around the grounds is fun. Here and there you can hear the joyful voices of families and friends. The sound of their voices makes the atmosphere even more enjoyable.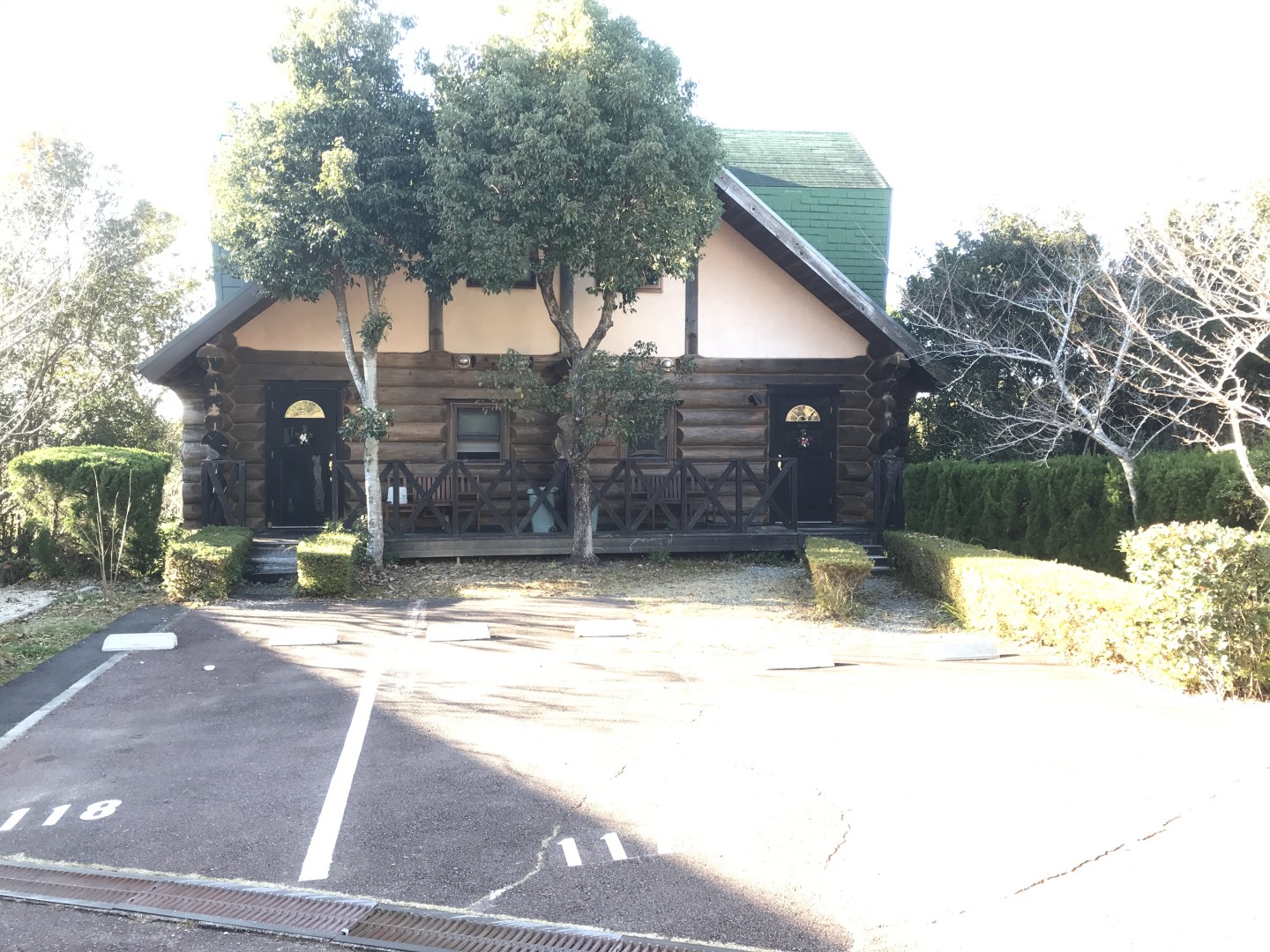 Here is the cottage where we will stay today. It is nice that there is a parking lot right in front of it.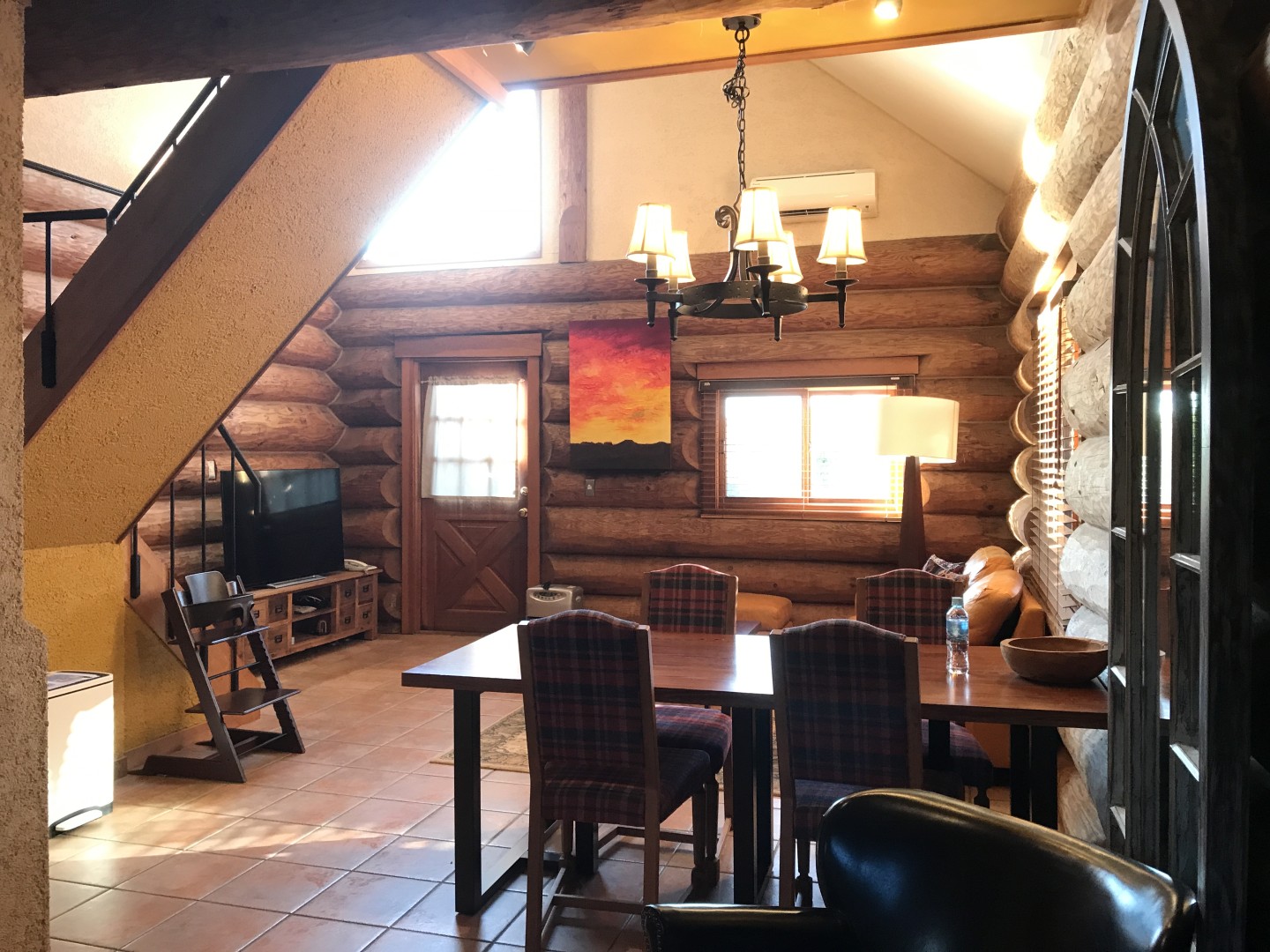 This is what the inside of the cottage looks like. The sun shines beautifully and the space is warm and inviting.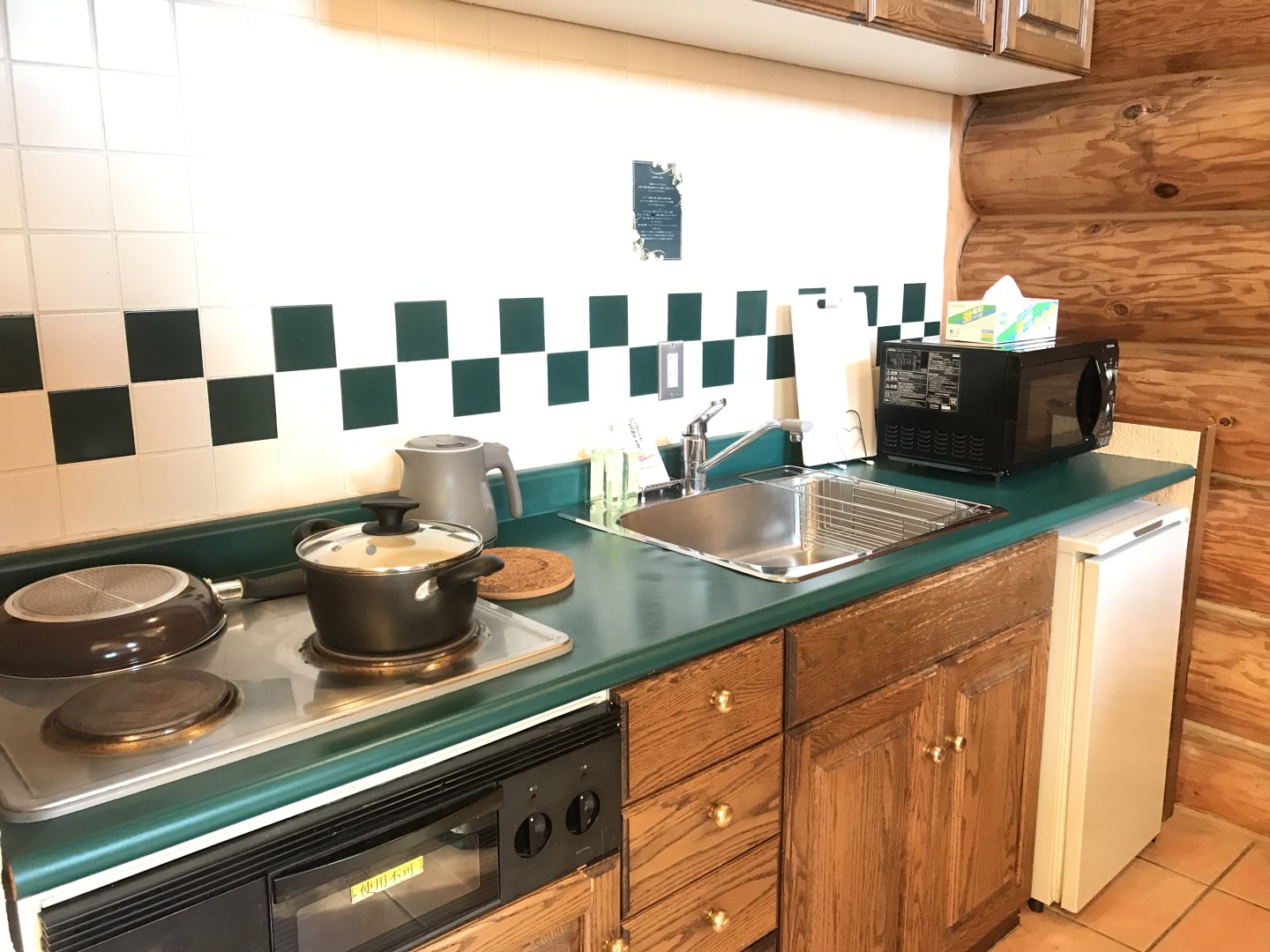 The cottages have kitchens and are equipped with dishes and cooking utensils. Cottage rates are per cottage, so if multiple people stay, the price per person is lower. It is recommended for groups staying for 3 nights and 4 days or for longer stays. Manager Kawamura says that creative people sometimes stay alone.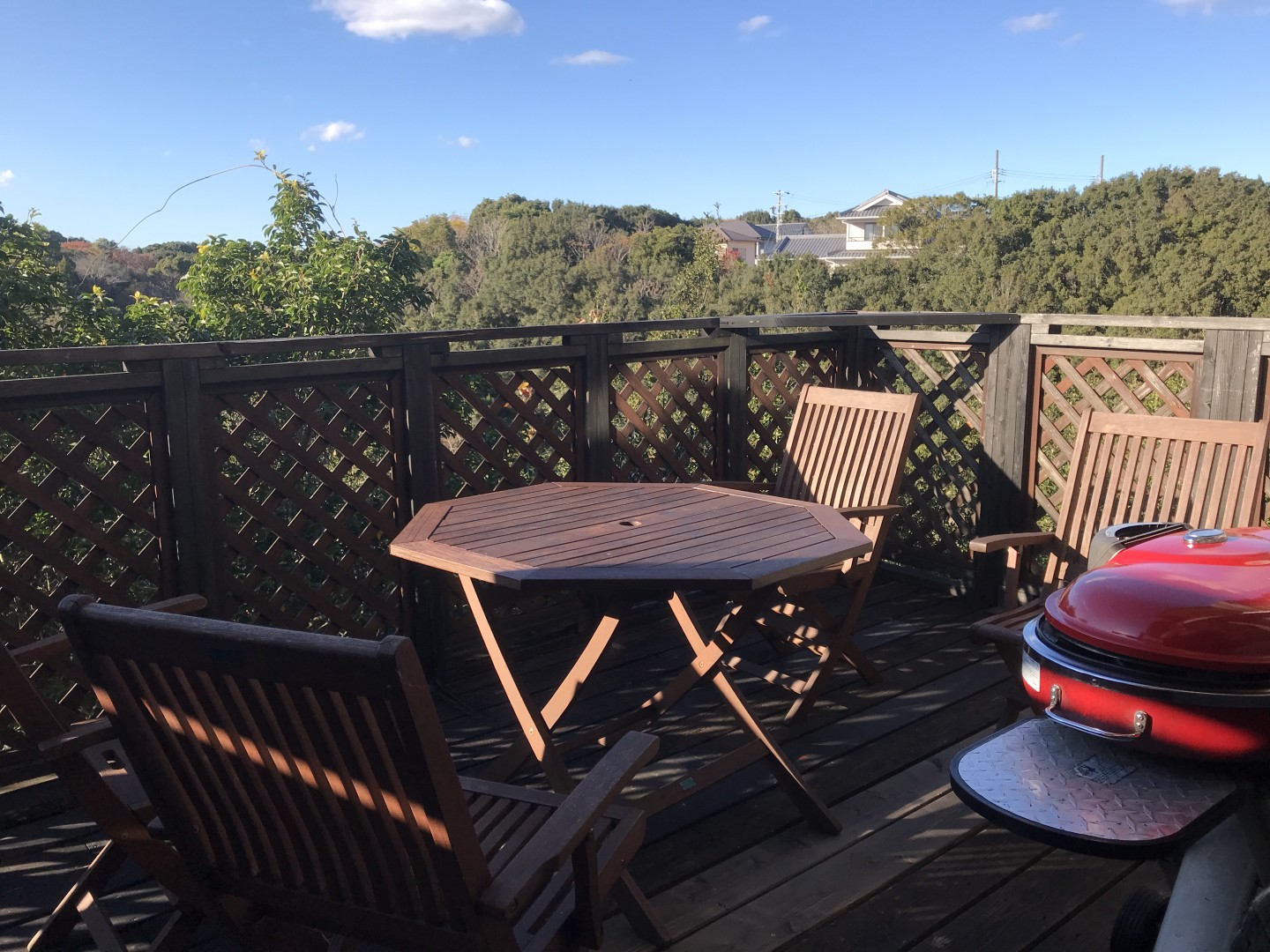 There is a barbecue area on the veranda.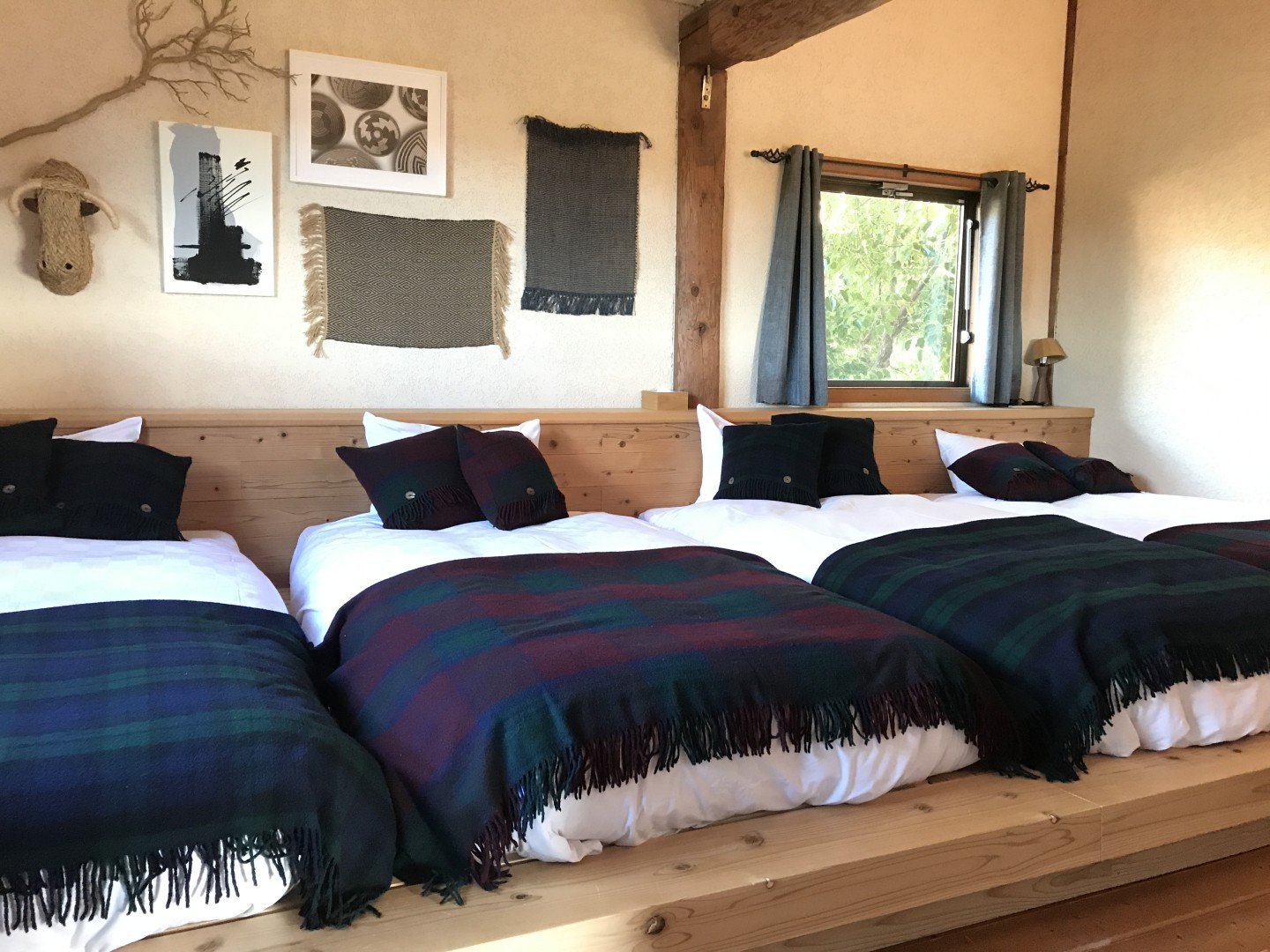 The cottage where I stayed can accommodate up to four people. In the private villa type cottage, there are two separate bedrooms, so men and women can stay together.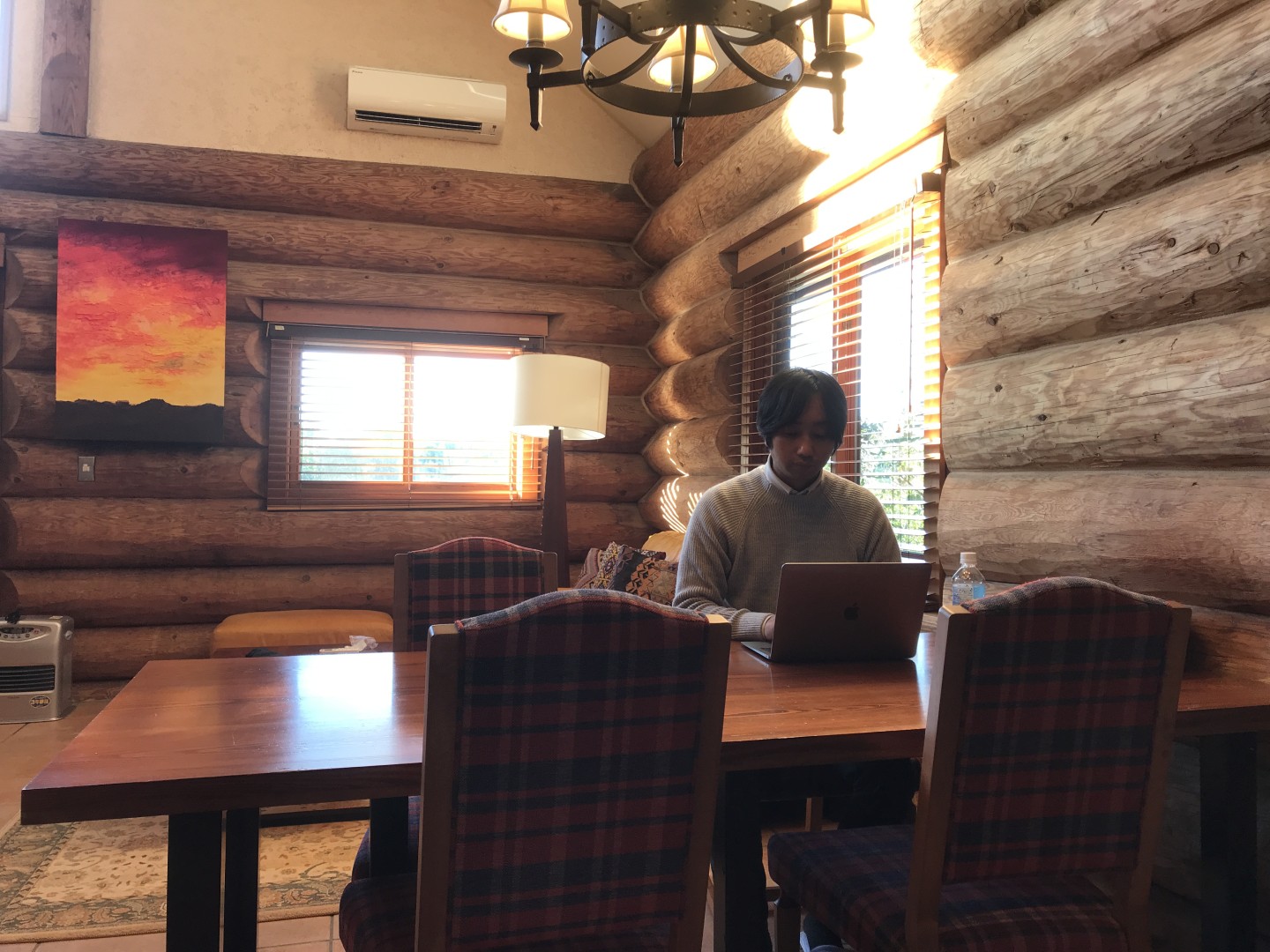 You will have time to check your email or prepare a brief document before your next appointment. All cottages have Wi-Fi, extension cords, and phone chargers. You can also work in any combination you like: low table and sofa, dining table and chairs, etc.
Refresh your mind and spirit on a sunset cruise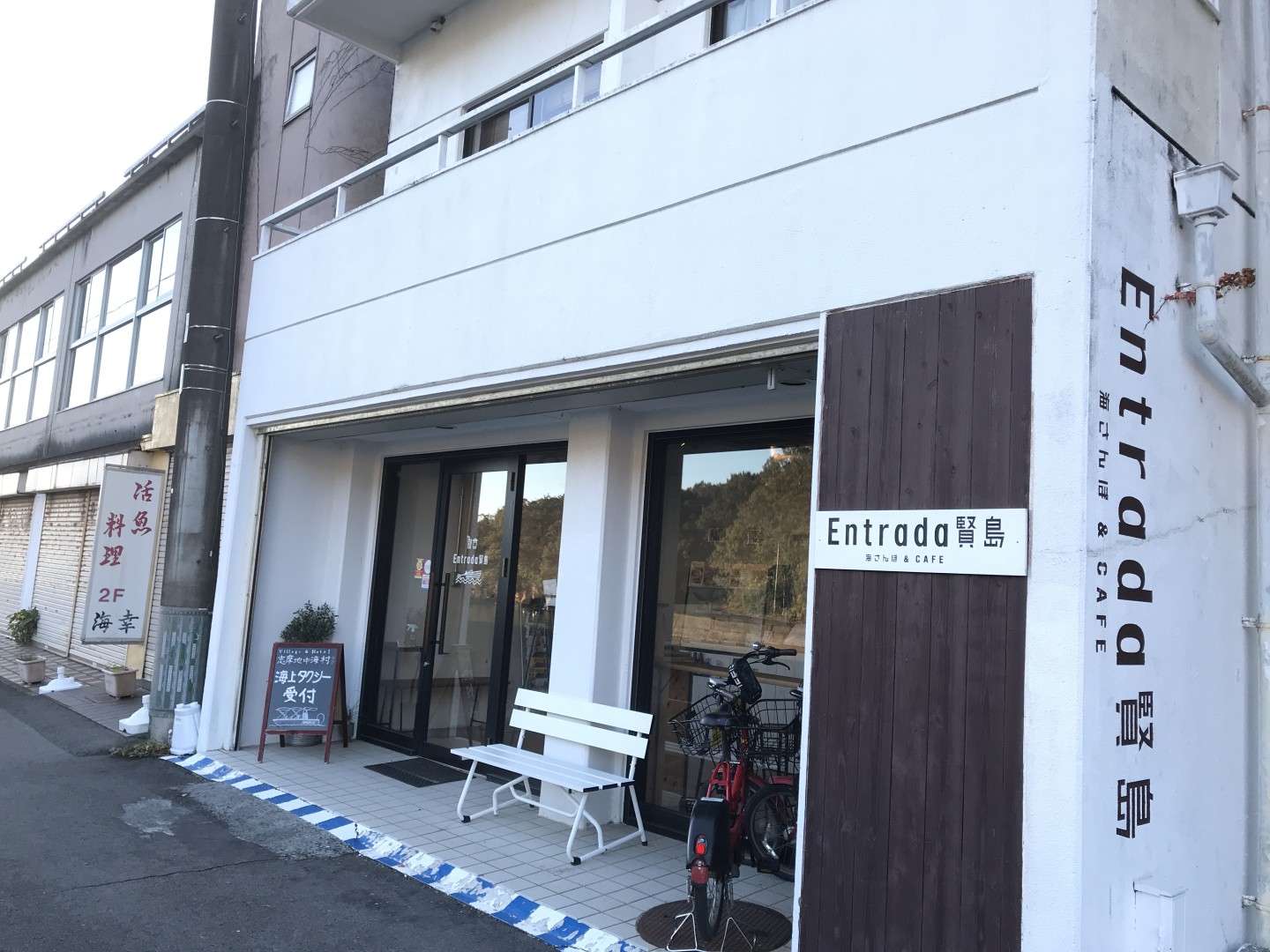 After work, we headed to "Entrada Kashikojima," a 10-minute drive from Fiore Shima. To my surprise, a sunset cruise can be enjoyed here. As you may have noticed, it was December when I went there. It was a cold evening at sea in December. However, I thought that the sunset might be more beautiful on a cold day, so I prepared myself and decided to board the boat.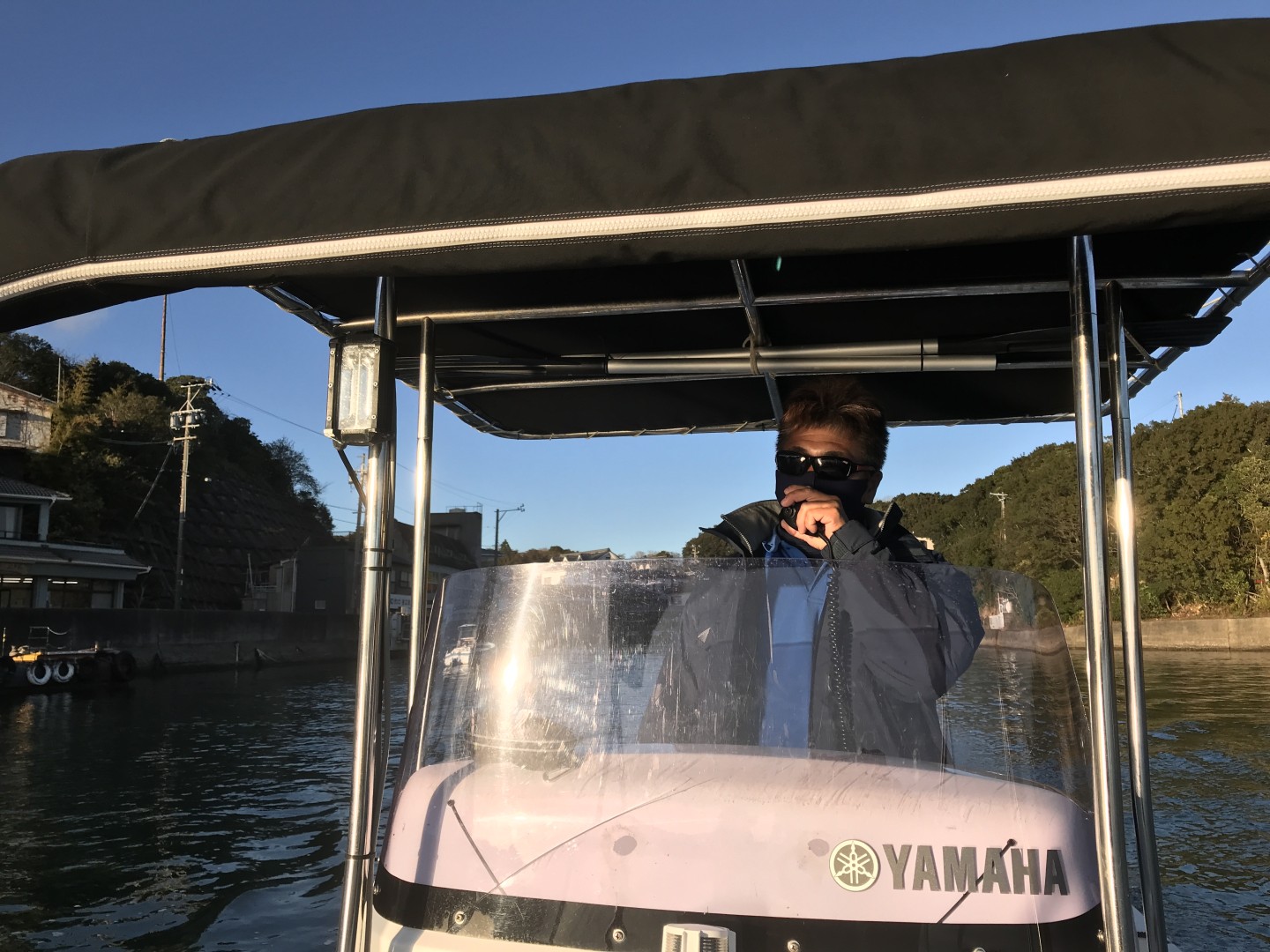 The sunset cruise departs. The boat runs for about 20 minutes while listening to the captain's lively talk. The stories as a sightseeing tour were interesting, but the "between you and me" stories were very interesting, so please come aboard the sunset cruise to listen to the captain's stories.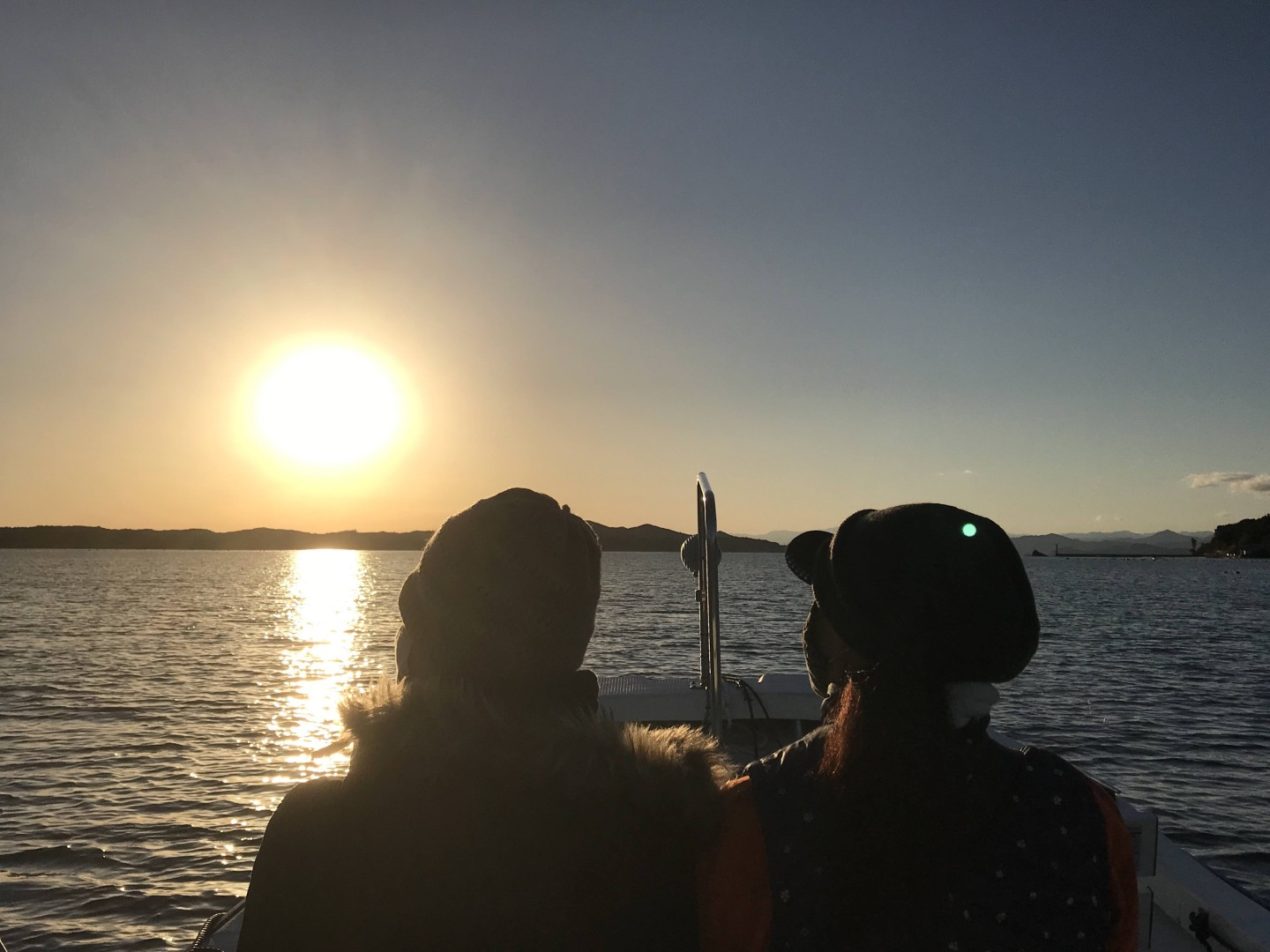 Now, did we really see a beautiful sunset?
This way! BANG!
It looked so beautiful!
The captain said that there are only a few times a year when the view is as clear and beautiful as this. The picture was taken with my old iPhone. It looked even more beautiful to the naked eye.

The customer I rode with gave me permission to photograph from the back.
We hope you will go and see the beautiful sunset with your own eyes.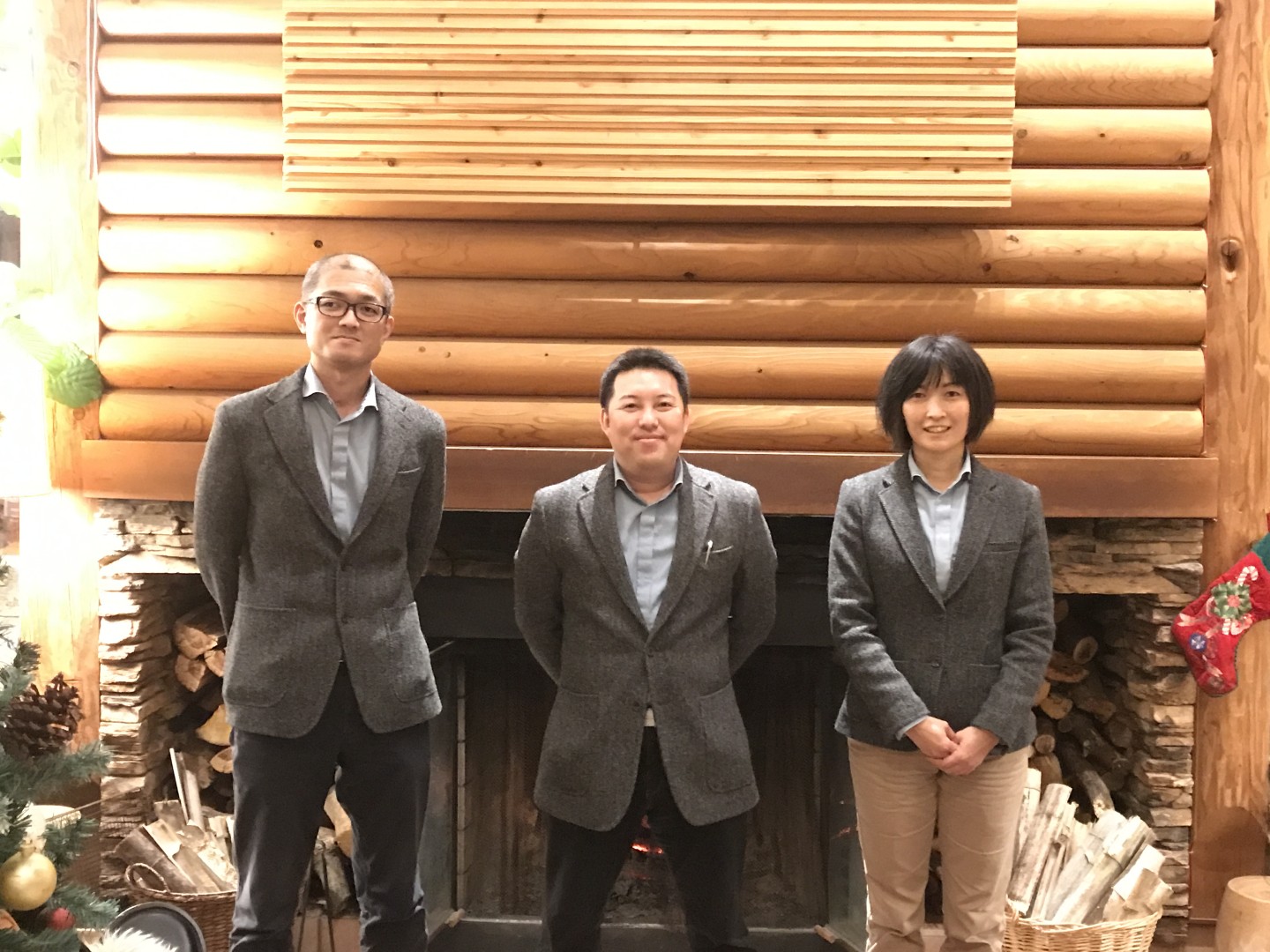 After the sunset cruise, we returned to the hotel.
The photo shows Assistant Manager Naoki Ogura (left), Manager Naoki Kawamura (center), and Assistant Manager Izumi Harada (right), who provided a variety of assistance.
All reservations and payments for this year's Satomian and Entrada Kashikojima were made at Fiore Shima.

When I asked about lunch and activities when I made my reservation, Fiore Shima suggested several options. I simply selected where I wanted to go among them and went there at the indicated time. All expenses were paid to Fiore Shima upon check-out. Thanks to this system, I was able to enjoy my meals and activities without stress.

After returning to the cottage, we had a little time before dinner, so we did some simple work.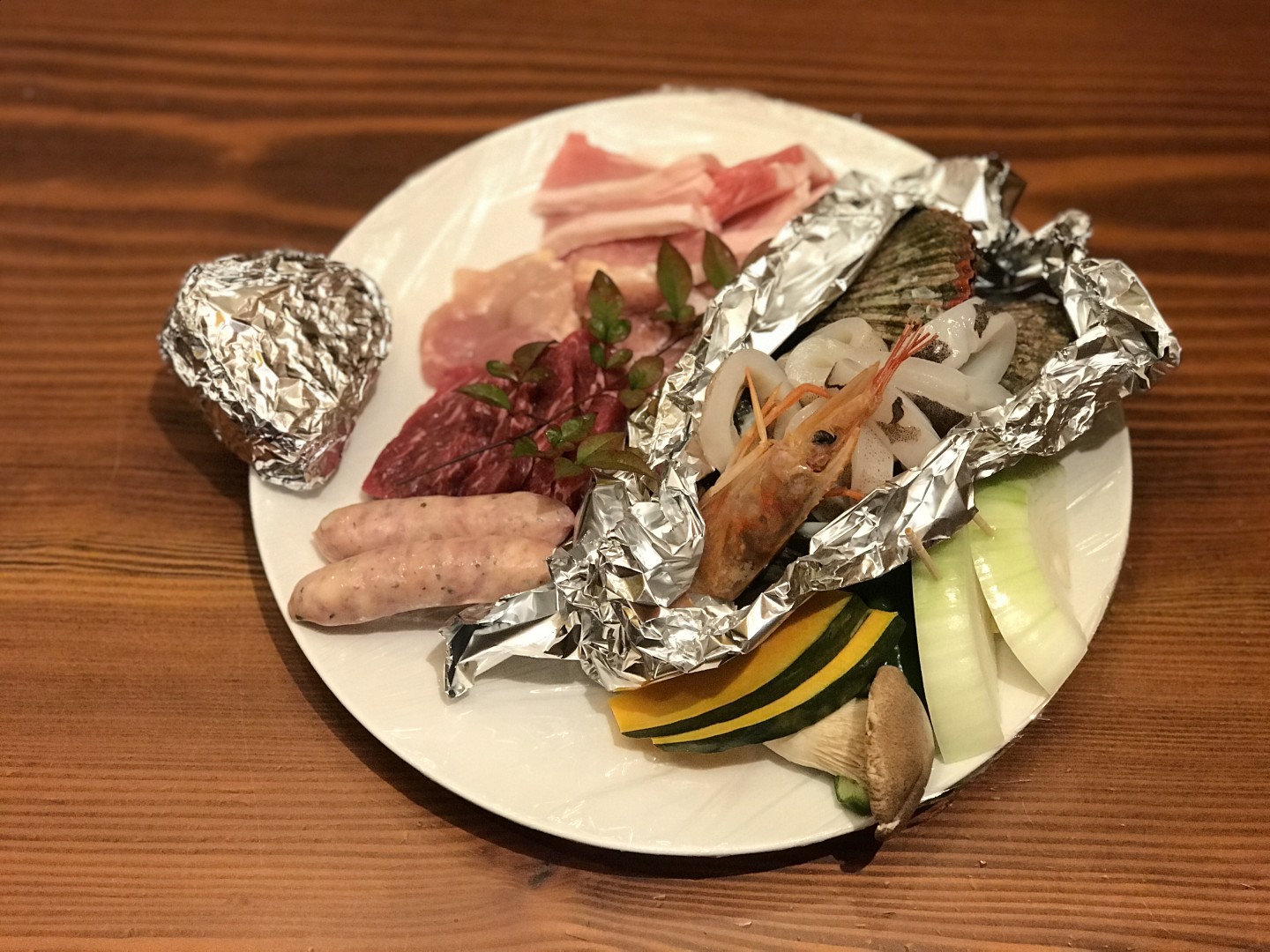 Dinner is here. This is a barbecue set. Shrimp, squid, shellfish, beef, pork, chicken, vegetables, and much more.
The triangular silver paper on the left is a rice ball.
I had to pick up the barbecue set myself at the headquarters cottage, but on the way there, I heard other cottages enjoying outdoor barbecue. So I decided to do the outdoor barbecue as well.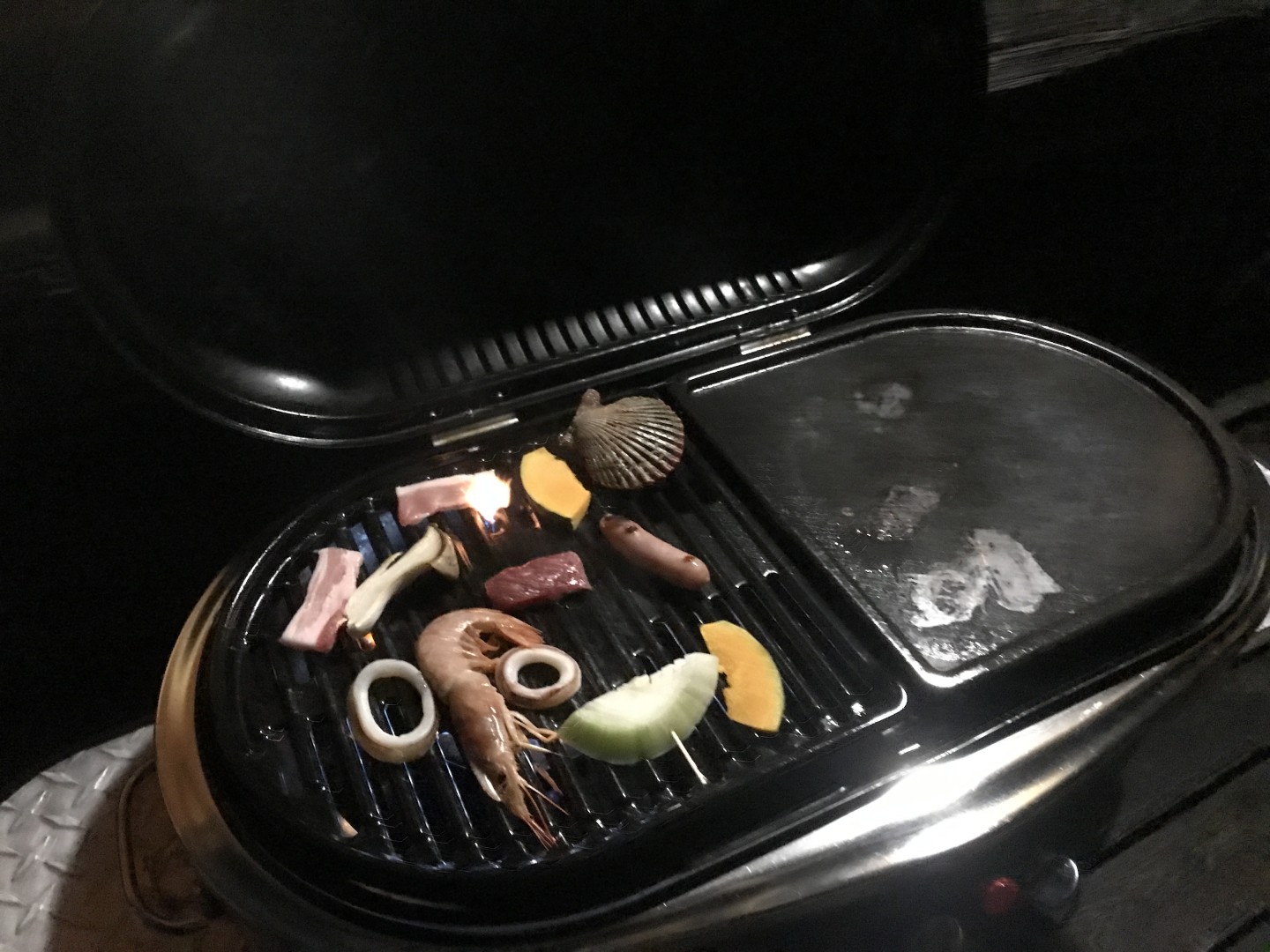 It is an outdoor barbecue in the cold weather. Moreover, it was the day when the Geminids meteor shower was visible. Since there were few lights around the cottage and the stars looked beautiful, I tried my best to barbecue alone, but I was defeated by the cold.
Before bedtime, I left the cottage briefly and looked up at the night sky to see some shooting stars.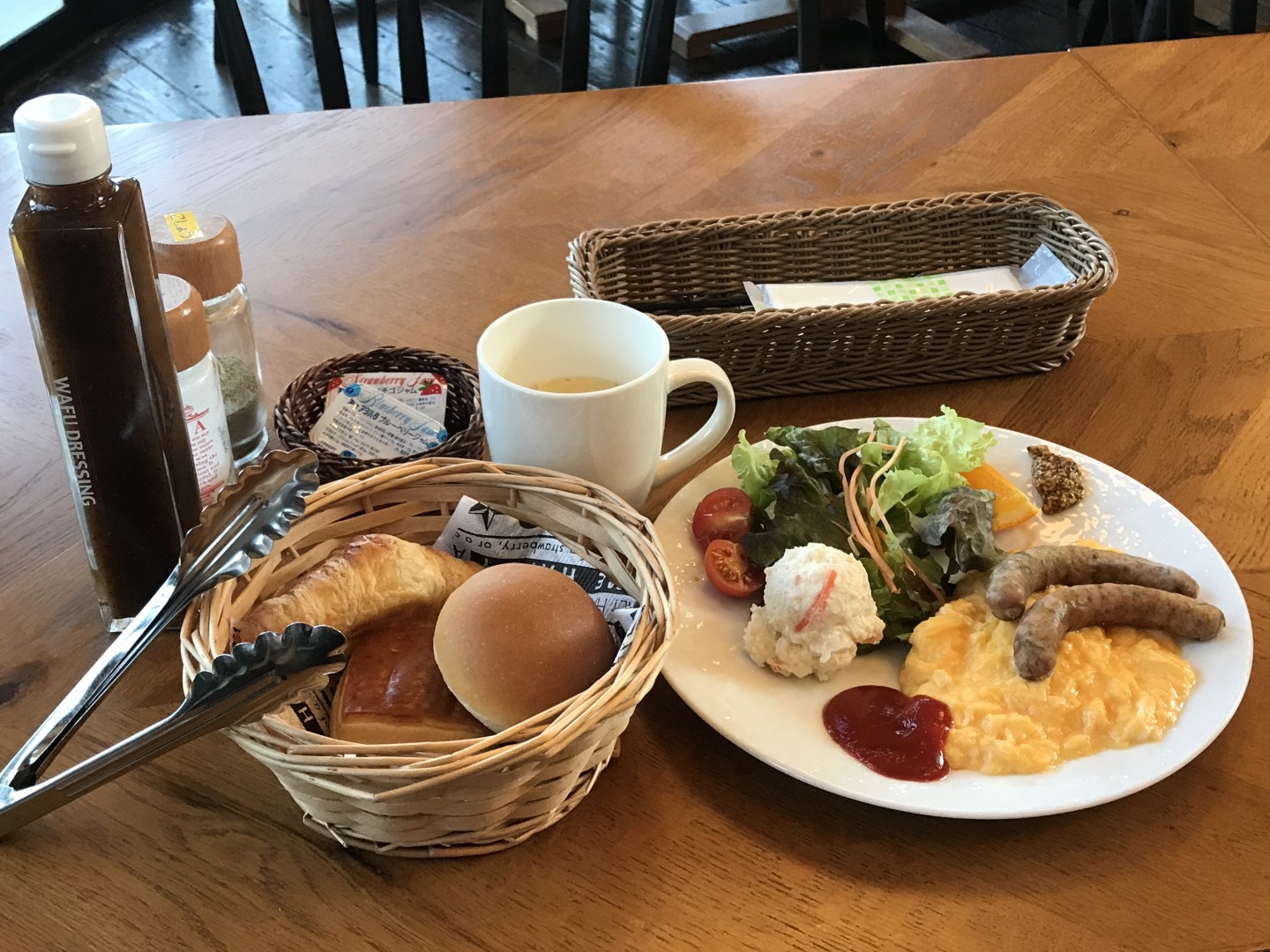 In the morning we have breakfast at the cafe in the headquarters cottage. Afterwards, we returned to the cottage for a cup of tea and a little work.

We leave Fiore Shima. There is a place I want to go on my way home, so I decide to stop there for the last time.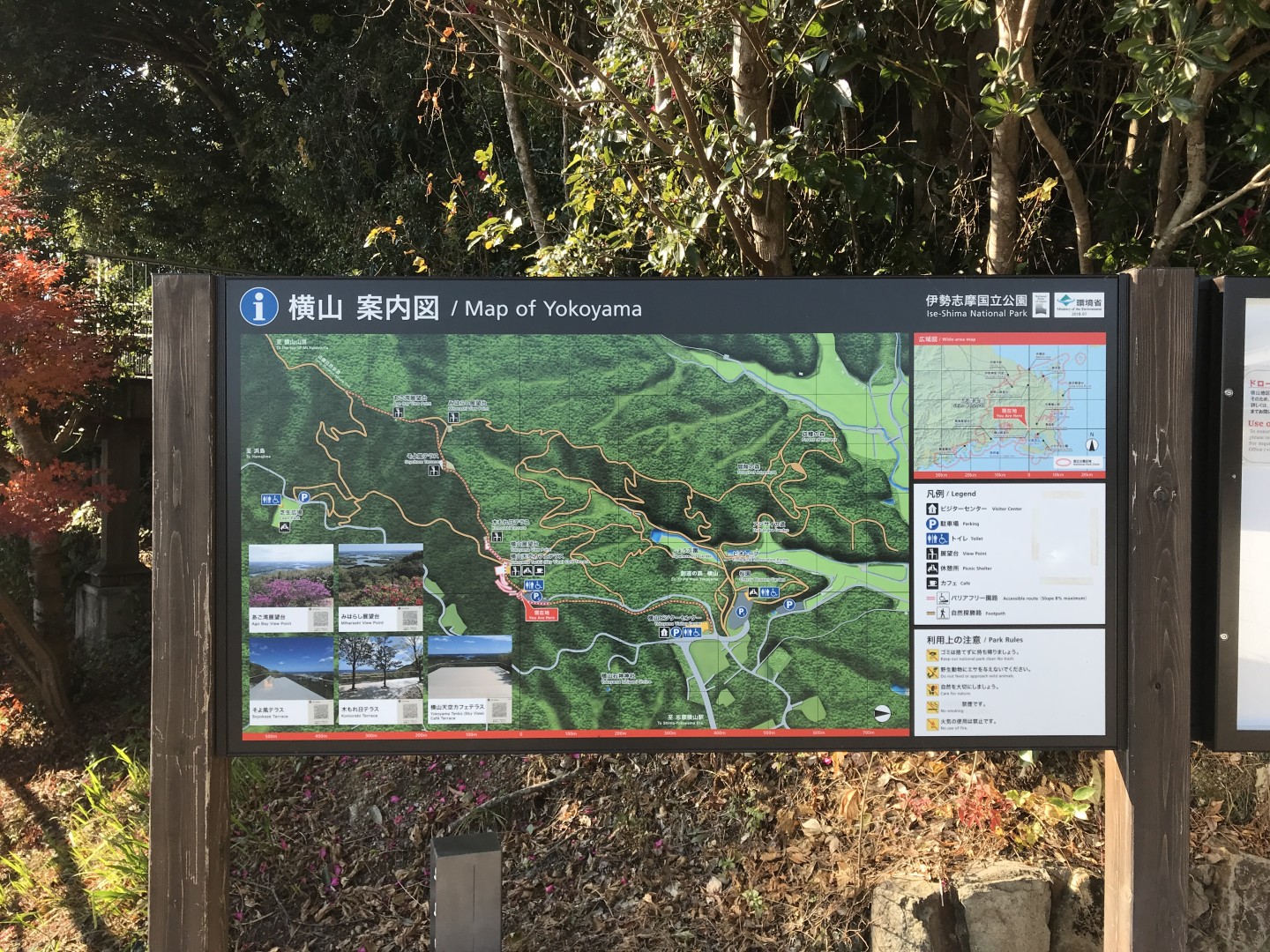 After a 17-minute drive from Fiore Shima, we arrived at Yokoyama Observatory Deck. From here, you can enjoy a panoramic view of Ago Bay, famous for its rias coastline.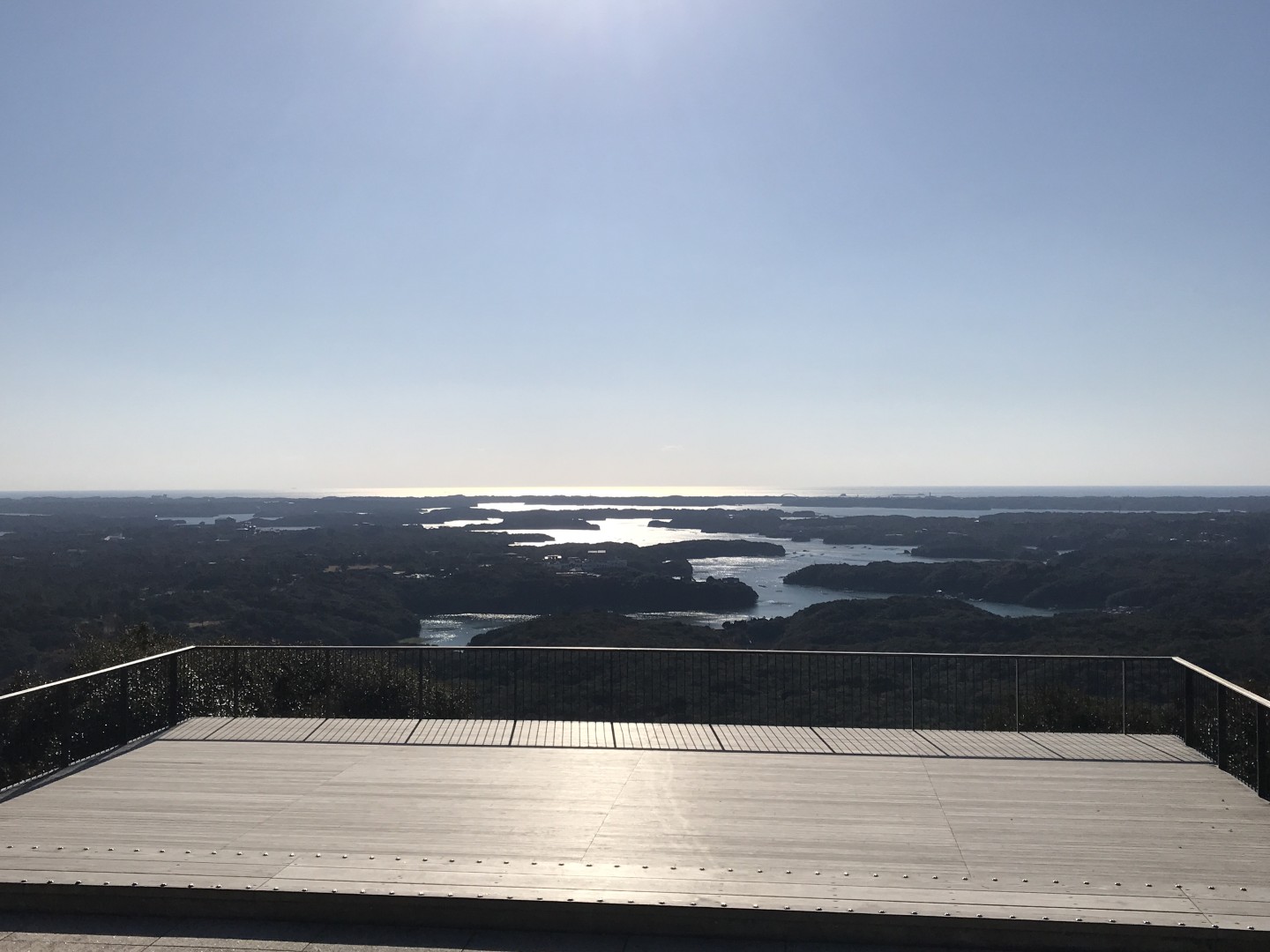 The observatory has a terrace like this one.

Enjoy the view of Ago Bay, where various islands and peninsulas are beautifully woven together from the terrace, and enjoy a relaxing time to clear your mind. There are also paths to stroll along so you can move your body and refresh your mind and body.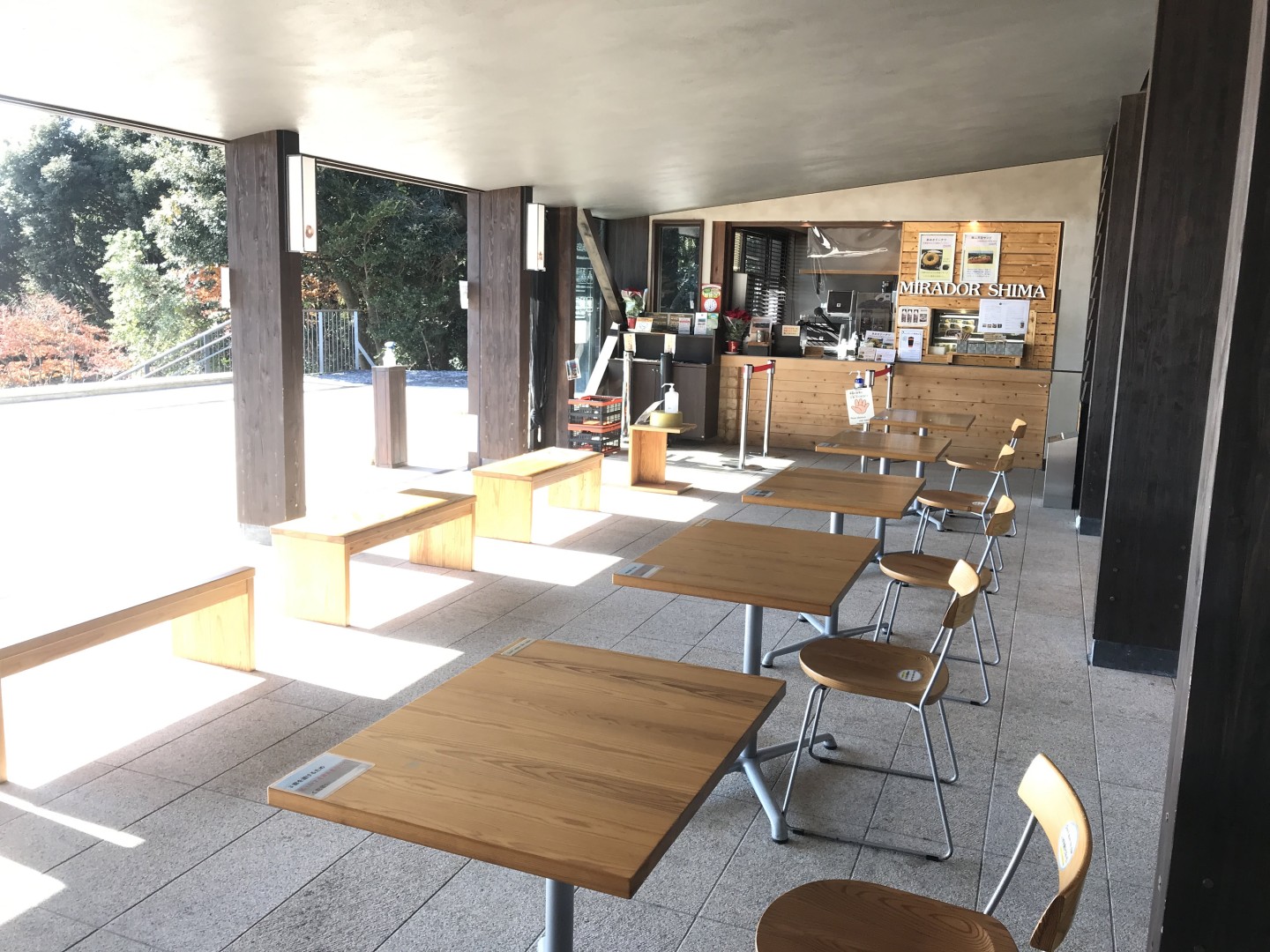 At the observatory, there is the Yokoyama Sky Café Terrace, where you can get delicious food and drinks made from local ingredients. I was also hungry after walking through the forest and decided to get something to eat.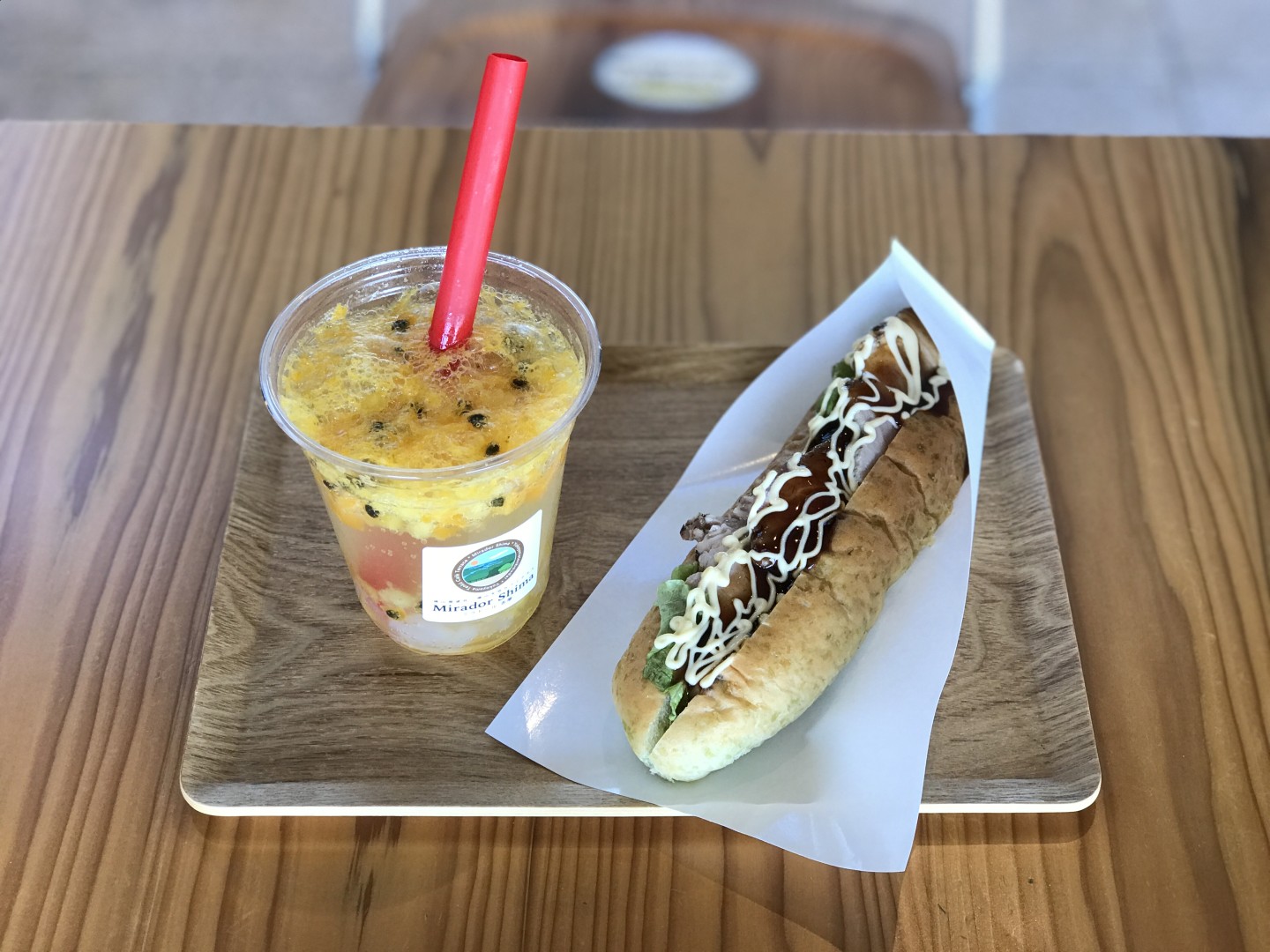 Here is what I ordered. The Tenku Tropical Soda and the Yokoyama Tenku Sandwich. The Tropical Soda was sweet, sour, and refreshing with mango, pineapple, and nata de coco. The Yokoyama Tenku Sando is a sandwich of Shima Aosa pork raised on a diet of aosa seaweed, sandwiched between two pieces of aosa seaweed coppé bread and topped with teriyaki sauce and mayonnaise, and is truly unique. Both were very tasty, and I hope many people will try them.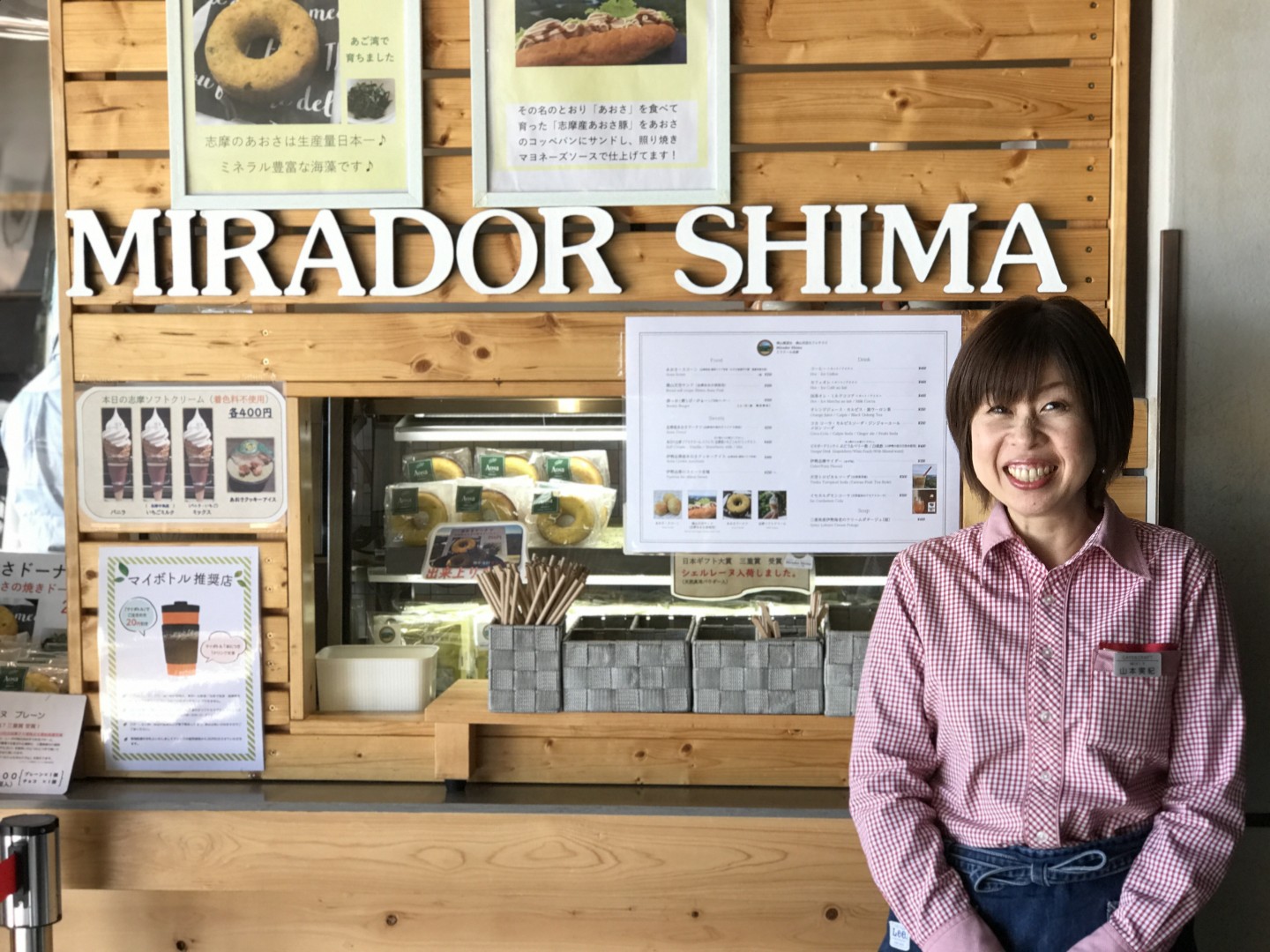 We spoke with Minoru Morisaki and Miki Yamamoto of Yokoyama Sky Café Terrace Mirador Shima. (Photo: Miki Yamamoto. She took off her mask only for the photo shoot.)

As mentioned above, local ingredients are used on the menu whenever possible.
And there was no background music, air conditioning, or electric lights in the restaurant, so that people could enjoy the sounds, warmth, and light (brightness) of nature and have an extraordinary experience in nature.
Also, in consideration of the environment, straws were made of paper or wood, and muddlers, spoons, and other items that produce plastic waste were not given to customers.

The café terrace had a very nice commitment to the environment and nature.

After listening to the stories, we thoroughly enjoyed nature, forgot about the hustle and bustle of daily life, and spent some time relaxing.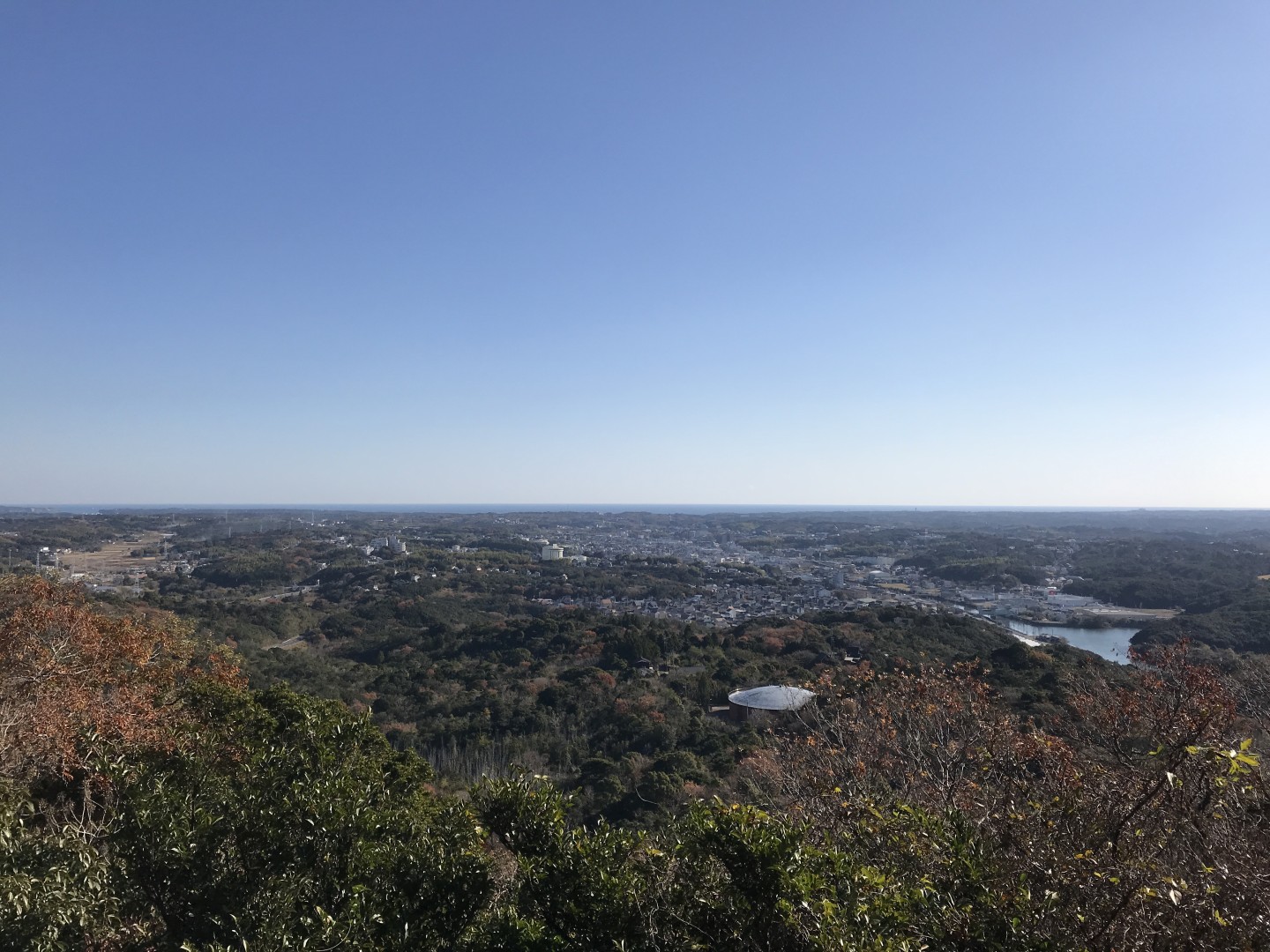 We then left the Yokoyama Observatory Deck and headed home.

This time, I was able to get away from my busy daily life and take a lot of "time to think about nothing" in an extraordinary setting. This allowed me to make new discoveries, and at the same time refreshed my mind and body. I recommend a resort-style work vacation to those who are pressed for time and have no time to think about things.
An example of how to spend your time
Day 1
12:00 Lunch at "Satomian (Ama Woman's Hut Experience Facility)"
14:00 Arrive at Fiore Shima. Check email and do other work at the cottage.
15:30 Sunset cruise on "Entrada Kashikojima" (Ago Bay Sea Taxi & Cruise)
18:00 Return to Fiore Shima for simple office work
19:00 Dinner
20:30 Bathe
21:30 Work on paperwork, etc.
23:30 Bedtime

Day 2
6:50 Wake up
7:20 Breakfast
8:00 Work on paperwork, etc.
10:00 Check out.
10:30 Arrive at Yokoyama Observatory Deck. Enjoy the scenery and take a walk in the mountains.
12:00 Lunch at Yokoyama Sky Café Terrace
13:30 End of workday
Facilities
Satomian (Ama Woman's Hut Experience Facility)
2279 Shimachō KoshikaShima, Mie 517-0704
Satomian (Ama Woman's Hut Experience Facility)
Fiore Shima
1916-6, Shinmei, Agi-cho, Agi-cho, Shima, Mie 517-0502
Ago Bay Sea Taxi & Cruise Entrada Kashikojima
752-21 Shinmei, Agi-cho, Shima, Mie 517-0502
Ago Bay Sea Taxi & Cruise Entrada Kashikojima
Yokoyama Observatory Deck
875-20 Ukata, Agi-cho, Shima-shi, Mie 517-0501