Misugi Town is located in Tsu City, Mie Prefecture, an area coexisting with nature. We conducted a 3-day/2-night work vacation based on the guesthouse "CENTURIO® POWER LAND" and hotel "Misugi Resort" located there.
The Workcation Experiencer this time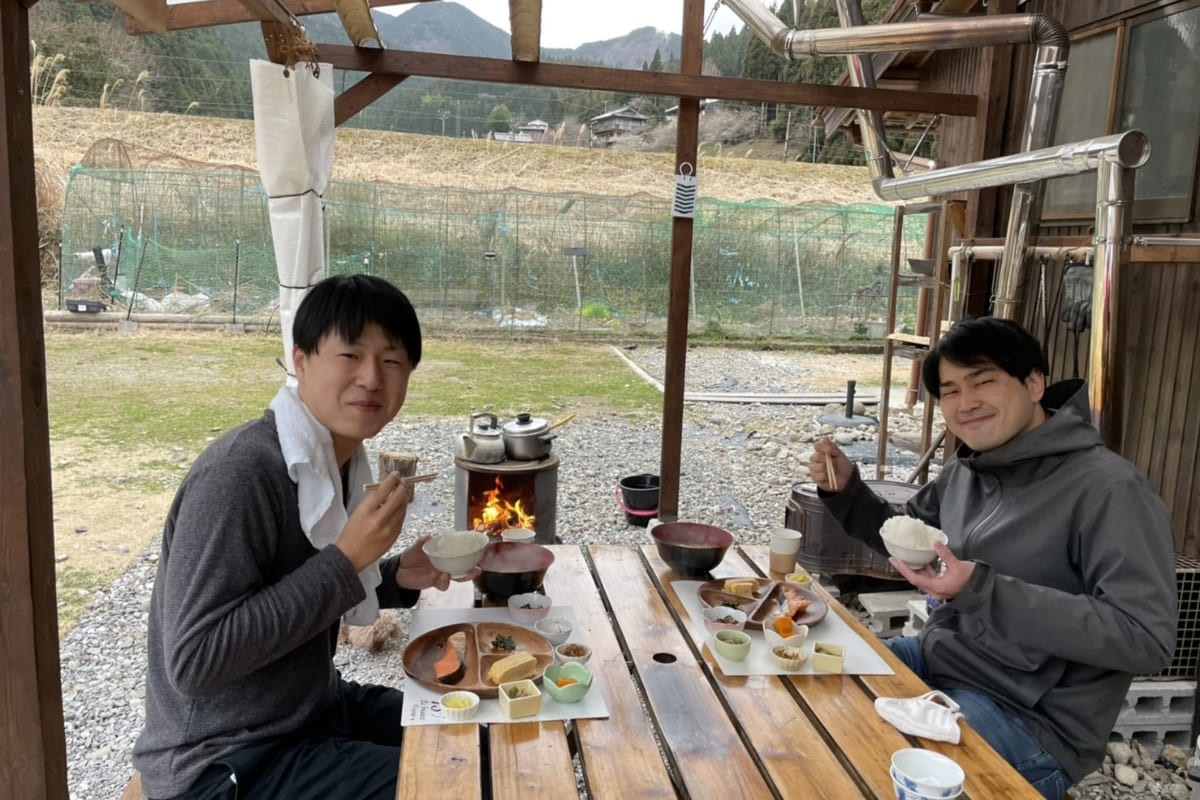 From left, Koyama, a freelance worker, and Okuda, an office worker. They have been friends since their student days. They decided on this location because they were interested in Misugi Town's efforts to revitalize itself. This is the first time for both of them to experience a working vacation.
[Day 1: Discovering the richness of Misugi's food at a guesthouse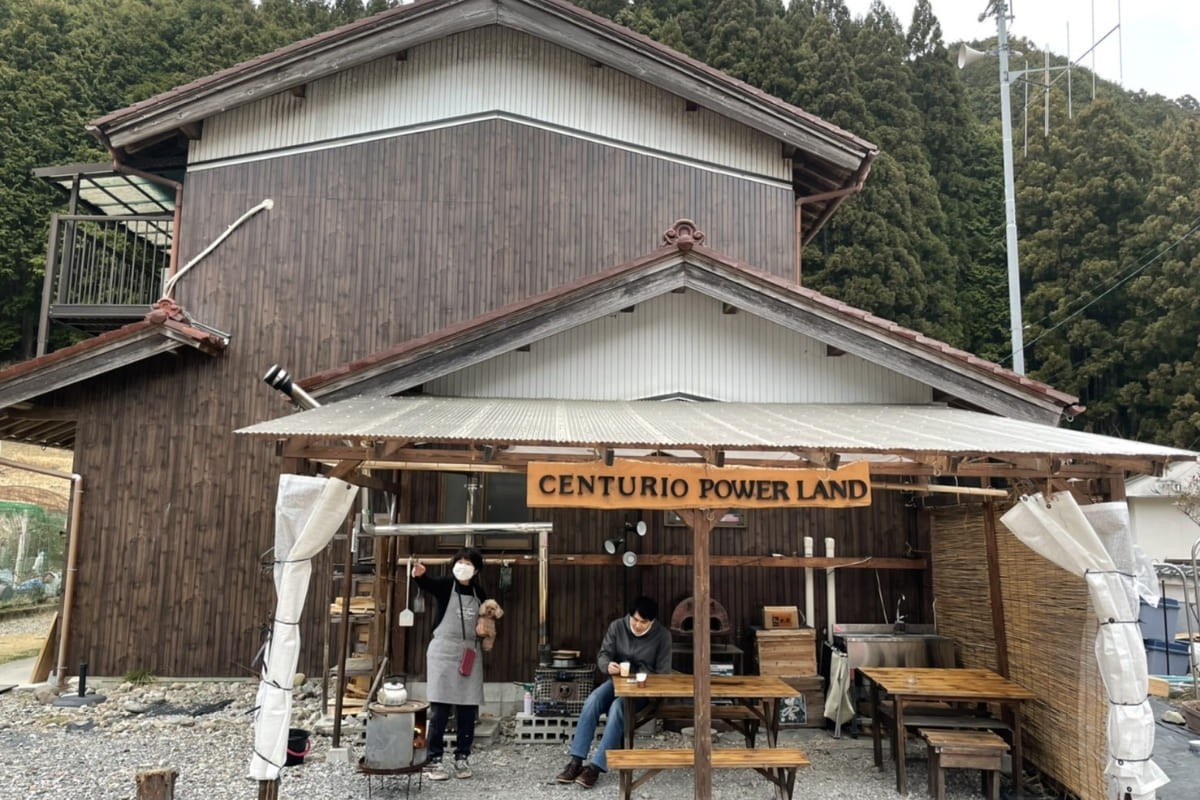 In the evening, we checked into the guesthouse "CENTURIO® POWER LAND". The house has private rooms, bedrooms, shared space, and a fully equipped kitchen. On a fine day, it is possible to have meals at the table in front of the house.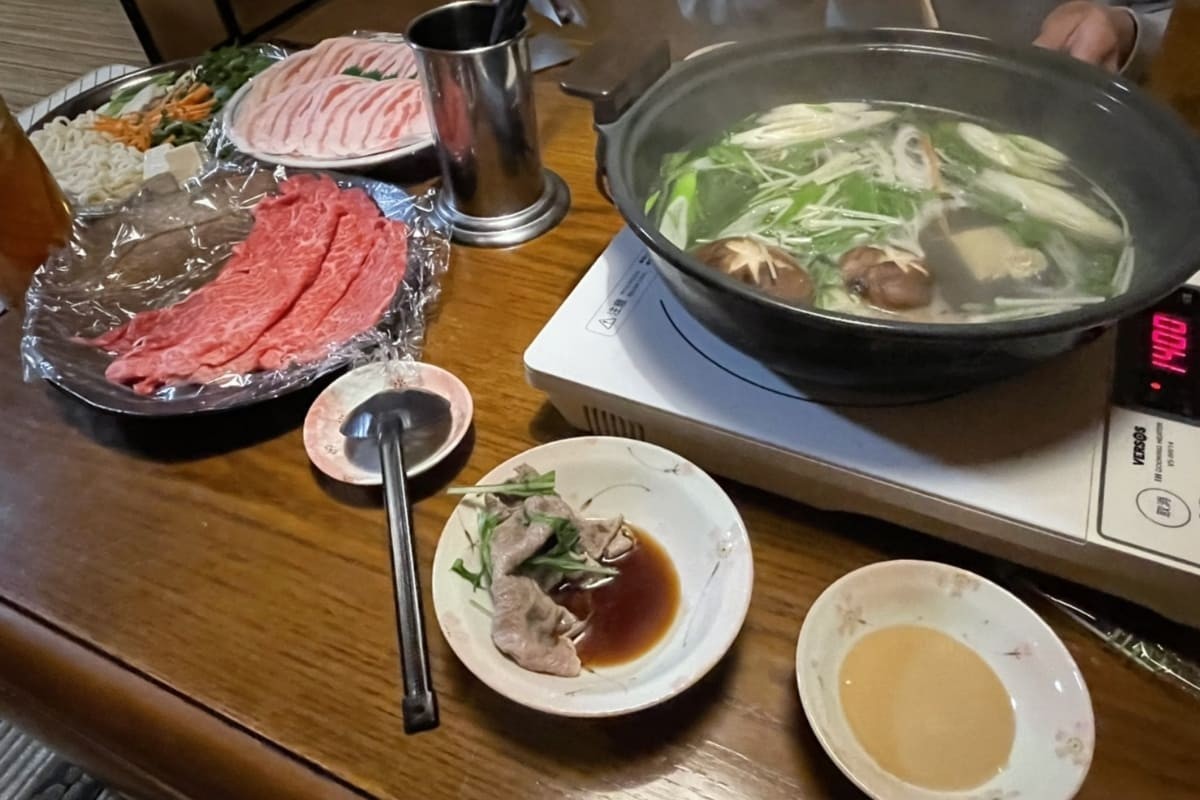 Dinner that night was a yose-nabe (a Japanese hot pot dish) made with plenty of Iga beef. In addition to beef, you can also enjoy locally grown green onions, shiitake mushrooms, potherb mustard, and other produce unique to Misugi. Even the taste and volume are perfect.

After finishing dinner, we returned to our private room and began our work. We will go to bed early this day.
[Day 2: Experiencing the charms of Misugi again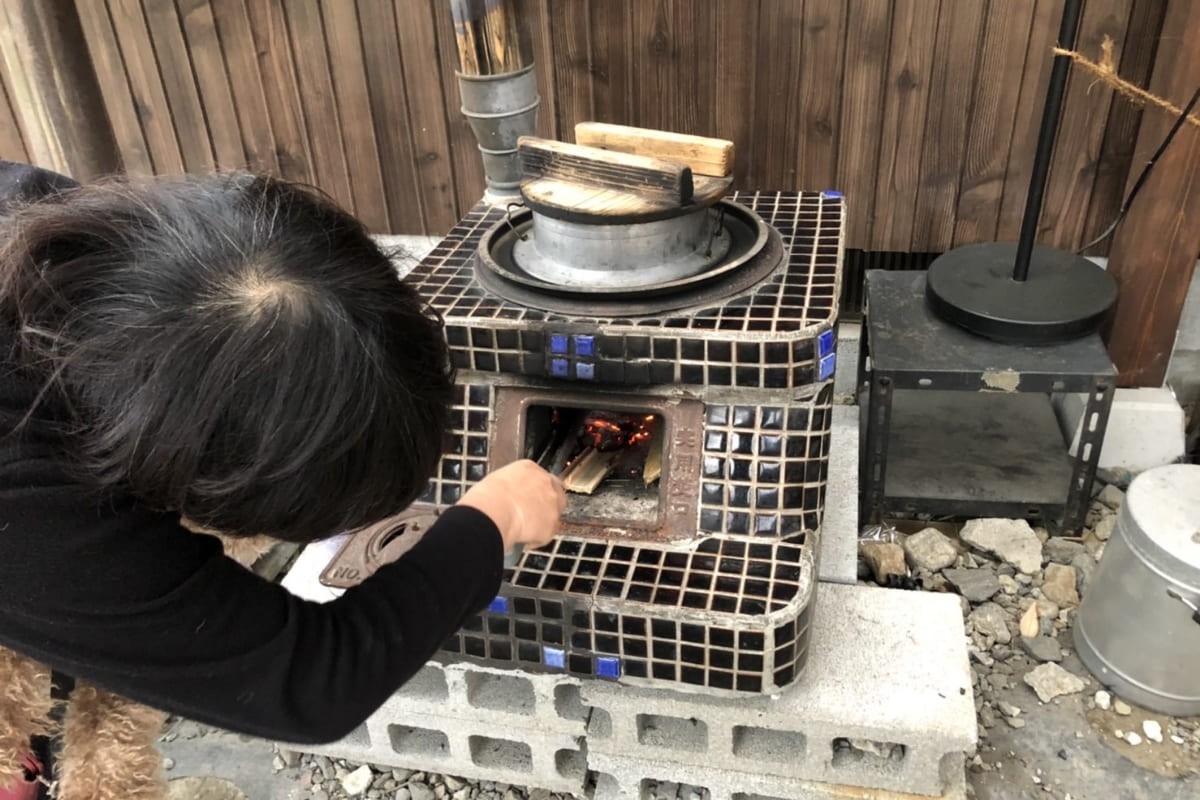 I woke up at 6:30 a.m. and started preparing breakfast. In order to have delicious rice, we cook rice in a kettle. Chopping firewood, a rare experience in daily life, is also one of the most popular experiences.

Afterwards, you will experience forest therapy (Nisshin Nishiura Course) with a guide. The healing and stress-reducing effects of forest bathing have been scientifically backed up, so we recommend that you make time to experience it.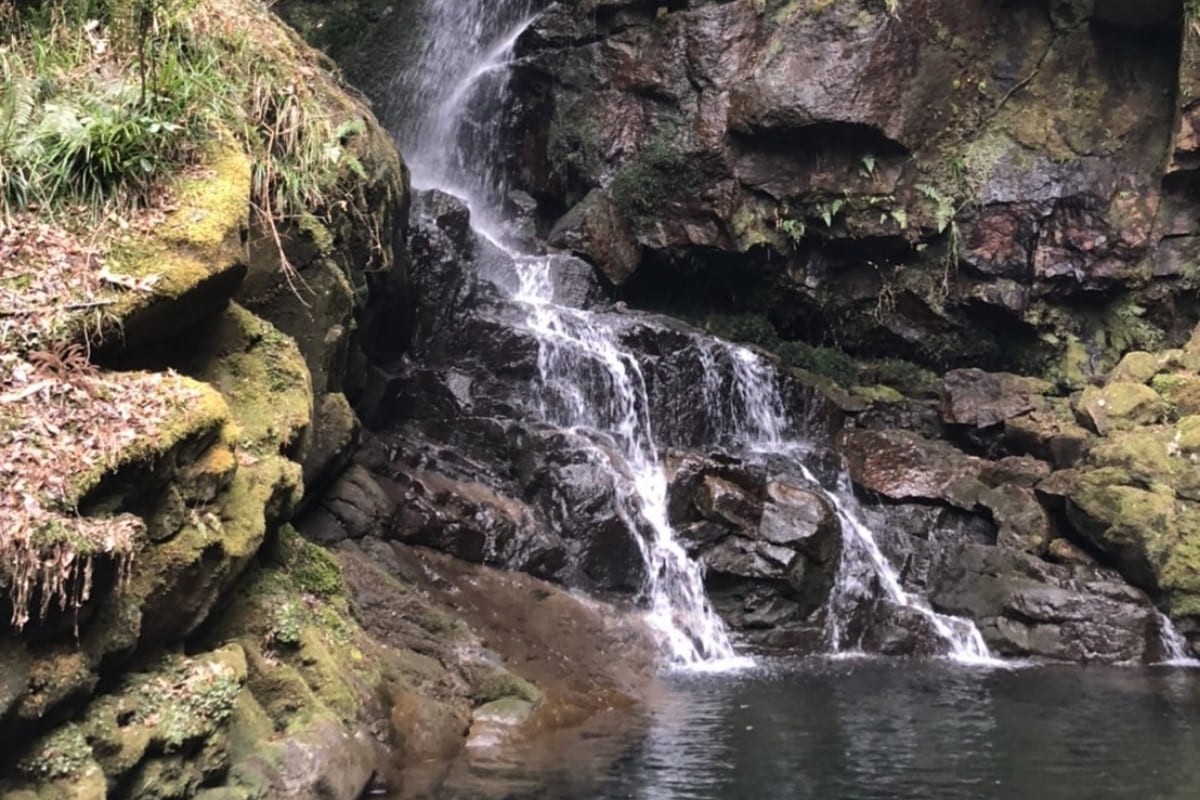 As you continue on, you will come to "Hikawa Otaki". The blue of the water in the waterfall basin is heartbreaking.

In addition, we made a special request to visit the filming location for the movie "Wood Job!" where the filming took place in Niunomata. Niunomata is a place in Misugi Town where beautiful scenery and old houses still remain. More than half of the filming took place here.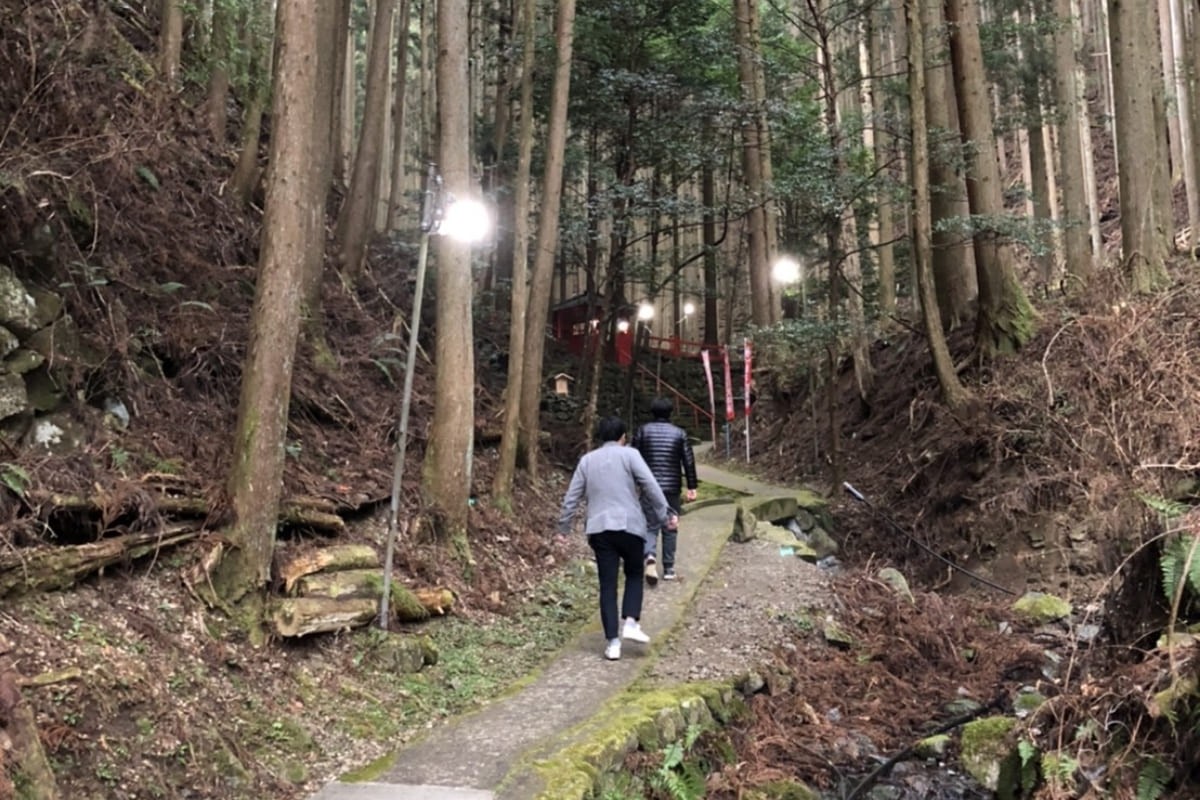 The shrine in the image is called "Lost and Found Inari". It is also the location that appears in "Kamikaze Yawa" (written by Shion Miura), a sequel to the novel "The easy life in KAMUSARI " (written by Shion Miura), on which the film is based.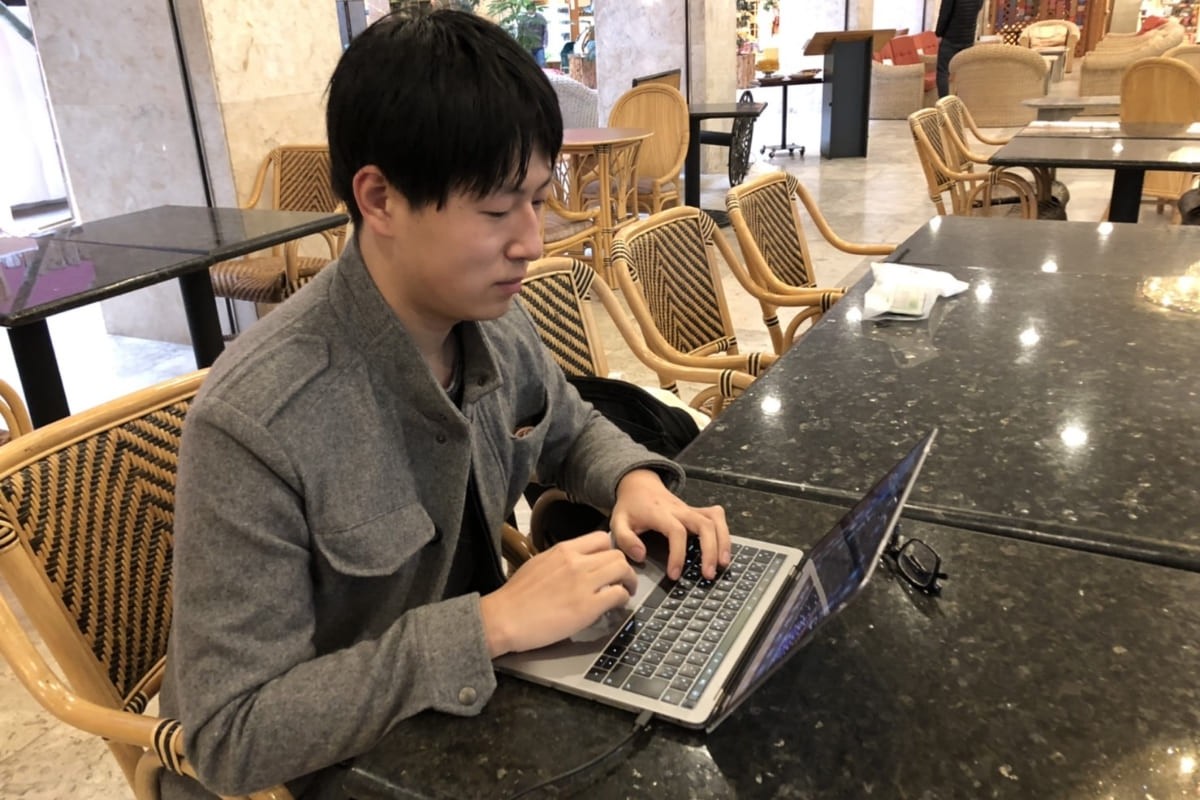 After that, we had lunch at a nearby soba restaurant, Kisaragi, and then had a zoom conference in the lobby of the Misugi Resort, a hotel equipped with wi-fi. After working for 3 or 4 hours, we had a buffet dinner and used the large public bath on this day.
[Day 3] Enjoying the streets and nature of Ise Hon-kaido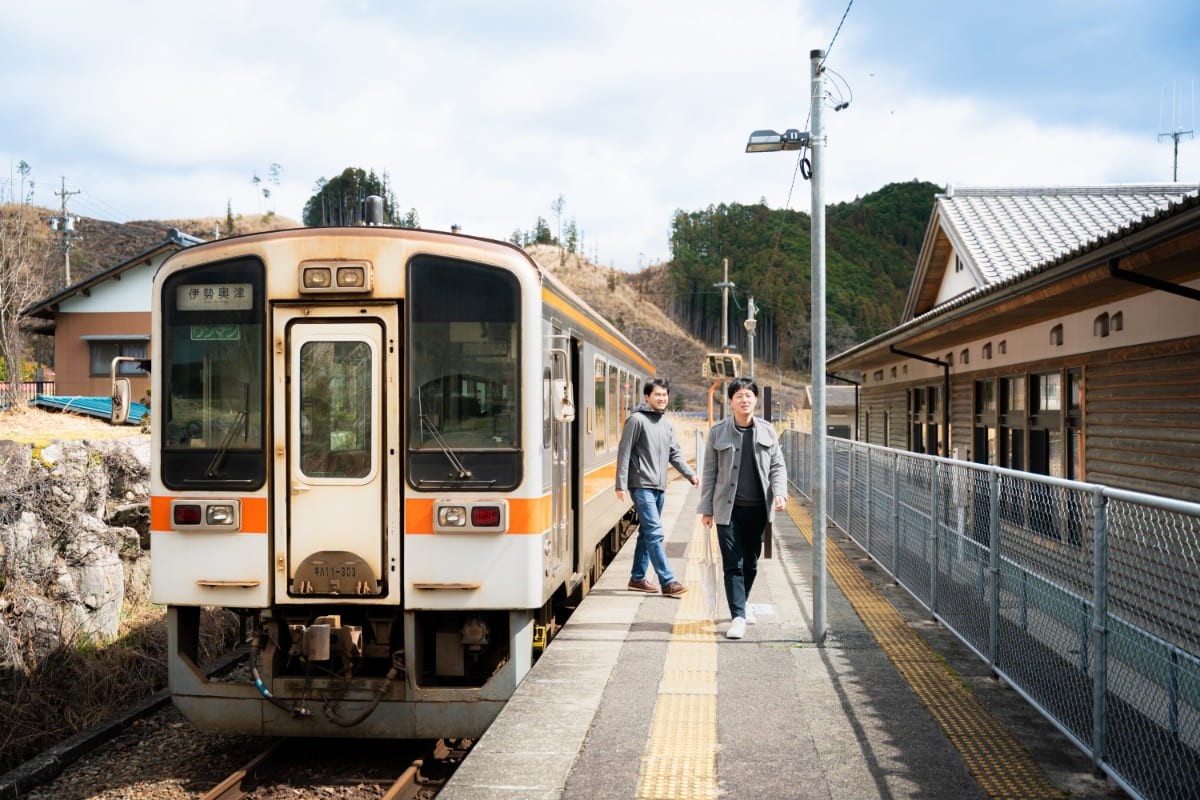 On the third day, after working in the lobby, I ate breakfast and checked out around 10:00 a.m. It was a 20-minute ride on the JR Meimatsu Line. Arrive at Ise Okutsu Station, the last stop on the line.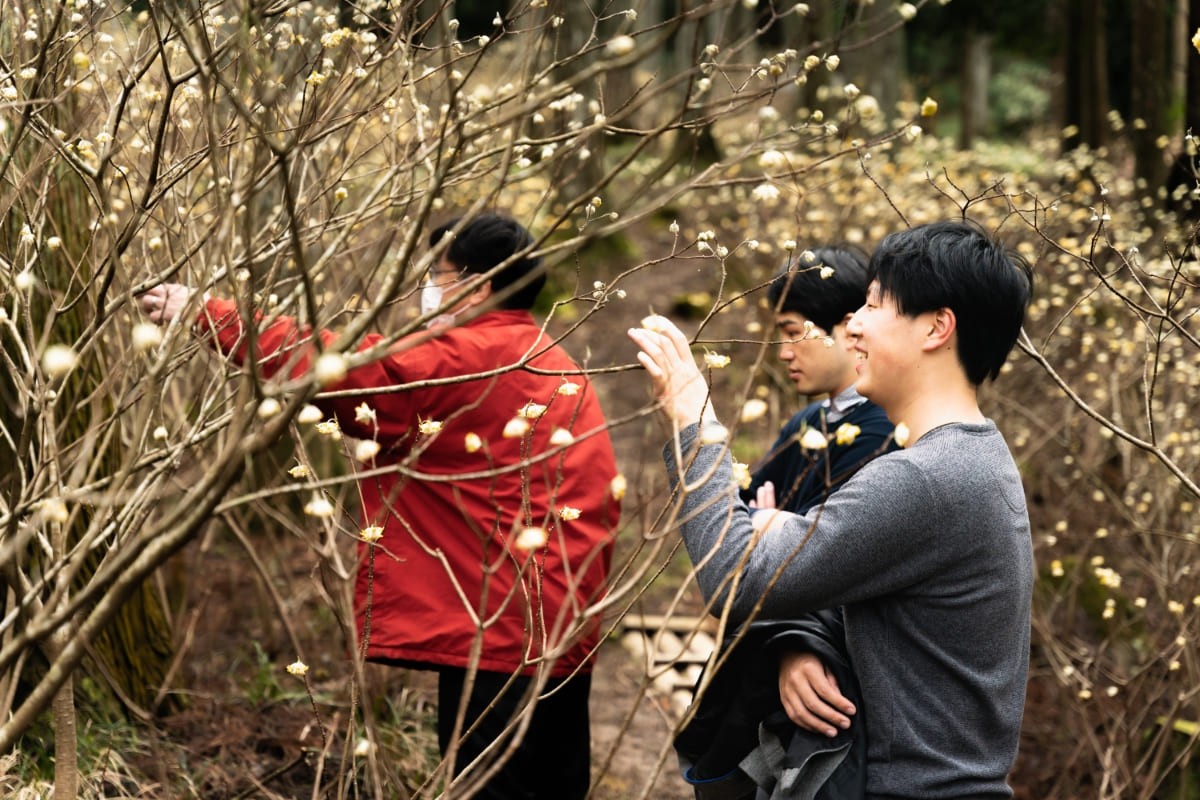 To learn more about the area, we recommend that you ask a Misugi storyteller to accompany you. If you would like to request a guide, you should apply for it through Misugi Resort. For this visit, I was taken care of by Mr. Kotake, a storyteller.

The first place we visited was the "Mitsumata (Japanese honeysuckle) Grove," which boasts an area the size of one Tokyo Dome. The bark of the Japanese honeysuckle tree is used as a raw material for paper money and is a plant with which we are very familiar.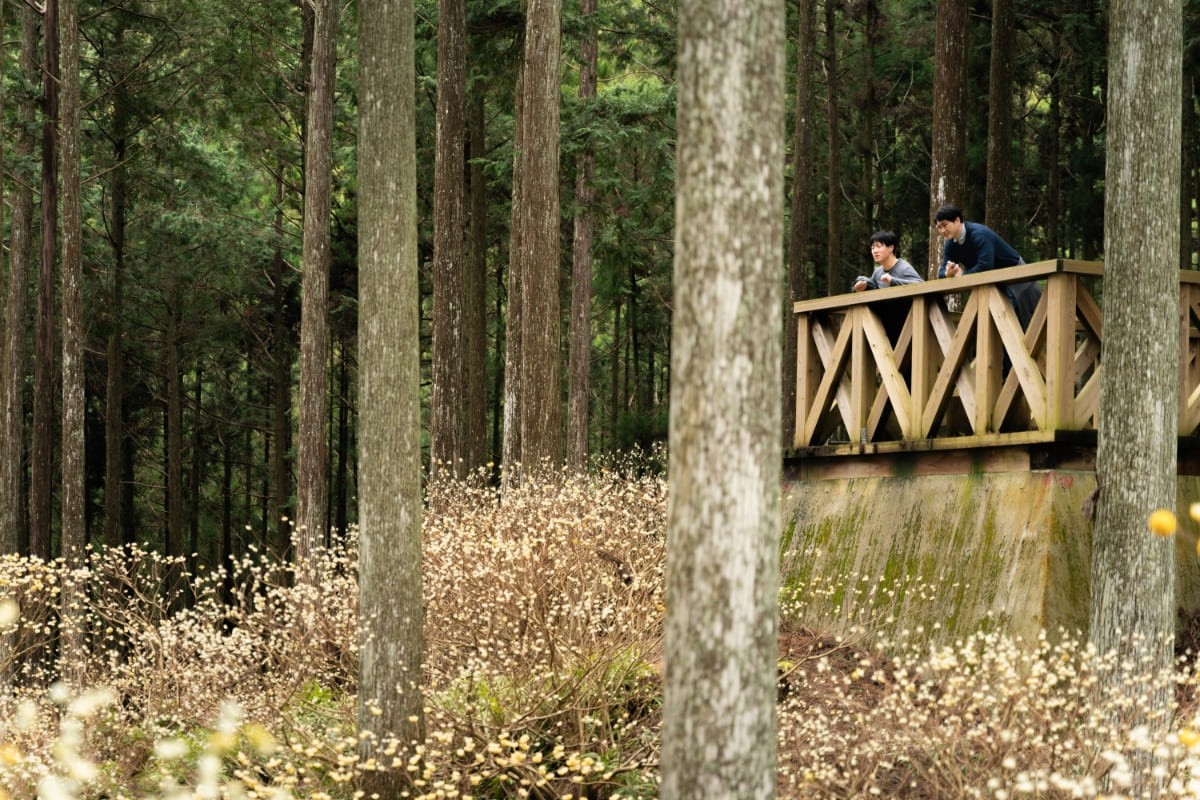 On the day of our visit, the mitsumata was just starting to bloom, but the lovely yellow flowers were spreading all over the area.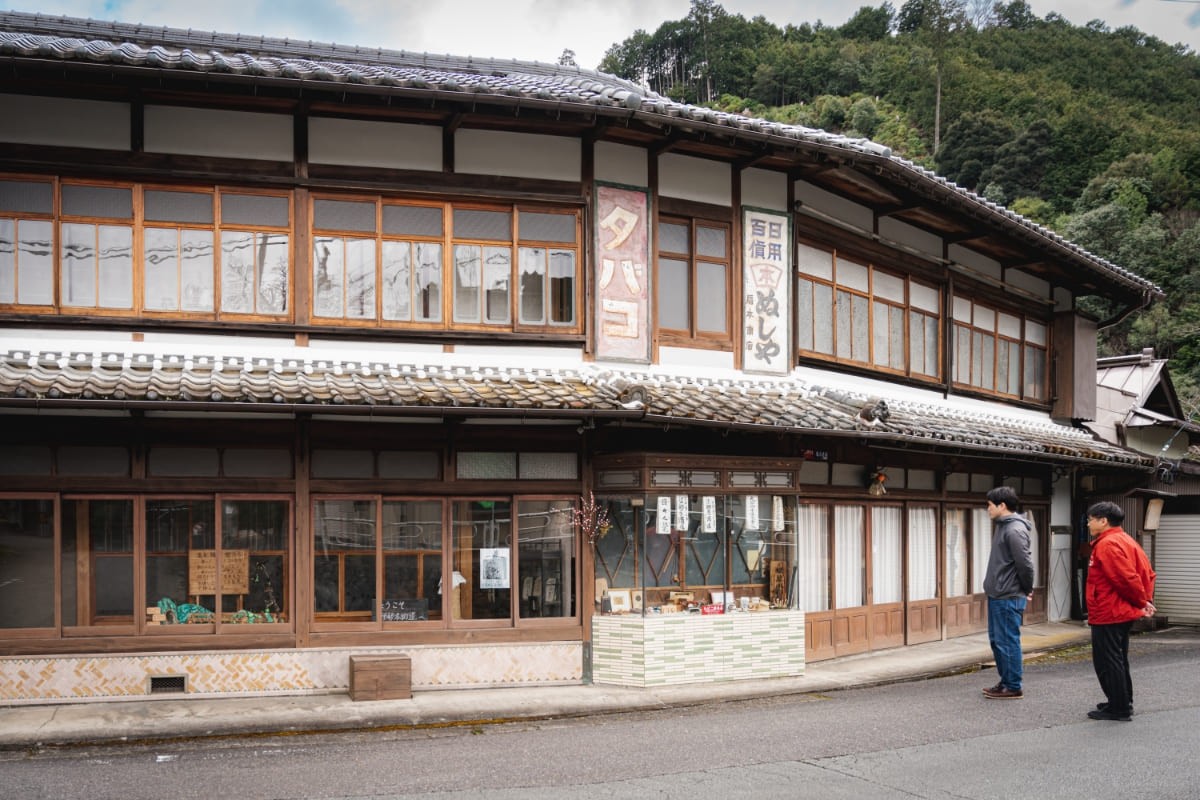 Returning to Ise Okutsu Station, we started the "Ise Hon-kaido Historical Tour". Okutsu-juku, which was once a busy post station, still retains its good old appearance. This "Nushiya" used to sell daily necessities. Although you cannot enter the shop today, you can see what it was like in the old days.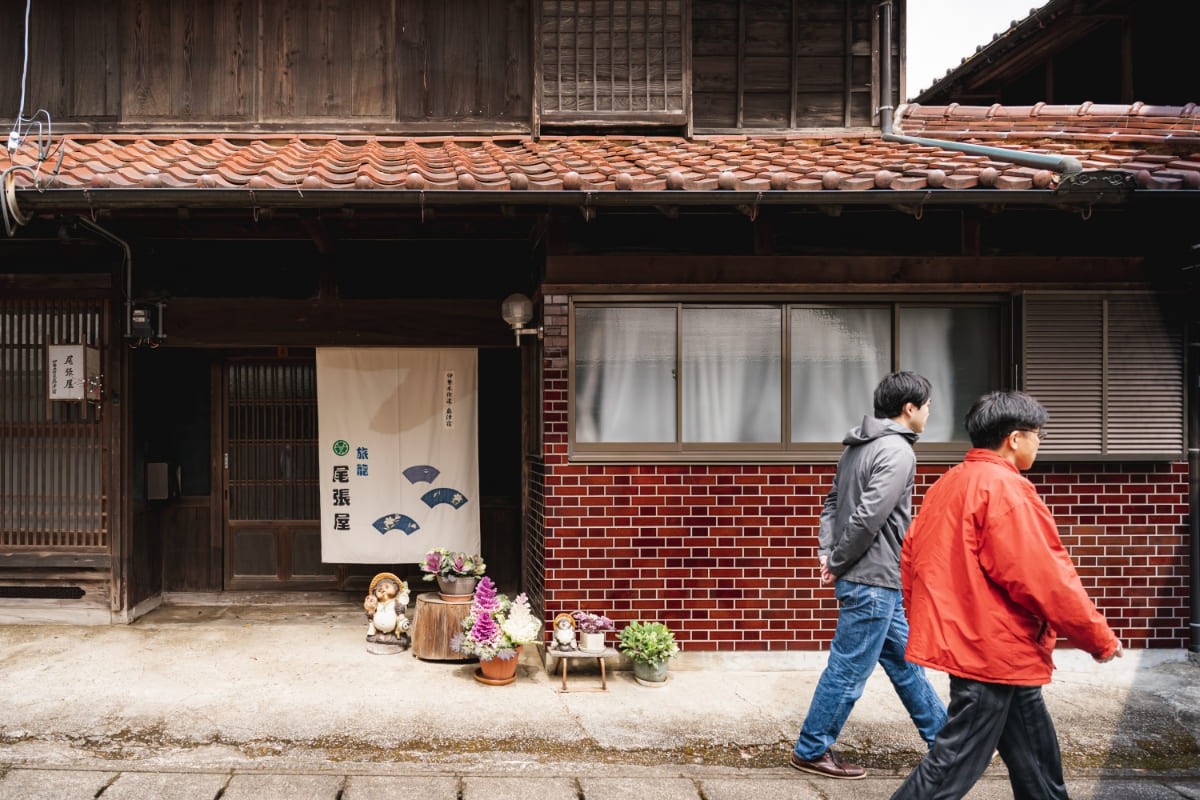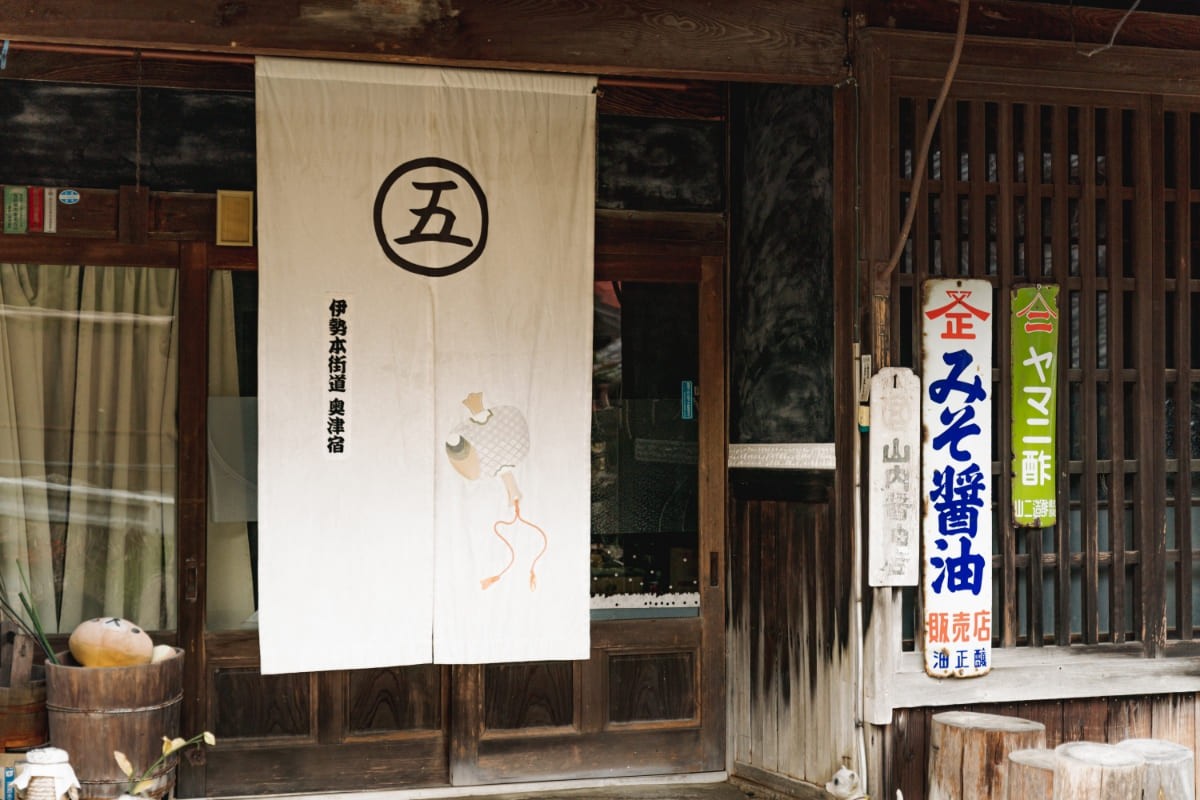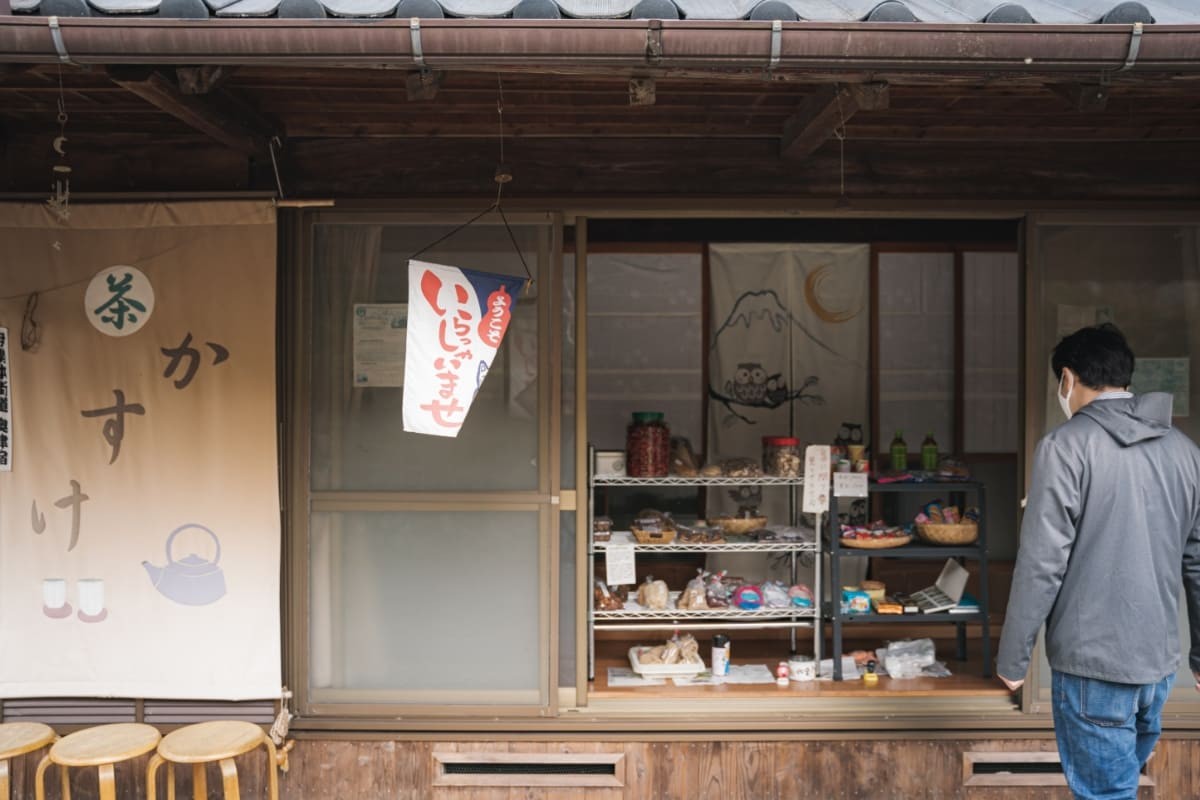 Some of the stores are still open today. The appearance of the shops attracts visitors, and many of the goods they sell make them want to pick them up.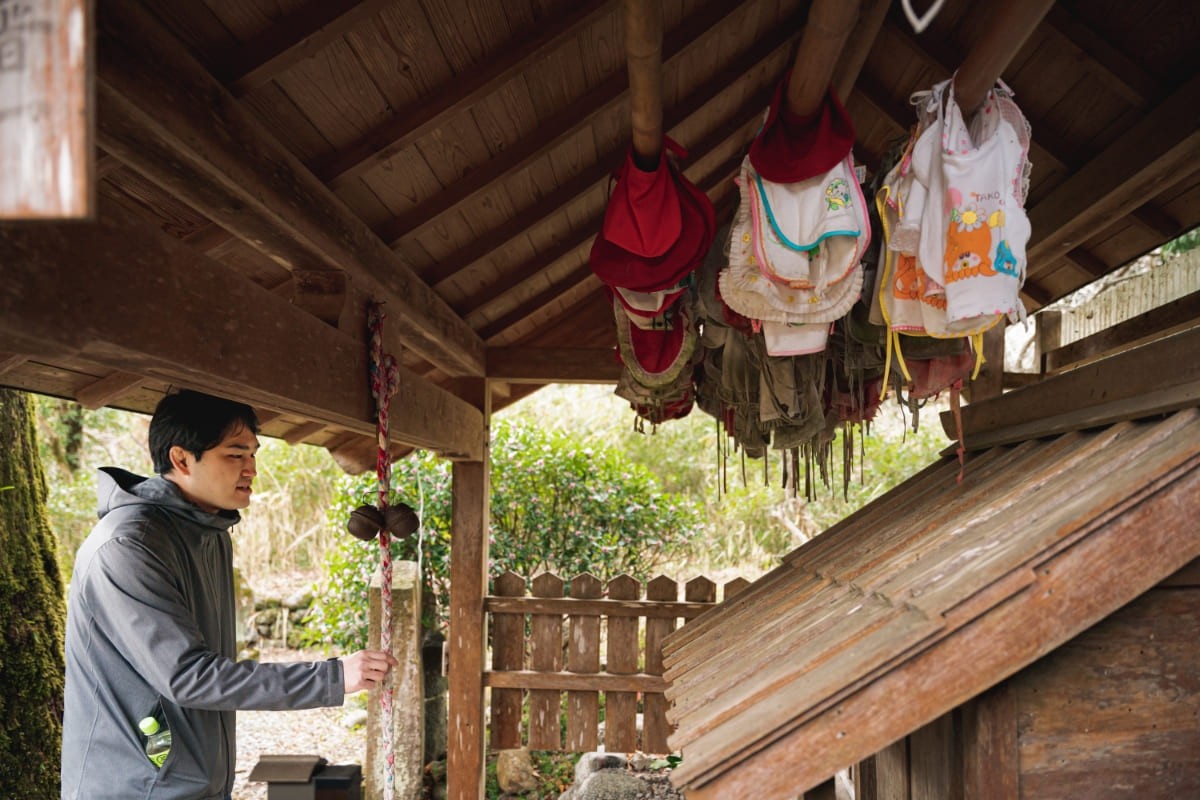 Finally, we paid a visit to "Enmei Jizo Bosatsu Onba-san (Enmei Jizo Bodhisattva)". The item in the upper right corner of the photo is a "drooling doll," which is said to help children recover from illnesses and is to be returned to its original state when the child is cured.

After spending an hour or so on the streets of Ise Hon-kaido, our 3-day/2-night work vacation came to an end.

I often play in private, but it was good to participate in this event as a work activity so we could talk about the work side of things. I felt that the charm of the work vacation was that I was able to work while being refreshed because I had a lot of contact with nature. I also learned about the town of Misugi and its history, which made me more interested in the area," said Koyama and Okuda.

We hope you will experience the fun of Misugi that only those who have actually been there can understand.
[Example of how to spend the day]
[Day 1]
17:00 Check in at "CENTURIO® POWER LAND" and telework in the room
19:00 Enjoy Iga beef and other hot pot dishes
21:00 Desk work in the room
23:00 Go to bed
[Day 2]
6:30 Wake up, chop wood, cook rice in a pot, breakfast
8:00 Forest therapy, visit locations for the movie "WOOD JOB!"
11:00 After telework, lunch at soba restaurant "Kisaragi" in the neighborhood
13:00 Telework in the lobby or room of Misugi Resort (ZOOM meetings, etc.)
18:00 Buffet dinner and bathing in the public bath
[Day 3] 6:00 a.m.
6:00 Wake up, work at desk
7:00 Breakfast buffet
10:00 Board the Meisho Line, walk through the Mitsumata cluster + walk along the Ise Hon-kaido
12:00 End of workation
[Facilities]
CENTURIO® POWER LAND
4882-2 Tarou, Misugi-cho, Tsu-shi, Mie 515-3536
Misugi Resort
5990 Yachi, Misugi-cho, Tsu City, Mie Prefecture 515-3421
For information on forest therapy and Ise Hon-kaido historical tours, please contact Misugi Resort.
Mitsumata cluster
Ishinahara, Misugi-cho, Tsu City, Mie Prefecture 515-3533
Onba-san (Enmei Jizo Bosatsu)
1702 Okutsu, Misugi-cho, Tsu City, Mie Prefecture 515-3531